Updated June 8, 2017
1.2k votes
1k voters
217.4k views
7 items
Pei Wei recipes, a helpful guide to preparing your favorite dishes from the Pei Wei menu at home. These copycat recipes are typically not based on exactly the method used at Big Boy, but are modeled closely on the flavor and texture of Pei Wei's food, like their kung pao chicken or pad thai, making it easier than ever to bring these great tastes to your house for cheap.
Pei Wei Asian Diner is a chain of "fast casual" dining restaurants that serves Asian cuisine. Owned by P.F. Chang's China Bistro, it offers dishes inspired by Chinese, Japanese, Thai, and Vietnamese cooking styles. Popular menu items include Thai Won Ton Soup, Spring Rolls, and signature dishes like Lo Mein, Teriyaki, and Pad Thai. At Pei Wei restaurants, customers order food at a counter, and food is brought to the table by a waiter.
From the cheesy biscuits at Red Lobster to the amazing sauces at Buffalo Wild Wings, it's always tempting to go out for a delicious treat at one of the numerous chain and franchise restaurants dotting the landscape. But eating out at restaurants all the time can be a costly proposition. Not to mention the fact that, at restaurants, you have no portion control, and can't alter the recipes, ingredients or style of cooking to suit your own taste.
Making Pei Wei recipes in your home gives you all of these options, while saving you money, and providing the same great diversity and taste that you'd find at your favorite casual dining spot. This list collections the best copycat Pei Wei recipes from around the Web.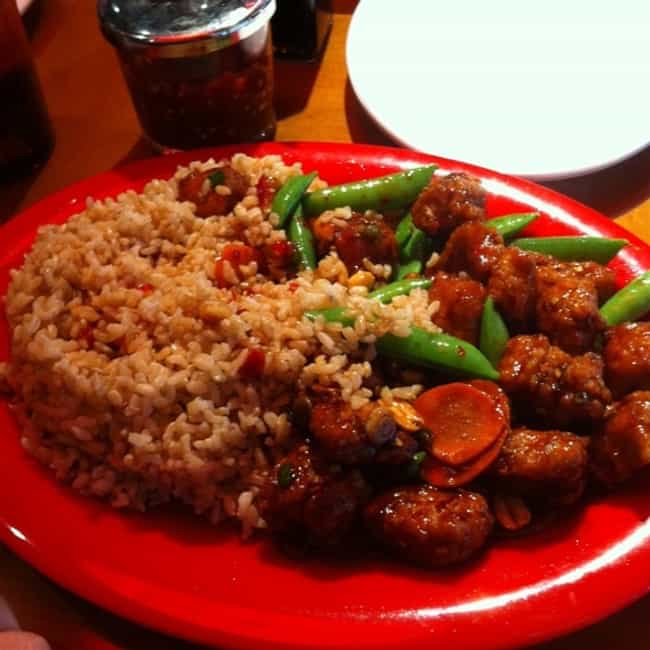 1lb boneless, skinless chicken breasts (cut into 1" pieces)
1 tablespoon cornstarch
2 teaspoons sesame oil
3 tablespoons green onions (chopped)
3 garlic cloves (minced)
½ teaspoon crushed red pepper flakes
½ teaspoon ground ginger
2 tablespoons rice wine vinegar
2 tablespoons soy sauce
2 teaspoons sugar
1/3 cup dry roasted peanuts
- Combine chicken and cornstarch in a bowl ; toss to coat.
- Heat sesame oil in wok or skillet over medium heat.
- Add chicken and stir fry for 5-7 minutes; remove chicken from wok.
- Add green onions, garlic, red pepper flakes and ginger to the wok; stir fry for 15 seconds.
- Combine vinegar, soy sauce and sugar in another bowl; mix well and add the sauce to the wok.
- Return chicken to the wok; coat with sauce.
- Stir in roasted peanuts; heat thoroughly.
- Top with additional green onions if desired; serve over white or fried rice.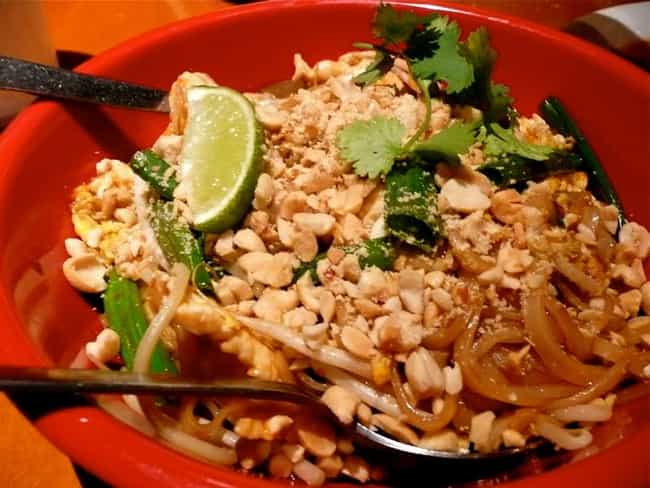 1/2 cup low-fat coconut milk
6 tablespoons creamy peanut butter
4 tablespoons light soy sauce
4 tablespoons fresh squeezed lime juice
1/2 tablespoon rice wine vinegar
2 tablespoons brown sugar
2 teaspoons grated gingerroot
1/2 teaspoon red pepper flakes
Chicken stir fry
1/2 tablespoon canola oil
1/2 tablespoon dark sesame oil
1 -2 teaspoon curry powder (optional)
1 lb chicken breast , cut up into bite size pieces
6 -8 ounces frozen sugar snap peas
1 medium onion , chopped
2 garlic cloves , minced
1/4 cup dry roasted peanuts , chopped (lightly salted)
cilantro
1/2 lb cooked noodles or 1/2 lb cooked pasta
- Combine all sauce ingredients in a bowl; set aside.
- Cook noodles or pasta; drain and set aside.
- In a skillet over medium heat, cook chicken and onions in canola and sesame oil.
- Halfway through cooking, add garlic to pan.
- When chicken is done, add sugar peas; stir to heat for 1-2 minutes.
- Add sauce mixture and stir to coat chicken.
- Little by little add cooked noodles or pasta; stir to coat.
- Serve garnished with chopped peanuts and cilantro.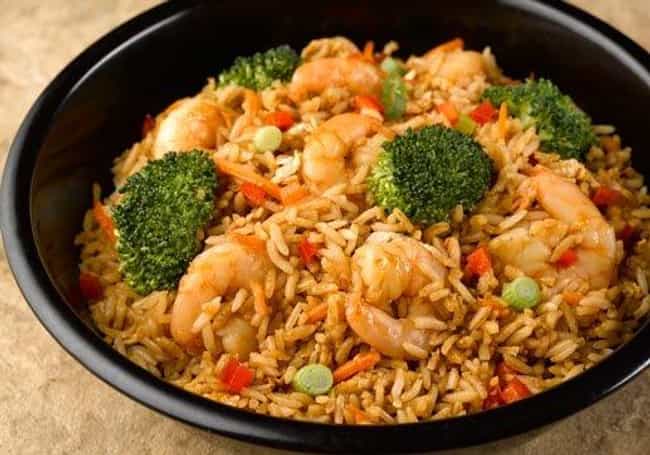 2 cups enriched white rice (I used Minute Rice)
4 cups water
2/3 cup chopped baby carrots
1/2 cup frozen green peas
2 tablespoons vegetable oil
2 eggs
soy sauce to taste
sesame oil, to taste
- Cook rice according to package directions.
- In a saucepan, boil carrots in water about 3-5 minutes.
- Drop peas into boiling water; drain.
- Heat wok over high heat.
- Pour in oil, stir in carrots and peas; cook for 30 seconds.
- Crack in eggs; stir quickly to scramble eggs with vegetables.
- Stir in cooked rice; shake in soy sauce, and toss rice to coat.
- Drizzle with sesame oil, and toss again. Serve.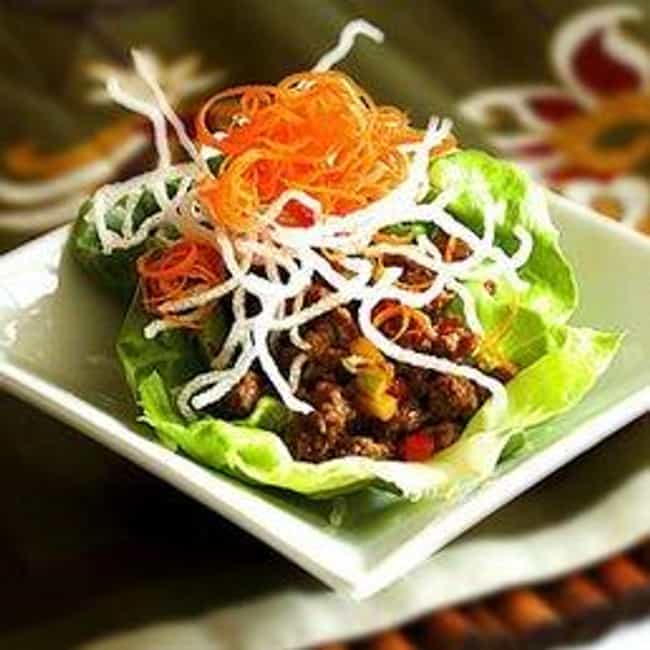 8 ounces of minced chicken mix ( which is a mix of s**take mushrooms, water chestnuts, & minced chicken )
1 tablespoon of wok oil
1/2 teaspoon of minced garlic
2 tablespoons of diced green scallions
2 ounces of our minced chicken sauce (see below)
1 cup of rice sticks ( prepared)
1 teaspoon of sesame
* Minced Chicken Sauce:
1/4 cup of mushroom soy sauce
1/4 cup of oyster sauce
1/2 tsp of white pepper
1/4 cup of cooking rice wine
1 tbsp of sugar
-Minced Chicken Sauce: Heat mixture on medium high heat at low boil for about 6 to 8 minutes. It can be cooled or refrigerated.
-Heat wok until white whisk of smoke appears.
- Add 1 tbsp of oil.
- Add garlic; stir for 5-10 seconds.
- Add minced chicken; mix and sear.
- Add 1/4 ounces of minced chicken sauce; stir and incorporate.
- Add 2 tbsp of diced green scallions.
- Add 1 tsp of sesame oil and serve on plates. Makes 2 servings.