Halloween
6 Times People Were Actually Killed In Halloween Attractions

Updated February 4, 2020
64.6k views
6 items
We've all gone into those cheesy carnival haunted houses. The kinds of places where there's maybe a strobe light flickering on a plastic skeleton or a spooky-looking clown that creeps you out. These are just Halloween attractions: fun scares meant to get you in the spirit of the holiday; dumb rides where parents dutifully remind their children that "it's not real" and "it can't hurt you."
This list explores incidents where people got much more than a scare. Let's take a look at some occasions where fake Halloween attractions killed real people.
A Moving Coffin Killed A Man In Hong Kong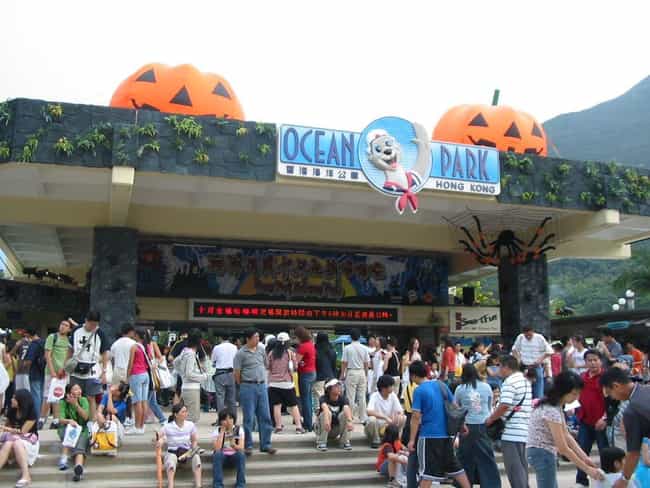 In September 2017, a 21-year-old man named Cheung died after he was struck with a moving piece of machinery in a haunted house. Cheung made his way through a maze called "Buried Alive," which was part of a Halloween-themed fest at Ocean Park in Hong Kong.
Five minutes after entering, park attendants found Cheung unconscious in the maze. The local government believes he "entered into an area for mechanical operations that was not open to visitors and was hit by a mechanical part." Cheung was pronounced dead at the hospital. The government ordered the ride to close after the fatal accident.
A School Principal Accidentally Hanged Himself In Front Of His Students
In September 1957, in the small farming community of Utica, KS, local parents and school officials were growing worried about the extent to which the high school seniors were hazing the incoming freshman. Annual gymnasium parties commemorating the new pupils had resulted in too much rough-housing, so English teacher Betty Stevens and Principal William Hobert Sallee devised something different for their students.
Mrs. Stevens led her charges to an abandoned farmhouse a couple of miles outside of town. She and some other school staff had decorated the dilapidated home as a haunted house for a pre-Halloween party. The centerpiece was Principal Sallee, who would pretend to be hanging in the middle of a dark room, covered in greasepaint and ketchup to simulate blood.
The students did indeed get a kick out of the moaning, limply hanging principal. But when Mrs. Stevens slipped out of the party to get a picture of Sallee, she made a shocking discovery - he had slipped, causing the noose to tighten on his neck. The moaning and struggling principal hadn't been acting at all - the students actually witnessed the slow, painful death of Mr. Sallee.
A Teen Might Have Been Scared To Death In An Ohio Haunted House
In October 2014, 16-year-old Christian Faith Benge visited Land of Illusion Haunted Scream Park in Middletown, OH - a seasonal Halloween attraction where her father's band was to perform that evening. Benge entered one of the haunted attractions and collapsed. She was given CPR by her mother and paramedics, but Benge succumbed to a fatal heart attack.
Benge only had one lung, and this put significant stress on her heart. The county coroners' office would later speculate that fear could have exacerbated the teen's fatal condition.
A Fake Noose Accidentally Delivered A Real-Life Hanging
In October 1990, a 17-year-old Brian Jewell was working at a Lakewood, NJ, haunted hayride, performing a stunt he had done several times before. In the act, Jewell would simulate hanging himself with a fake noose by stepping off a platform about one foot off the ground.
That night, however, the noose - which was designed to not tighten - inexplicably choked and killed Jewell when he stepped off the platform. About 40 people unwittingly saw a real hanging corpse, as the tractor driver became concerned later when it dawned on him that Jewell had not delivered his usual scripted speech.