Culture
10 Murderers Who Confessed On Facebook Before The Cops Even Knew About The Crime

Updated July 22, 2019
90.9k views
10 items
A Man Murdered His Family Over His Daughter's Migraines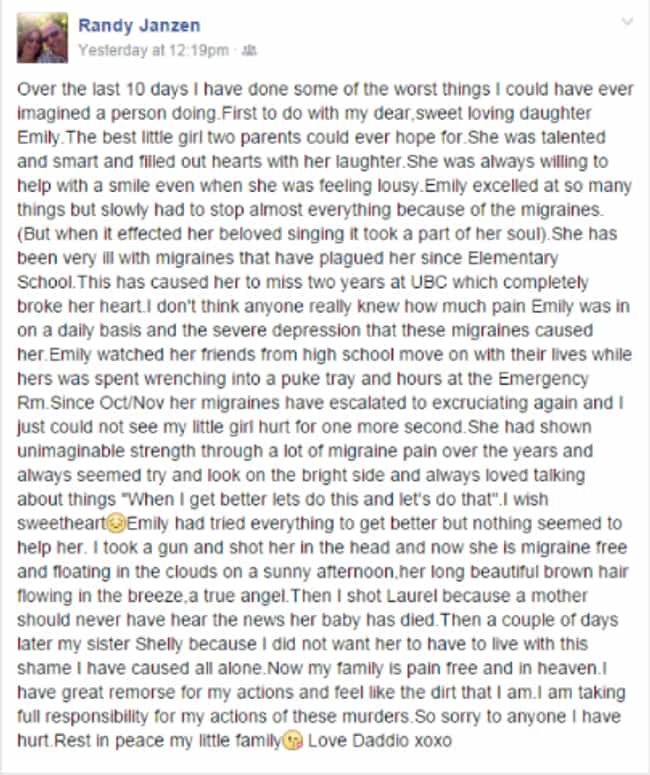 In a bizarre tragedy, Randy Janzen took to social media in May of 2015 to post an unnerving status update about his actions ten days prior. He claimed his daughter suffered debilitating migraines. As a result, he felt he had no choice but to murder his daughter as well as his wife and sister (to spare them pain and shame over his actions).
In a lengthy post, he described the psychological suffering his daughter's migraines caused. Janzen seemed almost relieved at his actions. "I took a gun and shot her in the head and now she is migraine free and floating in the clouds on a sunny afternoon," he wrote, "her long beautiful brown hair flowing in the breeze, a true angel."
When police arrived on scene, a four-hour standoff ensued. They saw a man matching Janzen's description in the window and shortly thereafter the house was engulfed in flames. The inferno was so intense, it took three days before for it to be safe to reenter the home. Upon searching the ruins, Janzen's charred body was found. Forensic reports indicated he had shot himself after starting the fire.
A Woman Posted A Video Confession To Her Roommate's Murder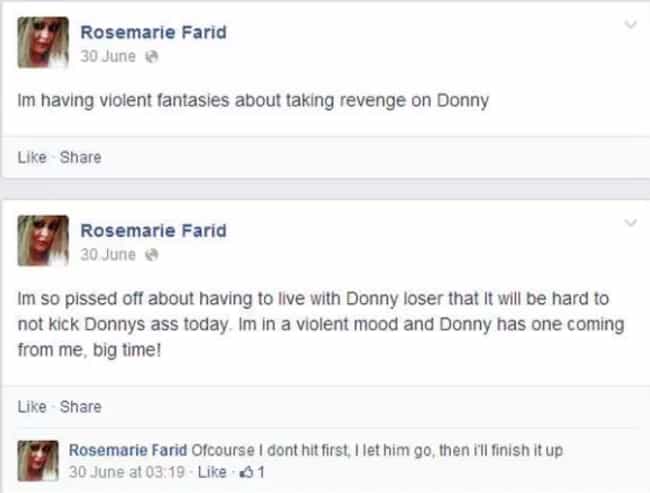 When Rosemarie Farid's roommate got too noisy for her liking, she began posting violent status updates about her desire to harm him. Later that same day, Farid (who describes herself as mentally disturbed) uploaded a bizarre video to Facebook in which she confessed to having brutally beaten her roommate to death by repeatedly bashing his head onto the bathroom floor. The 2014 video was taken while she was walking outdoors, and at one point she paused to greet a passerby with the words, "How ya doing, man? God bless your family."
Police officers found Farid's roommate in a pool of blood in the bathtub. There were bloody washcloths in the kitchen sink and a trail of blood led to the bathroom. Farid confessed she took her roommate's phone before killing him so he could not contact authorities. She was arrested the next day and charged with murder.
A Man Posted A Picture Of His Daughter's Dead Body On Facebook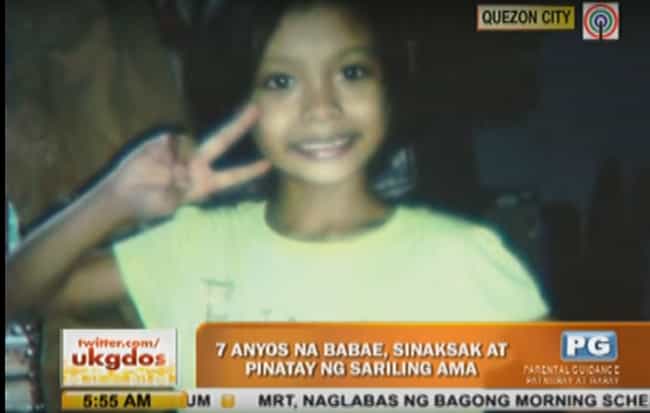 When his estranged wife cut off Facebook contact with him, Mark Alvin Manliclic was desperate to get her attention. His wife had left the Philippines for Canada for a job, an action she allegedly took out of fear of her own life. As revenge, Manliclic brutally stabbed their daughter to death and posted the images of her body online. Some witnesses claim he also posted a video of the murder, which was later taken down.
Manliclic's aunt found the seven-year-old girl's body and police found stab wounds in her neck, abdomen, and back. While the murder is an unbelievable tragedy, at least justice was served. Manliclic was swiftly taken into custody.
A Florida Man Posted Pictures Of His Slain Wife Online

After fatally shooting his wife several times, Florida man Derek Medina uploaded images of her corpse to Facebook. He claimed the murder was in self-defense, but he still expected to go to prison. The jury did not buy his self-defense claim, however, and the judge overseeing the case was quick to point out Medina foretold his own fate in the post.
While Medina claimed his wife was abusive, the prosecution countered this with testimony from his wife's friends. Medina also gave conflicting reports on what occurred and his wife's wounds did not match his story. When he was sentenced to life in prison, he gave a rambling statement to the court claiming he did not get a fair trial.