Graveyard Shift
Real Burial Grounds And Locations That Could Have Inspired 'Pet Sematary'

Updated March 22, 2019
27k views
10 items
Paramount's 2019 Pet Sematary is a fresh and petrifying adaptation of one of Stephen King's stellar novels. In the movie, which received an April 5, 2019 debut date, the Creed family moves into a lovely house next to an extremely busy road. The traffic way isn't the most foreboding thing about the new property, though. In fact, the Creed's land also holds a pet cemetery and a sinister, reanimating burial ground. Humans and animals plunged into the cursed dirt return to the land of the living, but they don't come back the same.
The Pet Sematary film makes death seem a little more supernatural, but there are many real cemeteries and burial grounds with eerie backstories too.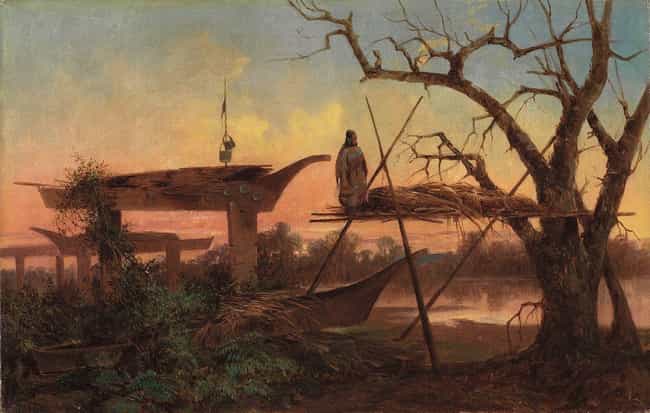 Native American Burial Grounds
In the film, the burial ground that lies just past the children's pet cemetery animates previously dead creatures, and it's haunting. But Native American burial grounds aren't entirely fictional.
As Colin Dickey writes in Ghostland: An American History in Haunted Places, the idea of the haunted Indian burial land actually took root in the American consciousness before Stephen King even wrote Pet Sematary. Dickey argues the fear of cursed lands is rooted in a distinctly American fear "that we don't, in fact, own the land we've just bought."
Moreover, the Cowasuck Band of the Pennacook Abenaki People of Maine describes their burying grounds as "a forest of coffins" and skeleton land.
The Woods Behind The 'Pet Sematary' House
Like the Creed family's home in Pet Sematary, the rented house Stephen King once lived was actually parallel to a particularly busy road.
Located at 664 River Road, the home sits on about three acres of land, next to some arguably foreboding woods. And according to King, the dense trees contained a makeshift pet cemetery, complete with the charmingly misspelled sign.
Bucksport, ME, was built over the burial grounds of the so-called "Red Paint People," a group who lived in Maine over 5000 years ago. They were named for the ochre which they buried in their graves.
Because of Bucksport's location, it's unsurprising the town has a storied history of hauntings and other unusual activities. It actually inspired the setting in the Dark Shadows TV series.
In 1854, the Ray family of Jewett City, CT, found themselves plagued by deaths. The family believed their dead loved ones were actually returning from their town's cemetery to feed on the blood of their kin, though. To prevent this imagined threat, the bodies of two of the deceased family members were disinterred and burned.
It wasn't the first time the area was thus plagued, either. Some 50 years earlier, another family suffered a similar series of events. Later, archeological excavations found a body that was beheaded and placed facedown with its femur bones laid across the chest. It appeared as if people thought the body was reanimated, so they removed the head to prevent any additional threat.