Graveyard Shift
Everything We Know About The 'Pet Sematary' Remake

Perhaps one of the most anticipated movies of 2019 (alongside IT: Chapter Two) is the Pet Sematary remake. According to screenwriter Jeff Buhler and directors Dennis Widmyer and Kevin Kölsch, it will be a darker and altogether more horrifying handling of the source material than the original, released in 1989 and directed by Mary Lambert. Of all the Stephen King adaptations out there (and there are many), the original Pet Sematary stands out as an entertaining cult movie of sorts, though it comes nowhere near the existential horror of King's novel.
If the trailer and the comments from the filmmakers are any indications, the new Pet Sematary will change all that. The film seems to be in capable hands: Widmyer and Kölsch wrote and directed Starry Eyes, an eerie, little-known supernatural gem from 2014; they also helmed several episodes of MTV's Scream series and contributed a segment to the horror anthology film Holidays. The film's screenwriters also have several quality horror titles under their belt - Jeff Buhler adapted Clive Barker's The Midnight Meat Train in 2008, and David Kajganich co-created the AMC series The Terror and wrote another highly anticipated horror remake, Suspiria.
The Filmmakers Changed A Major Element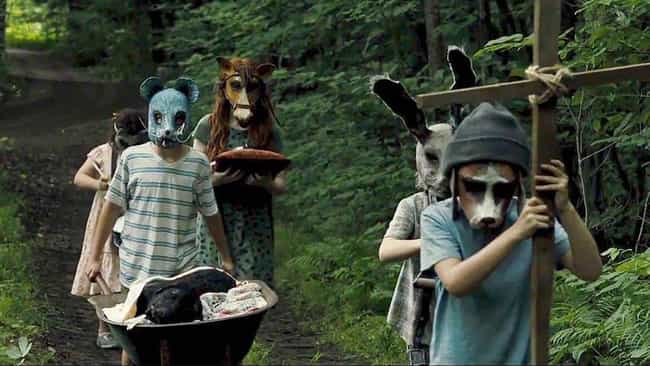 THE FOLLOWING DESCRIPTION CONTAINS SPOILERS.
Three months before its release, Pet Sematary producer Lorenzo di Bonaventura and directors Kevin Kölsch and Dennis Widmyer revealed in an official trailer that instead of the 3-year-old Creed child, Gage, it is actually his big sister Ellie who is hit by a truck and revived by the cemetery.
The filmmakers explained the decision to deviate from King's narrative for EW saying, "If people didn't read the book, they're going to think there are things that we've changed [from the 1989 film]. But if you read the book, these are things that are taken right out of it that just didn't make it into the original movie because they probably couldn't have a 3-year-old do it."
Since Ellie is old enough to move and speak and act on her own, she can convey the scarier elements of King's novel in a way that a 3-year-old actor cannot. They are "able to really get underneath our affected child [and] get into the psychological horror of a child [coming back] because of her age."
The January 2019 Teaser Suggests That 'Dead Is Better'
On January 17, 2019, a new teaser for the film provided plenty of jump scares - and it also gave us an insight as to who will be showing up.
We get a look at Victor Pascow (Obssa Ahmed), the jogger who is killed in an accident. He returns as a spirit who warns Louis Creed (Jason Clarke) - the doctor who attempted to resuscitate him - to stay away from the foreboding cemetery that brings things back to life.
We then see a female figure with a twisted form crawling towards Rachel Creed (Amy Seimetz) as Rachel recoils in terror. In the book, Rachel is haunted by memories of the spinal meningitis that devoured her sister, Zelda. Given that Zelda crawls after the adult Rachel, it seems likely this is a vision or nightmare experienced by the character. Adult Rachel memorably had visions of her dead sister Zelda in the 1989 film as well.
Sometimes, dead is better - and this 15-second teaser proves it.
The Trailer Shows A Funeral Procession Of Kids In Animal Masks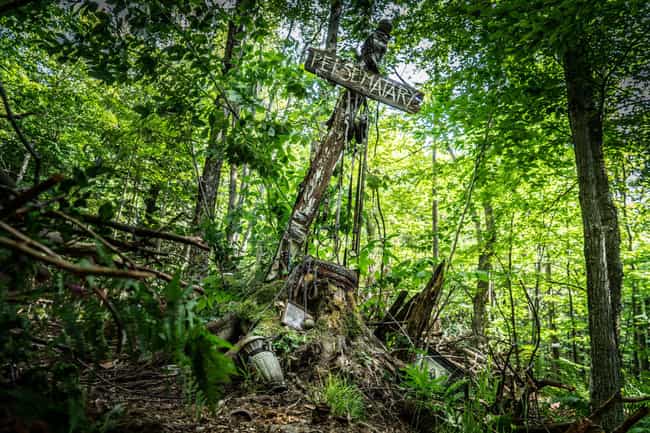 Although Stephen King's novel and the 1989 film both mention the children of Ludlow, ME, and their history of planting dead animals in the Pet Sematary, we never really see them in action. There isn't a moment in which a group of children converge on the cemetery to bury one of their pets.
The new adaptation seems to change all that. An integral part of the trailer involves a funeral procession of children wearing vintage-looking animal masks. One child even taps out a dirge-like beat on a little marching drum. This beat intensifies as the clips become creepier and more disturbing.
Whether the funeral scene takes place in the past or the present is debatable, though we also see these children roaming about the Creed house, indicating they either appear in a dream sequence, or they are ghosts (they're likely not home intruders).
This possible homage may also reference King's first description of the Pet Sematary:
The clearing was crowded with markers, obviously made by children from whatever materials they could beg or borrow - the slats of crates, scrapwood, pieces of beaten tin... The forested backdrop lent the place a crazy sort of profundity, a charm that was not Christian but pagan.
Screenwriter Jeff Buhler Insists The Film Is Much Closer To The Book Than Its Predecessor 
In a May 2018 interview with Dread Central's Sean Decker, co-screenwriter Jeff Buhler discussed his vision of the new film, which he shaped with directors Dennis Widmyer and Kevin Kölsch:
When we first started our conversations, Dennis and Kevin and I really connected around the idea of bringing the story back to the source material, to find a modern telling of the book that really spoke to some of the big scenes and big moments that Stephen King had originally written... and as much as all of us are huge fans of the original film, there are moments that are larger than life and feel borderline campy. Our desire was to tell a really grounded, character-driven and psychologically horrific version of Pet Sematary, which in my belief, is the scariest book that King ever wrote.
Buhler goes on to state that he, Widmyer, and Kölsch are "on track to it make one of the scariest Stephen King adaptations ever!"