Total Nerd
Behind-The-Scenes Stories From The Set Of 'Pineapple Express'

With its hilarious characters and over-the-top action, the 2008 comedy Pineapple Express blew away the expectations of the typical weed-focused film. From conception to debut, its behind-the-scenes details prove that making the movie was just as entertaining as watching it.
The producers, director, and even the stars of the film have all shared secrets from the Pineapple Express production - including budget conflicts, failed sponsorships, and a cameo from a now-infamous adult film star.
back to page 1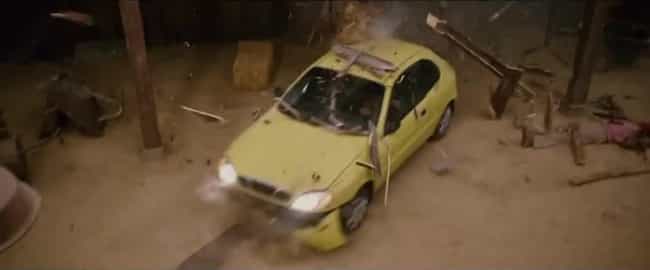 Ford Motor Company Didn't Want Their Car In The Movie's Climax
Serving as a running joke throughout the film, Red's lemon-colored Daewoo Lanos helps save the day in the end. Red crashes through the barn to rescue the protagonists and take down the bad guy.
However, the infamous Daewoo was not originally planned for use in the film. Initially, a Ford Fiesta was his vehicle of choice. However, Ford did not approve of their car being used in an aggressive scene and prohibited the filmmakers from including it in the movie. Rogen then decided to go with the Lanos and found its use "ultimately much funnier."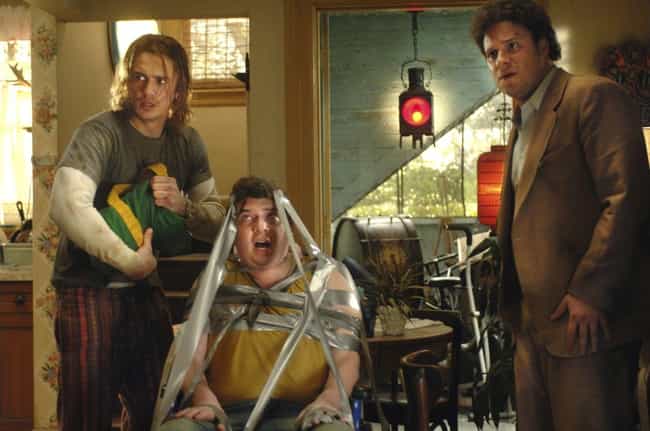 Danny McBride Was Actually Taped To A Chair All Day Long
It's not uncommon for actors to find themselves subjected to long hours of wearing heavy costumes or prosthetics to complete their roles. For his role as Red, Pineapple Express actor Danny McBride had to endure a day's worth of sitting in a chair. That may not sound strenuous, but he did so while tied up in several layers of duct tape.
Due to the complexity of McBride's bindings, he could not be removed from his seated position without replacing everything. So, according to Rogen, he remained in the seat all day instead.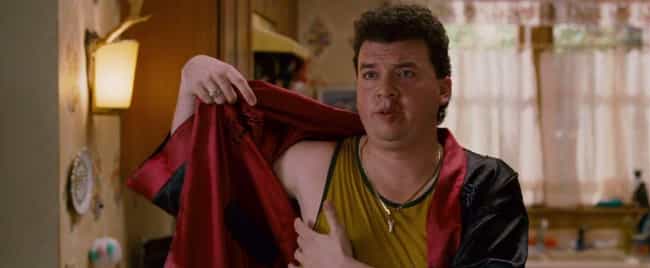 Stormy Daniels Made A Brief Cameo
Now known to general audiences for her connection to President Donald Trump, adult film star Stormy Daniels makes a blink-and-you'll-miss-it cameo in the film.
Daniels's role was highlighted by Seth Rogen during the 10th anniversary of the film. On Twitter, the actor revealed that Daniels played Red's former wife:
In #PineappleExpress, Red refers to his ex-wife having gotten out of jail recently. There's a pic of Red and his ex-wife, who was played by Stormy Daniels.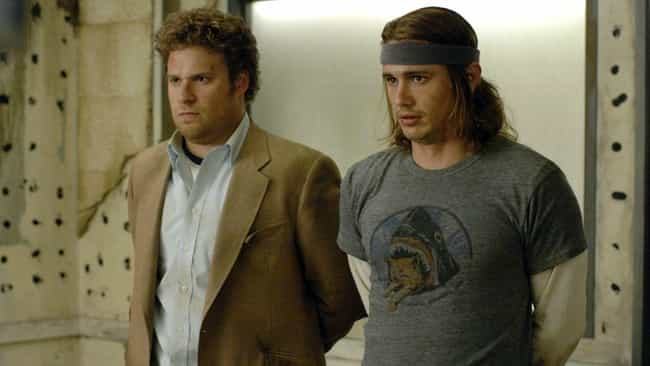 James Franco's Headband Is Covering Up An On-Set Mishap 
Pineapple Express may be the most action-packed stoner film. There are numerous car chases, fight scenes, and constant physical comedy between main characters Dale Denton and Saul Silver. However, at one point, the action got a little too real.
The headband that Saul wears during the course of the film wasn't just the finishing touch to his outfit. The accessory was actually used to disguise an onset mishap that involved actor James Franco.
Rogen explained on Twitter:
There's a shot (that's in the movie) when we are running through the woods, Franco hits his head on a tree. He actually hit his head on a screw that was holding a pad in place and got stitches.