Rachel Souerbry
Updated October 16, 2020
32.2k votes
5.1k voters
276.7k views
15 items
List RulesVote up the wild western foods you can't believe people ate.
Those who trekked across the country to begin new lives in the Wild West were known for their resourcefulness, and it shows in many of the foods they ate. While pioneer cuisine may seem strange to us today, the settlers had no choice but to use what they had to survive - and they got pretty creative.
Life in the Old West was harsh, journeys were long, and settlers had no guarantees the food they packed on a wagon train would last until their final destination. They hunted local wildlife, used replacement ingredients that traveled well (such as apple cider vinegar to make a passable pie), and preserved everything they could. They also used every part of the animals they ate - head cheese, anyone? Perhaps they even polished off a meal with "scamper juice" (one of many colorful Wild West slang terms).
Much of what cowboys ate was out of necessity rather than preference, but maybe a cup of calf's foot jelly or a plate of roasted squirrel was a real treat. 
Photo: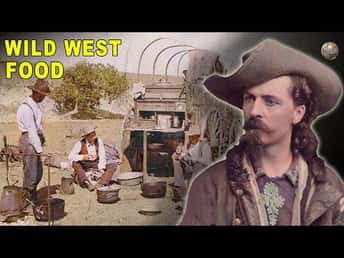 Photo: ulleo / Pixabay / Public Domain

Though many Americans would probably prefer to eat Jell-O today, calf's foot jelly was a popular dessert in the Old West. It was made using the feet of calves (hooves removed), eggs, sugar, lemon, and spices.

After boiling the feet, cooks added white wine, seasonings, and egg whites. One recipe book from Virginia calls for the eggshells to be crushed and added as well.

1,889

995

Are you surprised people consumed this?