TV

Planes: Fire & Rescue Movie Quotes

70 votes
28 voters
11.7k views
10 items
Follow
Embed
"Planes: Fire & Rescue" movie quotes bring all the favorites from Disney Pixar's "Planes" back for another installment in the series. The 3D animated film was directed by Roberts Gannaway using a screenplay by Jeffrey M. Howard based off of a story the writer and director created with John Lasseter and Peggy Holmes. "Planes: Fire & Rescue" opened in theaters on July 18, 2014.
In "Planes: Fire & Rescue," Dusty Crophopper (voiced by Dane Cook) is forced to give up his career as an air racer and instead heads to Piston Peak to join the firefighting crew. While he's quite new to the team, he gets a lot of help from veteran wildfire fighters including Blade Ranger (voiced by Ed Harris), Cabbie (voiced by Dale Dye), Windlifter (voiced by Wes Studi) and others. Dusty even makes friends with a very affectionate lady plane, Dipper (voiced by Julie Bowen).
So when a huge wildfire is reported and the crew is summoned to extinguish it, Dusty's skills as a firefighter are put to the test. Their battle is not an easy one but with perseverance, hard work and some heroism, they try their best to save the day.
"Planes: Fire & Rescue" is just one of several summer 2014 blockbusters which also include
"Earth to Echo,"
"Transformers: Age of Extinction,"
"How to Train Your Dragon 2,"
"Maleficent,"
"Night Moves,"
and
"X-Men: Days of Future Past."
You Came Here to Become a Firefighter
Blade Ranger: "You came here to become a firefighter."
Blade Ranger reminds Dusty why he is here. He wanted to be a firefighter and now is his chance to do just that.
Is That Guy Writing Down Everything I Say?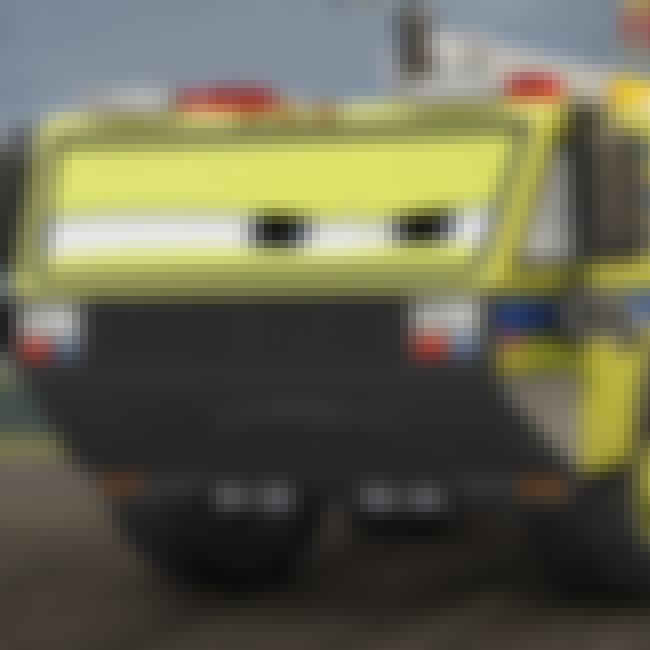 Ryker: "Mr. Mayday"
Mayday: "Is that guy writing down everything I say?"
Ryker: "Yes"
Mayday: "So he just wrote that down?"
Ryker: "Yes"
Mayday: "And that?"
Ryker: "Yes"
Mayday: "And that?"
Ryker: "Yes"
Mayday: "Oh, Chevy!"
Transportation management safety truck Ryker and his trusty assistant speaks with Mayday. Mayday sure is keeping the assistant busy with his repeated questions asking the same thing.
Announcement: "All aircraft, we've got a report of a wildfire."
Maru: "Come on, let's load up! Patch, drop the needle!"
Dusty Crophopper: "It's an actual fire?"
Dipper: "Oh yeah, it happens all the time. You guys only hear about the big ones."
When a report of a wildfire comes in, all of the planes scramble to head out to fight it. As the new guy, this excitement is new to Dusty.
Blade Ranger: "Rip off his landing gear!"
Dusty Crophopper: "What?!"
Maru: "Give 'em a go!"
Dusty Crophopper: "Yeah, I'm tall. Look at this."
If he wants to be an effective firefighter, Dusty needs a makeover. Luckily Maru is there to take off his landing gear in favor of pontoons.