READ
26 Famous Locations That Are Suicide Magnets

Every year, for each individual person that is killed by homicide, at least two people die by taking their own lives. That comes out to 34,000 deaths a year caused by suicide. With those kind of numbers, it's no wonder that there are a handful of locations around the world that have become known as suicide magnets. The popular spots are most often bridges and other high-up places, like cliffs and skyscrapers, that draw troubled individuals looking for a place to jump from with a very long fall.
Sadly, no one is immune to suicide. Celebrities, athletes, geniuses, and people of all races, religions, and ethnicities can develop depression, which can lead to suicide. It's a worldwide pandemic that has resulted in suicide hot spots popping up everywhere - from Japan to Scotland, and everywhere in between. More often than not, these suicide magnets are bridges. There are several suicide bridges around the globe that offer jumpers a platform from which to put their lives behind them.
Luckily, a lot has been done to lower the number of suicides at several of these locations. Signs offering help have popped up, and barriers meant to make it more difficult to jump have been erected at several bridges and cliffs that are known suicide magnets. Perhaps the most surprising part of this list of suicide sites is just how beautiful most of the locations are. They are some of the most majestic places on earth, but their beauty is marred by the many deaths they see each year.
Check out this list of suicide hot spots below, and be sure to let us know what you think in the comment section. If you or someone you love is suicidal, please seek help by calling the National Suicide Prevention Hotline at 1(800) 273-8255. (This number works in the United States - for more information about the Suicide Hotline in your country or province, please Google it.)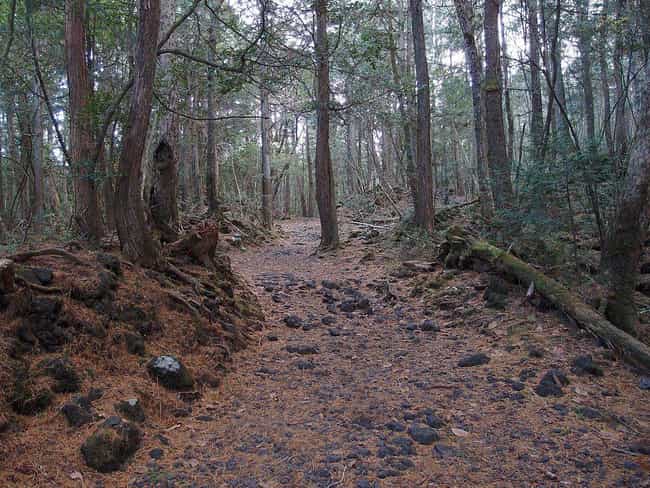 The Aokigahara Forest is one of the most well-known suicide spots in the world. The forest is so popular for people to commit suicide in, that authorities and volunteers conduct yearly searches to recover the bodies.
Aokigahara Forest is thought by many to be haunted by the spirits of the dead. A film based on the location and its notoriety was released in 2016.
Jumping in front of a train is a surprisingly ineffective way to commit suicide. Although hundreds of people have successfully committed suicide in the London Underground, only about
40% of those who try
are successful. Those who aren't successful are typically severely injured and to add insult to the equation, they are usually given several citations for their actions.
The London Underground is a public rapid transit system serving a large part of Greater London and parts of the home counties of Buckinghamshire, Hertfordshire and Essex. The system serves 270 stations and has 402 kilometres of track, 52% of which is above ground. The network is considered the oldest rapid transit system, incorporating the world's first underground railway, the Metropolitan Railway, which opened in 1863 and is now part of the Circle, Hammersmith & City and Metropolitan lines; and the first line to operate underground electric traction trains, the City & South London Railway in 1890, now part of the Northern line. The network has expanded to 11 lines, and in 2012/13 carried ...more on Wikipedia
see more on London Underground
Nanjing Yangtze River Bridge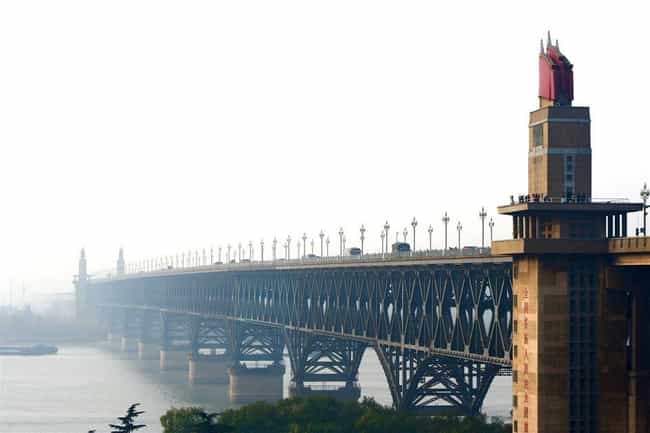 The
Nanjing Yangtze River Bridge is an incredible four miles long, which leaves plenty of places for people to jump from. At over 2,000 suicides in it's history, the

Nanjing Yangtze River Bridge is one of the world's biggest suicide destinations. Nearly 200 people have been talked down from their suicide attempts by the bridge's watchmen, however. A man named Mr. Chen spends nearly every day surveying the bridge and trying to keep lost individuals from jumping to their deaths.
The Nanjing Yangtze River Bridge is a double-decked road-rail truss bridge across the Yangtze River between Pukou and Xiaguan in Nanjing, China. Its upper deck is part of China National Highway 104, spanning 4,588 metres. Its lower deck, with a double-track railway, is 6,772 metres long, and completes the Beijing-Shanghai Railway, which had been divided by the Yangtze for decades. Its right bridge consists of nine piers, with the maximum span of 160 metres and the total length of 1,576 metres. The bridge carries approximately 80,000 vehicles and 200 trains per day. The bridge was completed and open for traffic in 1968. It was the third bridge over the Yangtze after the Wuhan Yangtze River ...more on Wikipedia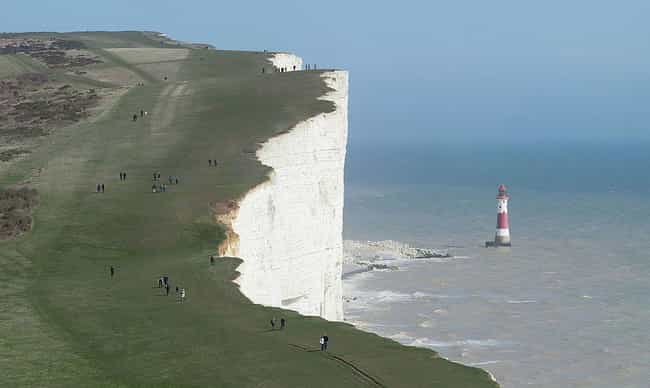 These gorgeous English cliffs are home to
twenty or more suicides a year
. The cliff sides are riddled with crosses and other tokens of loss for those who have jumped to their death. Luckily though, people are actively trying to lower that number with patrols, signs, and more.
Beachy Head is a chalk headland in Southern England, close to the town of Eastbourne in the county of East Sussex, immediately east of the Seven Sisters. Beachy Head is located within the administrative area of Eastbourne Borough Council which owns the land. The cliff is the highest chalk sea cliff in Britain, rising to 162 metres above sea level. The peak allows views of the south east coast from Dungeness in the east, to Selsey Bill in the west. Its height has also made it one of the most notorious suicide spots in the world. ...more on Wikipedia
see more on Beachy Head