Culture
Hilarious and Borderline Messed Up Pranks Celebrities Have Pulled On Their Kids

Updated June 14, 2019
479 votes
158 voters
11.3k views
11 items
List Rules Vote up the funniest pranks.
Hollywood stars-turned-parents often share heartwarming moments from their children's lives, but also may choose to broadcast less warm and fuzzy occasions. Celebrity kids pranks have become more commonplace in recent years, thanks in part to hosts like Jimmy Kimmel – every year, he encourages parents to jokingly claim they ate their kids Halloween candy, and every year it's hilarious. Pranks celebrities have pulled on their kids often leave fans both laughing and cringing.
Funny pranks stars play on their children often involve intentional embarrassment in the form of PDA or compromising photos. Even celebrities who don't intentionally mess with their kids may slip up and cause childhood humiliation via quips in interviews, social media oversharing, and red carpet mishaps. Reading up on the various pranks famous people play on their kids will leave you thankful your childhood wasn't broadcast for the world to see.
Channing Tatum's daughter was not having it when Tatum told her he ate all her Halloween candy in the fall of 2017, part of an annual prank orchestrated by Jimmy Kimmel. After she ran to her mother for comfort, Tatum fessed up and told her it was a joke. His daughter was not amused, responding with, "That's not funny."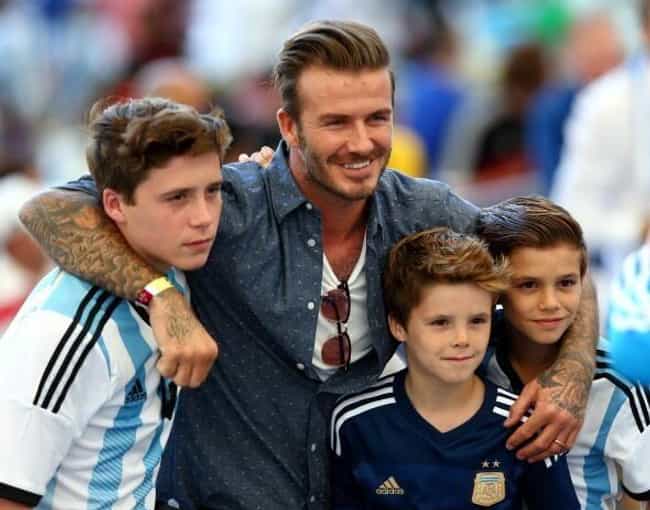 It's no secret that teenagers get increasingly insecure about parental affection. That might go double for children of celebrities, who don't want any extra attention from their famous family members.
Still, David Beckham apparently delights in embarrassing his son, Brooklyn. Brooklyn requests that Beckham drop him off around the corner from school to avoid attention. One day, Beckham complied with this request – only to loudly yell, "I love you!" out of the window as Brooklyn walked into class.
In a 2013 interview, Jaden Smith spoke of his father Will Smith by saying, "I appreciate love, but there's a time and place to kiss people."
Apparently, Smith constantly messes with his teenage son via public displays of affection. In Korea, he tried to kiss his son on the mouth during a press conference, and then made a heart symbol with their hands. On a taping of Ellen, Jaden claimed he almost flipped the couch over when his dad tried to kiss him in front of the audience.
Neil Patrick Harris actually teamed up with his kids, Harper and Gideon, for a prank on Easter 2017. He posted a seemingly adorable picture of him and his twins holding a cute plush Easter Bunny doll. However, after pressing a button, the bunny grew fangs and angry eyes as everyone on screen screamed.