Weird History
Pretty Good Movies About Ancient Rome

825 votes
258 voters
14.7k views
13 items
List Rules Vote up the movies set in Ancient Rome that are worth the watch.
Some movies about ancient Rome are excellent, others are awful. In the middle, there are a bunch of movies about Rome, the Roman Empire, and the Roman world that fall somewhere along a subjective quality spectrum - many of which qualify as "pretty good."
Not every movie about ancient Rome wins an Academy Award for Best Picture like Gladiator (2000) or Ben-Hur (1959). And very few stand the test of time like Monty Python's Life of Brian (1979). But there are many other flicks to check out if you're in the need for some ancient Roman action, drama, and intrigue.
Pretty good movies about ancient Rome may fall short for a variety of reasons. Perhaps they lack development when it comes to characters or plot. It could be that they're in desperate need of an overhaul in terms of special effects. Or maybe they just never caught on with large audiences. Regardless, a lot of them are plenty entertaining, so if you're looking for new ancient Rome movies to watch, here you go!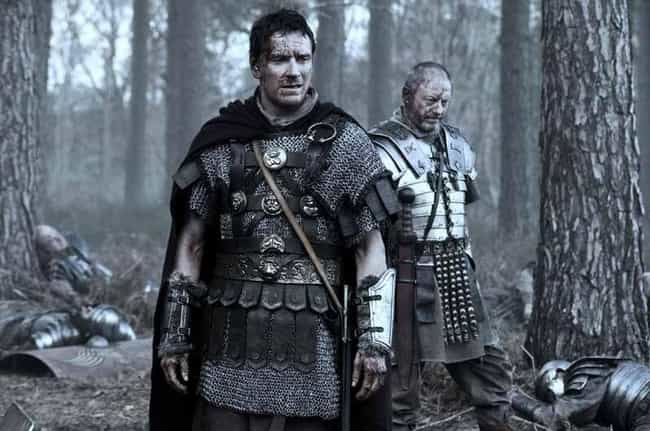 Named for an officer in the Roman Army, Centurion (2010) stars Michael Fassbender as Quintus Dias and Dominic West as Titus Flavius Virilus. As the head of the Legio IX Hispana, or the Ninth Legion, Virilus heads to the northern end of the Roman Empire to eliminate the Pictish threat. Picts have become increasingly combative, engaging in guerrilla tactics against Roman troops stationed near the Scottish Highlands. One survivor of a raid on one of the Roman outposts is Quintus, who joins General Virilus and the Ninth Legion as they pursue the Picts.
The plot of Centurion uses the mysterious fate of the Ninth Legion as its driving force. The movie itself is set in 117 C.E., when the actual Ninth vanished from historical record. Over the course of the movie, the Ninth Legion is more or less destroyed. Etain, a local tracker played by Olga Kurylenko, leads them into an ambush with Gorlacon, the Pictish King. When Virilus is taken captive, it falls to Quintus and the other survivors to rescue him from behind enemy lines. Virilus is ultimately saved, Etain meets a brutal end, and the Roman governor, Agricola, decides the fate of the Ninth Legion should always remain a secret.
Directed by Neil Marshall (The Descent), the film does not shy away from blood and guts. In his review, Roger Ebert pointed out the guerilla warfare in Centurion is perhaps more reflective of present-day conflicts than historical ones. The language, too, is also unapologetically modern. With tongue firmly planted in cheek, Ebert says the dialogue offers something of a linguistics lesson:
The Roman soldiers drop f-bombs and s-bombs hither and yon across the Cairngorms, reminding us of the piquant Latin and Celtic origins of the English language as it is spoken to this very day.
Actors: Michael Fassbender, Olga Kurylenko, Imogen Poots, David Morrissey, Dominic West, + more
Released: 2010
Directed by: Neil Marshall

Is this worth a watch?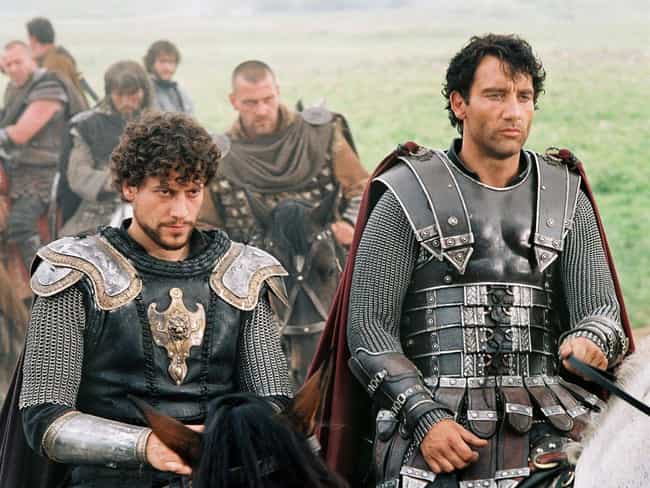 King Arthur, released in 2004, offers a new interpretation of the legendary royal figure and his relationship with the Roman Empire. The title character, played by Clive Owen, is a Roman soldier named Lucius Artorius Castus. Of both Roman and Celtic lineage, Artorius is dedicated to a heretical form of Christianity during the days of Rome's declining influence in Britain. According to one flashback, he extracted Excalibur from his father's burial mound.
While serving in England, Artorius and his men - a group of Sarmatian (modern-day Iran) cavalrymen - guard Hadrian's Wall. Accompanied by his loyal companions, Lancelot (Ioan Gruffudd), Bors (Ray Winstone), Tristan (Mads Mikkelsen), Gawain (Joel Edgerton), and Galahad (Hugh Dancy), Artorius encounters the Woads, a group rebelling against Roman rule. One Woad, Guinevere, played by Keira Knightley, takes up with the soldiers and, together, the Woads and knights unite against their common Saxon enemy. The final battle at Badon Hill results in the demise of several knights, but the Saxons are ultimately defeated. King "Arthur" assumes his role as leader in Britain, ridding himself of his Roman devotion in the process.
Roger Ebert damned the film with faint praise, declaring, "King Arthur is not a bad movie, although it could have been better."
Actors: Keira Knightley, Clive Owen, Ray Winstone, Mads Mikkelsen, Ioan Gruffudd, + more
Released: 2004
Directed by: Antoine Fuqua

Is this worth a watch?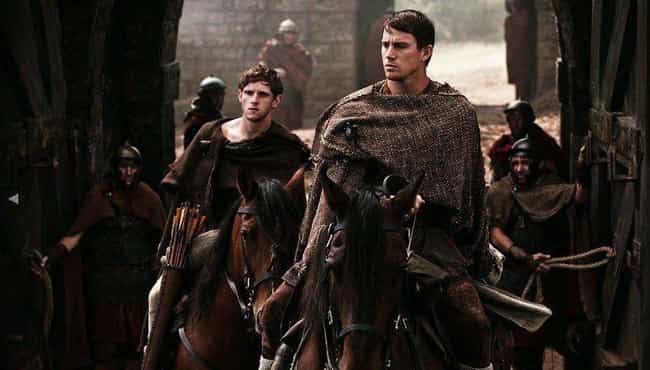 The Eagle (2011) can be viewed as a sort of unofficial sequel to Centurion, which hit theaters one year earlier. As in the latter film, The Eagle explores the mystery surrounding the disappearance of the Legio IX Hispana, or Ninth Legion, and stars Channing Tatum, Jamie Bell, and Donald Sutherland. Based on a historical novel by Rosemary Sutcliff, The Eagle of the Ninth, the film revolves around young Marcus Aquila (Tatum) trying to locate the Ninth Legion's golden eagle standard. Marcus is accompanied by Esca (Bell), a slave, and together, they search the northern frontier of the Roman Empire.
While the Eagle is symbolic of the Ninth Legion, what Marcus really hopes to do is clear his father's name - the man accused of losing the Eagle 20 years earlier. Against the advice of his uncle, played by Donald Sutherland, Marcus and Esca go beyond the boundary of the Empire, Hadrian's Wall, to locate the standard. They encounter hostile natives, the Seal People, as well as Roman survivors from the Ninth Legion. Guern (Mark Strong), a former Roman soldier, assists Marcus and Esca as they inevitably fight the Seal People. Marcus and Esca do recover the Eagle and take it to London, after which they set off for adventures unknown.
The Eagle includes a fair amount of violence and bloodshed, but The Hollywood Reporter considered the film limited by its "simple and uncomplicated" story. Roger Ebert identified the human aspects of the film as one of its strengths, especially the relationship between Marcus and Esca. He also pointed out that, while there are "no major female characters... this is not the sort of world where women would be expected," which frees the story from shoehorning in an "obligatory" romantic subplot.
Actors: Channing Tatum, Donald Sutherland, Mark Strong, Jamie Bell, Denis O'Hare, + more
Released: 2011
Directed by: Kevin Macdonald

Is this worth a watch?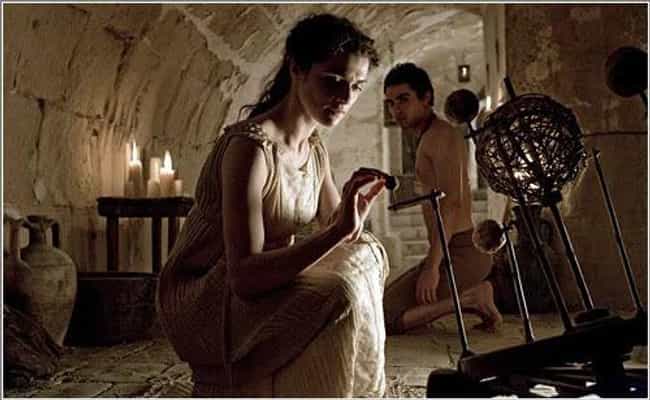 Agora (2009) tells the story of Hypatia of Alexandria, a female intellectual who passed in 415 CE in Egypt. Hypatia was a philosopher, mathematician, and scientist who was purported to be "devoted at all times to magic, astrolabes and instruments of music, and... beguiled many people through her satanic wiles." Perceived to be anti-Christian, Hypatia met her end at the hands of a Christian mob.
Agora presents the religious tension that existed in Alexandria during the late 4th and early 5th centuries. Played by Rachel Weisz, Hypatia is accompanied by her father, Theon (Michael Lonsdale) and two suitors, Orestes (Oscar Issac) and Davus (Max Minghella), on screen. The film explores the relationship between Christianity and ancient philosophical (pagan) thought by depicting the defiling of statues and temples, destruction of the library at Alexandria, and Hypatia's slaying.
Co-writer and director Alejandro Amenabar was criticized for his presentation of Christians in the movie, especially their controversial role in destroying the library at Alexandria. Amenabar argues that he made a "Christian movie," though one that portrays Hypatia as the martyr he believes she was:
I found links to her story and to the story of Jesus Christ. They were dragged through the streets, tortured and [slain]. We don't know if she knew what was coming. The fact is that she was a woman who wanted to be treated as an equal to a man.
Actors: Rachel Weisz, Oscar Isaac, Max Minghella, Michael Lonsdale, George Harris, + more
Released: 2009
Directed by: Alejandro Amenábar

Is this worth a watch?