Watchworthy
Pretty Good World War II Movies

Updated March 19, 2019
15k votes
1.9k voters
38.9k views
17 items
List Rules Vote up the pretty good World War II movies you're most likely to recommend to friends.
WWII has been mined so aggressively by filmmakers you'd expect the mine to have collapsed and been deemed unsafe for human habitation decades ago. Yet, WWII was so extensive, involved so many countries, continents, and people, and so thoroughly impacted the shaping of contemporary global society, the pull of its tractor beam is impossible to resist for those on the prowl for potent human drama. You've no doubt seen the cream of the crop of WWII movies, pictures like The Bridge on the River Kwai, The Guns of the Navarone, The Great Escape, Open City, Saving Private Ryan, The Human Condition, and Army of Shadows. If you're hankering for more but aren't sure where to start, take a look at the pretty good WWII movies on this list.
Lesser-known WWII movies aren't necessarily bad movies. There are plenty of classic Japanese WWII movies you've never seen simply because you may not seek out old Japanese movies (check out The Burmese Harp and Fires on the Plain). So don't immediately dismiss some of the forgotten WWII movies on this list just because you've never heard of them. They're all decent WWII movies, despite middling reputations and a distinct lack of cultural capital. If you've seen the classics and need a few more WWII movies worth seeing on your to-watch list, this list's for you.
Data-driven recommendations based on voting from over 40 million monthly visits to Ranker.
Try the free app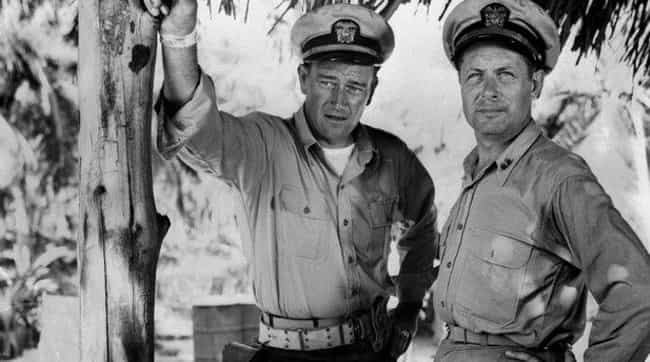 They Were Expendable came out in December 1945, only a few months after the surrender of Japan. Starring John Wayne, Donna Reed, and Robert Montgomery, the film explores a lesser-known chapter in the Pacific War, the Battle of the Philippines. Directed by John Ford (The Searchers, Stagecoach, The Grapes of Wrath), They Were Expendable tells the story of Motor Torpedo Boat Squadron Three and its valorous conduct in an extremely brutal series of engagements.
Nothing about this sweeping wartime drama is exceptional, but when held against the best WWII movies, or the best films involving any of the major talent involved, They Were Expendable doesn't rank high.
Actors: John Wayne, Donna Reed, Robert Montgomery, Ward Bond, Cameron Mitchell, + more
Released: 1945
Directed by: Robert Montgomery, John Ford
The Battle of Midway is one of the defining moments in the Pacific theater, a defeat from which the Japanese navy never fully recovered. Historian John Keegan called it "the most stunning and decisive blow in the history of naval warfare." There's plenty of potent material there.
You'd think a movie recounting the events of Midway, with an all-star cast including Charlton Heston, Henry Fonda, James Coburn, and Toshiro Mifune, would be absolutely riveting. The filmmakers opted to take a rare and admirable path, focusing on historical accuracy rather than cloying drama. Because of this, Midway plays more like documentary than dramatization. WWII buffs will find plenty to like, but those looking for a war epic picture might want to look elsewhere.
Actors: Tom Selleck, Charlton Heston, Henry Fonda, Robert Mitchum, James Coburn, + more
Released: 1976
Directed by: Jack Smight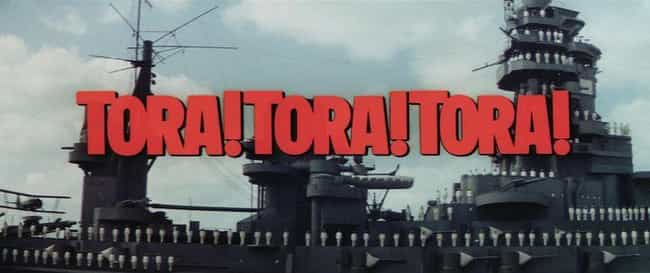 Tora! Tora! Tora! is regarded by some as a classic, but it's ultimately not much better than pretty good. It could've been at least half masterpiece — Akira Kurosawa was hired to make the Japanese portion of the film, but was removed from the production after about a week of filming, due to a number of reasons.
Rather than a compassionate, complex look at the intricacies of the war's cultural and historical context, Tora! Tora! Tora! is a serviceable, overlong battle picture. It receieved some pretty bold reviews when it came out, which are worth a peek.
Roger Ebert: "Tora! Tora! Tora! is one of the deadest, dullest blockbusters ever made. The very word 'blockbuster' may be too lusty to describe it; maybe 'blocktickler' is more like it for this timid epic."
Vincent Canby of The New York Times: "As history, it seems a fairly accurate account of what happened, although it never much bothers its head about why. As film art, it is nothing less than a $25-million irrelevancy."
Actors: Jason Robards Jr., Martin Balsam, Joseph Cotten, James Whitmore, Richard Anderson, + more
Released: 1970
Directed by: Richard Fleischer, Toshio Masuda, Kinji Fukasaku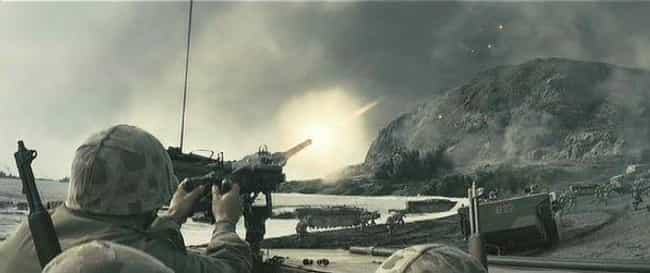 Part of Clint Eastwood's two-film experiment, Flags of our Fathers takes the American perspective of the Battle of Iwo Jima. The Japanese-centric half of the diptych, Letters From Iwo Jima, is a far better movie. Flags of Our Fathers, but is a fairly conventional war picture full of sentimentality and not much else. Its lack of subtlety sometimes feels like pro-American propaganda, but it's still a well-made picture.
Actors: Paul Walker, Ryan Phillippe, Jamie Bell, Jayma Mays, John Slattery, + more
Released: 2006
Directed by: Clint Eastwood