Entertainment
Pride Movie Quotes

82 votes
58 voters
16.9k views
6 items
"Pride" movie quotes tell the true story of the 1984 UK miners' strike and the group of gay and lesbian supporters who came to their rescue. The British drama movie was directed by Matthew Warchus using a screenplay by Stephen Beresford. After rave reviews following its premiere at the 2014 Cannes Film Festival, "Pride" opened in the United Kingdom on September 12, 2014, then in the United States on September 26, 2014.
In "Pride," the 1984 UK miners' strike is in full force with the government announcing that it would be closing numerous pits and leaving tens of thousands without jobs, something that would assuredly cripple the communities who rely on mining to support them. A group (including Dominic West and Ben Schnetzer) of gay and lesbian activists, who know what it's like to face adversity, decide to step in to help the displaced families affected.
But since most miners' unions were not exactly eager to welcome gay and lesbian activists to their corner, the group decides to pick a small city in Wales and focus their efforts there. While their reception by those in the city isn't completely warm, they are appreciated by leaders Dai (Paddy Considine), Cliff (Bill Nighy) and Hefina (Imelda Staunton) and the two groups go on to completely change the strike and the world forever.
"Pride" is just one of several stellar films in theaters in September 2014 along with
"The Equalizer,"
"The Boxtrolls,"
"This is Where I Leave You,"
"The Maze Runner,"
"A Walk Among the Tombstones,"
"Dolphin Tale 2,"
"No Good Deed,"
"The Skeleton Twins,"
"The Disappearance of Eleanor Rigby,"
"The Drop,"
"The Identical,"
"Frontera,"
"The Longest Week,"
"The November Man,"
"The Congress,"
"Life of Crime,"
"Starred Up,"
"Sin City: A Dame to Kill For,"
"If I Stay."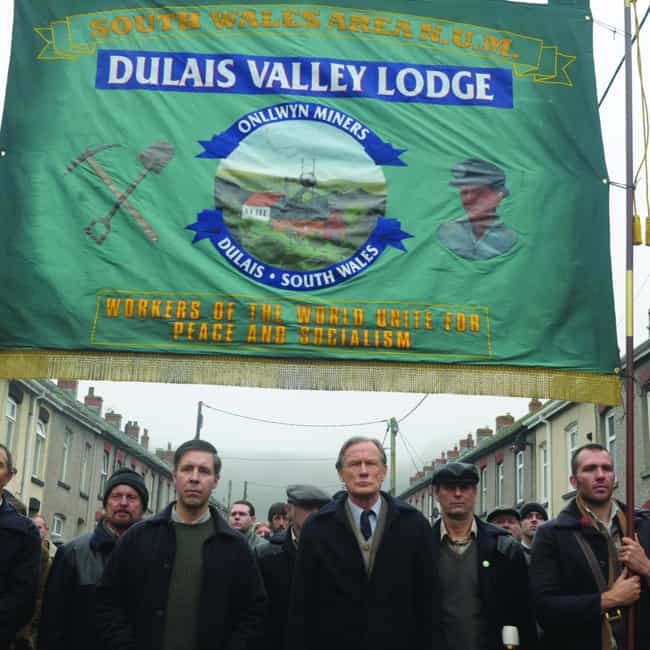 Dai: "When you're in a battle with an enemy that's so much bigger, so much stronger than you, to find out you had a friend you never knew existed, well that's the best feeling in the world. Can you see what we've done here, by coming together all of us? We made history!"
Dai reflects on what they all have accomplished by working together. Their unprecedented unity has given them big results.

Should this be higher or lower?
Lesbians and Gays Support the Miners
Mark: "I guess we just…"
Jonathan: "I think I'm starting to freak out slightly."
Gwen: "Dai, your gays have arrived!"
Dai: "Good to see you. Hi there, welcome. Welcome, come on in, everybody. Great to see you again. Good to see you again. Come on in. Welcome, everybody. This is my wife, Margaret. This is Gail and Sian, who wrote to you. This is Hefina, who chairs the welfare committee. This is Gwen and this is Cliff, our club secretary."
Cliff: "I'm going to officiate you. Your name here, please, and in the corresponding box, the group or organization you represent… In this case…"
Dai: "Lesbians and Gays Support the Miners"
Cliff: "Yep, quite absolutely"
Mark: "Thank you, thank you very much for having us."
Gwen: "I'm hoping you can clear something up for me about lesbians."
Hefina: "Not now, Gwen"
Gwen: "It's something I was told in the covered market and, to be honest with you, it did surprise me…"
Dai: "Let them get settled in first, shall we?"
Gwen: "Oh"
When Mark and other activists arrive to meet with the miners, they are welcomed by Dai and Cliff, along with their wives and other women. While Dai and Cliff get right down to business, Gwen has other priorities.
Should this be higher or lower?
I Don't Want to Give Them the Wrong Impression
Hefina: "What in the hell do you think you're doing? Get out there and find a gay or a lesbian right now!"
Guy: "I don't want to give them the wrong impression."
Hefina: "Right, cause you're so bloody irresistible!"
Hefina confronts one of the miners who is being anti-social at an event. When he explains that he doesn't want anyone to get confused, she gives him a thick dose of reality.
Should this be higher or lower?
It's the Right Thing to Do
Mark: "Mining communities are being bullied, just like we are. What they need is cash!"
Ray: "Yeah, because the miners have always come to our aid, haven't they?"
Mark: "It doesn't matter. It's the right thing to do!"
…
Mike: "So we are going to pick a mining town completely at random?"
Gethin: "There, Wales"
Mark sees similarities in his work as a gay activist and the fight of the striking miners and is determined to help. Since their involvement is not exactly being met with open arms by everyone, they pick a small town at random and focus their efforts there.
Should this be higher or lower?