Weird History
Princess Alice of Battenberg's Real Life Was Even More Dramatic Than What You Saw On 'The Crown'

Updated November 27, 2019
15k views
12 items
Alice of Battenberg, mother to Prince Philip, Duke of Edinburgh, and mother-in-law to Queen Elizabeth II, was very much like the figure depicted in Season 3 of The Crown. She was born in Windsor Castle, spent much of her life living in Greece, and was generally regarded as a kind soul.
Alice of Battenberg lived many lives during her 84 years - she was wife to Prince Andrew of Greece, an exiled princess in Paris, a rescue worker during WWII, and a nun. She was born deaf and spent time in an asylum, just as the show indicates, but there are many more details about her fascinating life and her family that veer away from - and enhance - what The Crown would have you believe.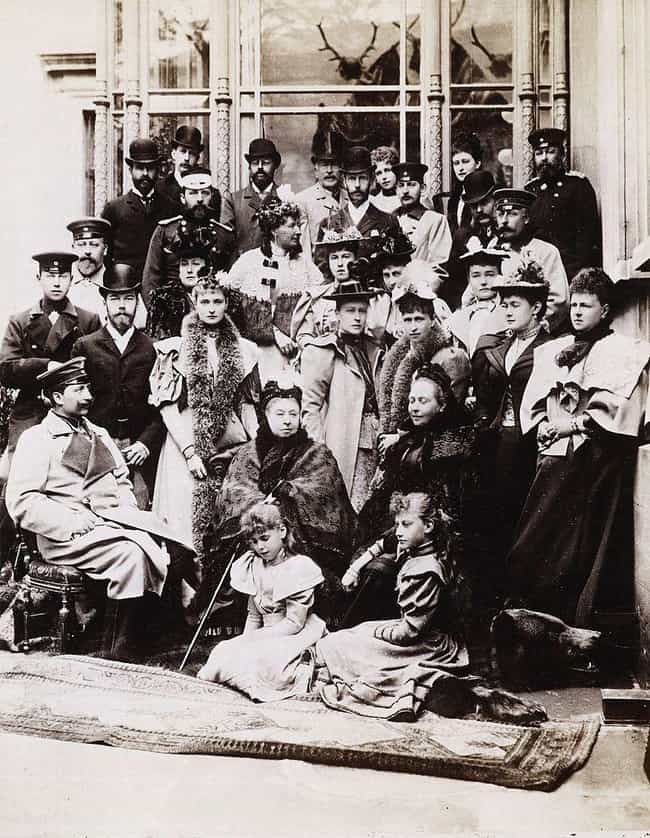 Born Deaf, Alice Was The Great-Granddaughter of Queen Victoria And Daughter Of German Nobles
Born in 1885, Alice was the oldest of four children, "a fine sturdy baby" who came into the world at Windsor Castle. Her father, Prince Louis of Battenberg, was born in Austria in 1854 and became a subject of the British crown in 1868. He joined the British Navy, eventually becoming earning a rank of admiral.
Alice's mother, Princess Victoria of Hesse and by Rhine (her full name was Victoria Alberta Elizabeth Mathilde Marie), was the daughter of Queen Victoria of England's daughter, also named Alice. As daughter, granddaughter, and great-granddaughter of Queen Victoria, all three women were born with the monarch in the room.
Technically, Louis of Battenberg and Princess Victoria of Hesse and by Rhine were cousins once removed, and, with their match in 1884, Alice was born with a substantial amount of German noble and British royal blood in her veins.
As a child, Alice was aloof, in large part because her speech development was delayed. When she was 4 years old, it was discovered she was congenitally deaf. While her condition, the thickening of her Eustachian tubes, would be treatable today, it was incurable during her childhood. As she aged, some of Alice's hearing returned, but she continued to spend hours on her own.
Because her mother was fearful of what the vulnerability meant for Alice, she forbade her daughter from asking people to repeat themselves. Alice lip-read with great skill and, because her beauty was so striking, it was said, "no throne is too good for her."
She Married Prince Andrew Of Greece And Denmark In 1903 And Became 'Princess Andrew'
Alice met Prince Andrea of Greece, also called Andrew, in 1902 at King Edward VII's coronation. Andrew, the son of King George I of Greece, was, according to later comments by Alice, "exactly like a Greek God." The two fell in love, exchanged letters for months, and, in early 1903, received Edward VII's blessing to marry.
Alice and Andrew wed in October 1903, an event that was attended by royalty from throughout Eurasia. They actually had two weddings, one Protestant and one Russian Orthodox ceremony. Alice relocated to Athens to be with her husband where she was received as Princess Andrew. In 1905, Alice gave birth to the first of her five children with Andrew, a daughter named Margarita. She gave birth to three more daughters - Theodora, Cecilie, and Sophie - in 1906, 1911, and 1914, respectively, and bore her only son, Philip, in 1921.
Alice spent much of her time with her children, moving with her husband as he was stationed in various places while serving in the Greek navy. She also visited family in England, Germany, and Russia often, notably discussing the establishment a new religious order under the auspices of her aunt, the Grand Duchess Elizabeth Feodorovna, in Russia in 1908.
Alice Worked With The Red Cross During The Balkan Wars
In 1912, the Balkan peninsula erupted into conflict as Serbia, Bulgaria, Greece, and Montenegro fought for independence from the Ottoman Empire. The First Balkan War, as it became known, resulted in the defeat of the Ottomans but, in 1913, war broke out again between Serbia, Greece, and Romania and their former ally, Bulgaria. At issue during this Second Balkan War was land allocation after the conquest of Macedonia, a matter resolved by treaty in August 1913.
Prince Andrew served in the Greek navy during the Balkan Wars while Alice, surrounded by violence and bloodshed, worked to set up military hospitals with better access to injured soldiers. According to Alice's letters,
Although the army had very good surgeons and men nurses with lots of bandages to make the first bandages on the battlefield, they had no means of transport to the nearest town, nor one single plan for improvising a hospital, with food and bandages...and the Red Cross of Athens and other countries were so slow, they had not a single hospital nearer the war zone than Athens...[and] I myself forced the Military Authorities to fit out an operation room in 24 hours.
Alice worked alongside doctors and nurses, coordinating supplies and tending to patients alike. Her efforts were recognized by King George V of England in 1913 when she was awarded the Royal Red Cross, "in recognition of her services in nursing the sick and wounded among Greek soldiers during the recent war."
After WWI, She And Her Family Were Forced From Greece
Political instability in Greece before, during, and after the Balkan Wars and again in context of WWI resulted in the Greek royal family falling in and out of favor several times over. The Greco-Turkish War of 1919 and 1922 resulted in a Greek defeat, one that prompted backlash against King Constantine I and military officials alike. As a high-ranking naval commander, Andrew was put on trial for insubordination and banished from the country in perpetuity.
Forced to flee Greece, Prince and Princess Andrew and their children took refuge in France, although they spent a large amount of time in England as well. During the 1920s, they also traveled, visiting the United States in 1923, always with an eye on events in Greece, hoping they'd be able to return.
Alice worked as an embroiderer and sold other Greek items while in Paris. Alice and Andrew found support from his sister-in-law, Marie, in Paris, living in a house near them with all expenses paid. According to Marie's son, Peter, they did "not 'struggle to make ends meet' because my mother would never allow it." One of Alice's daughters saw it differently, however, noting, "there were always problems paying the bills."