Total Nerd The Most Promiscuous Superheroes in Comics

1.5k votes
340 voters
35.3k views
20 items
Follow
Embed
List Rules Vote up the most swinging comic characters
Aside from fighting, the thing superheroes are best at is being sexy. Though there are a few oddballs, it's rare to see an ugly superhero. The outfits they wear look more appropriate for a sex club than for fighting crime. Between the rippling muscles and curvaceous figures, it's surprising they don't pass on the conflicts and spend more time banging. Some of them manage to fit in a few tumbles between the rumbles, and that's what lands them on this list of the most promiscuous superheroes.
Some of them can't even help it, it's just part of their power sets to attract others. Others can help it and simply use their sexuality for profit, power, or pleasure.
Whether it's a laundry list of bedmates or just a few scandalous encounters, each of these characters has earned their place on the list with ribald activities and a generous serving of humping on top of the usual spandex fisticuffs. They don't just get around, they flaunt their most promiscuous ways in the faces of their buttoned up, prudish, or just plain monogamous superhero colleagues.
Tony Stark may be the biggest manwhore in the Marvel Universe, but it's not just the string of bar floozies and call girls that built his rep. He's also had long relationships and flirtations with Meredith McCall, Sunset Bain, Joanna Nivena, Pepper Potts, Black Widow, Janice Cord, Marianne Rodgers, Madame Masque, Bethany Cabe, Indres Moonji, Heather Glenn, Brie Daniels, Rae Lacoste, Kathy Dare, Dr. Su Yin, Veronica Benning, Rumiko Fujikawa, Callista Hancock, Anna Wei, and even a dalliance with The Wasp after she divorced Ant-Man.
Check out more salacious comic book moments
here
. Some of these things are too hot to handle!
As Seen In: Iron Man (vol. 4), Iron Man: Extremis Motion Comic, Civil War
Also Ranked
#27 on Characters Who Are Most Worthy Of Lifting Mjolnir
#3 on The Top Marvel Comics Superheroes
#1 on The Greatest Marvel Avengers Characters of All Time
#40 on The Best Movie Characters of All Time
see more on Iron Man
Logan has hooked up with Rose O'Hara, Silver Fox, Itsu (mother of Daken), Madame Hydra (because she blackmailed him), Atsuko, Cassie Lathrop, Charlemagne, Mariko Yashida (sister of the Silver Samurai), Yukio, Gahck (of the Savage Land), Amir (of Atlantis), Domino, Seraph, Melita Garner and probably Mystique. His number is probably even higher, but we'll never be sure since the Weapon X program tampered with his memory.

He spent most of the 20th century pining for Jean Grey, who usually only kissed him for the sake of shocking and marketable cover art before her second death. He finally fell for the woman he probably should've been with all along, Storm, right before he died.
As Seen In: Marvel Comics Presents, The New Avengers
Also Ranked
#24 on Characters Who Are Most Worthy Of Lifting Mjolnir
#1 on The Top Marvel Comics Superheroes
#7 on The Greatest Marvel Avengers Characters of All Time
#24 on The Best Movie Characters of All Time
see more on Wolverine
Few characters have vacillated in their promiscuity the way Starfire has in the DC universe. She started as an orange-skinned, orange-haired, and hyperbolically voluptuous alien princess who wore revealing outfits that not even Victoria's Secret could think up. However, due to her alien nature, she was oblivious to her own sexiness and the chaos she was causing in the tights of her male teammates.

Then she was revamped as a skinny, covered-up, doe-eyed teen in the Teen Titans books. Her innocent nature remained, but the curves were gone, and the flesh was covered up (by superhero standards).

When the
New 52
hit, the sexuality came back with a vengeance. As a "symbol for women's liberation" (written and drawn by men), she banged super heroes without a care. She aloofly bedded fellow Justice Leaguers as if her soul had been sucked out and replaced with a busty, bikinied fembot. It was not well received by feminists,

Teen Titan

s lovers (which were many due to the property's successful run as a TV show… for kids), moms, or fans of steady and/or cohesive character development.
Also Ranked
#77 on The Best Comic Book Superheroes of All Time
#23 on The 100+ Best DC Comics Heroes of All Time According to Fans
#24 on The Best Female Comic Book Characters
#30 on The Greatest Fictional Princesses
see more on Starfire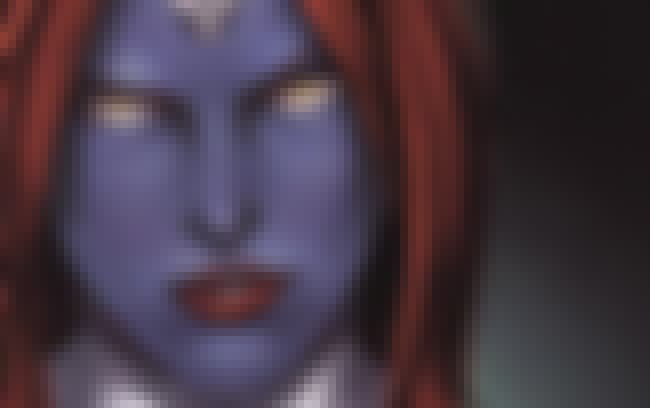 Raven Darkholme's mutant shape-shifting ability lets her be anyone to anyone, and often, to achieve her goals, she becomes someone desirable. She uses seduction and violence to execute her many plots for profit, terror, or sometimes even the greater good. Aside from the uncountable amount of heroes, villains and political influencers she's seduced, she's had long-term relationships with Sabertooth and Destiny that were (mostly) devoid of deception.

During an especially dark time, she was married to an infertile Count Wagner and began having sex with random strangers in an effort to conceive. It was during this phase that she met the demon Azazel and the two produced Nightcrawler. She's also the mother of noted anti-mutant activist, Graydon Creed.
As Seen In: X-Men: Legacy
Also Ranked
#23 on The Best Comic Book Villains
#72 on The Best Movie Villains of All Time
#44 on The Best Comic Book Superheroes of All Time
#90 on The Greatest Female Characters in Film History
see more on Mystique