Total Nerd
All The Evidence Kate McKinnon Is An All-Time Great 'SNL' Cast Member

Saturday Night Live has been an institution of late-night weekend watching for more than 40 years, and it seems that each generation of cast members has one or two standouts who make or break their respective seasons. Ever since she joined the cast in 2012, one of those standouts has been the great and inimitable Kate McKinnon. Unlike anyone else on the series, McKinnon has grown and developed her craft and has become the one female comedian everyone tunes in to see. Looking at her career, it's easy to understand why.
McKinnon has made a career of impersonating other celebrities. She does it so well she's become an institution of her own having gone so far as to become Hillary Clinton on stage, which is one of McKinnon's best impressions. With her work on SNL, McKinnon has managed to create a successful voice-acting, feature film-leading, book reading, and everything else in Hollywood career that few current and former cast members could hope to emulate.
What makes this New York native such an amazing entertainer who is easily one of the best SNL cast members ever? Looking back through her time on the show and what led up to it, it's no wonder Kate McKinnon became one of the greatest all-time comedians on Saturday Night Live.
She Is The First Openly Gay Female Cast Member On 'SNL'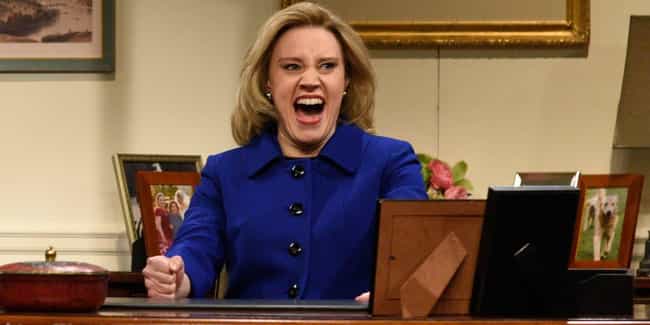 Kate McKinnon is the first openly gay woman to star on SNL, and that title has a lot to do with her youth and television. Around the same time she was introduced to SNL at the age of 12, she watched Gillian Anderson on The X-Files, which gave her a "physiological reaction" helping her understand her sexuality. Years later, she would go on to appear alongside Anderson in the film The Spy Who Shagged Me.
McKinnon has never been shy about her sexuality, and was well-known in the LGBTQ+ community long before making her way to SNL. She appeared in 23 episodes of The Big Gay Sketch Show between 2007 and 2010 before achieving her dream and becoming a cast member on SNL. While she is the first openly gay female cast member, she isn't the first to star on the series. Though they weren't as open as McKinnon, both Terry Sweeney and Danitra Vance predated McKinnon in that capacity on SNL.
Bill Hader Was Kicked Out Of Her Audition For Laughing So Hard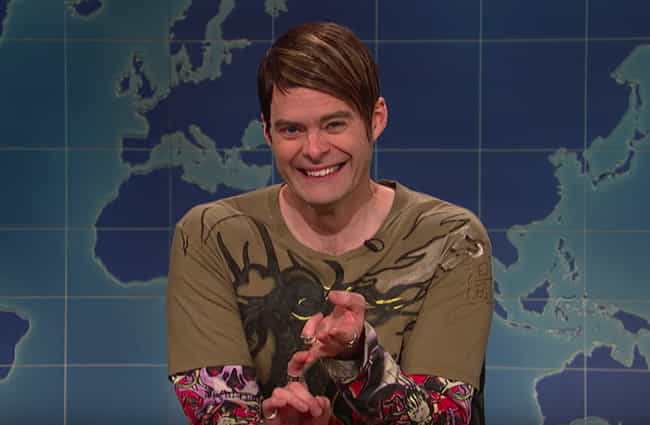 Bill Hader has been one of SNL's primary players for years, which made him one of the people McKinnon had to impress when she auditioned for the show's 38th season. Lorne Michaels has a standing rule that nobody is allowed to laugh during a prospective cast member's audition, but Hader famously broke that rule while McKinnon was performing.
When he was interviewed on The Ellen Show, Hader explained that during McKinnon's audition, "I started laughing so hard they were like, get the hell out of here!" Hader was kicked out of room, which must have been a good sign for up and coming star McKinnon at the time.
She Has Won Two Emmys For Outstanding Supporting Actress In A Comedy Series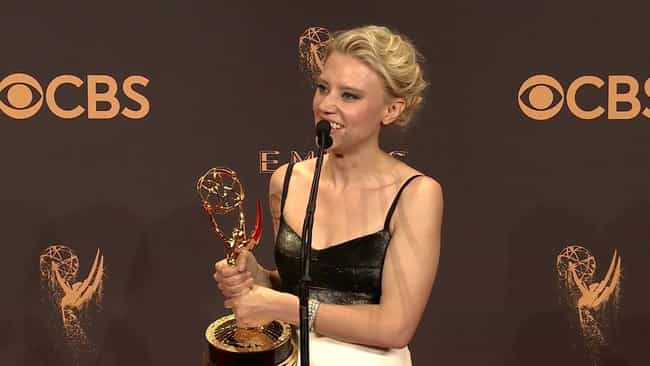 Like any talented actor or actress who works hard in the industry, McKinnon has been awarded numerous times for her entertaining portrayals of various people and characters. Throughout her stay on SNL, she has been honored twice with the Emmy Award for Outstanding Supporting Actress in a Comedy Series. While this is an amazing achievement, it didn't come without controversy.
When McKinnon was awarded the Emmy in 2017, her acceptance speech was cut off before she could finished. The orchestra kicked in just as she said, "Being part of this season of Saturday Night Live is the most meaningful thing I will ever do. Congratulations to our incredible cast..."
The break came as she was just about to name Hillary Clinton, the woman who inspired her most famous impersonation. Despite this acceptance speech snag, her win was an incredible achievement and her second Emmy two years in a row.
Hillary Clinton Mentions McKinnon In Her Memoir 'What Happened?'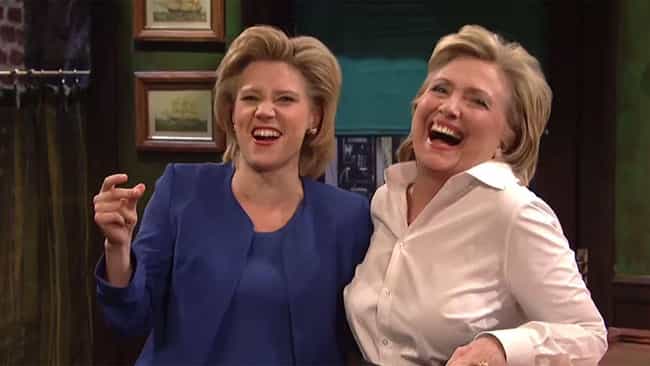 Despite being the front-runner for most of the 2016 election, Hillary Clinton lost to Donald Trump, and a short time after the election ended, Clinton published a book titled, What Happened?. Just after the election came to an end, SNL did its thing and McKinnon reprised her role as Clinton once more to sing the song "Hallelujah" during the show's election week cold open.
Clinton then commented on that performance in her book writing:
On the Saturday after the election, I turned on Saturday Night Live and watched Kate McKinnon open the show with her impression of me one more time. She sat at a grand piano and played 'Hallelujah,' the hauntingly beautiful song by Leonard Cohen, who had died days before. As she sang, it seemed like she was fighting back tears. Listening, so was I.
McKinnon told Jimmy Fallon that she was listening to Clinton's audiobook and freaked out as she heard herself mentioned.