Entertainment
14 Movie Props Used in Multiple Movies

For many films, elaborate sets are built, costumes are stitched together, and props are made. But what happens to the props after the film has wrapped production? Sometimes, the props are destroyed. Other times, they sit around in some Hollywood storage bin, wasting away. However, some props are brought back to life. They are given a fresh coat of paint or a simple rebuild and land a gig on another set. Here is a list of famous props used in more than one movie.
Even big-budget Hollywood movies use recycled props. Why build a whole new jet when you can find one in storage, collecting dust? Sometimes, reusing props is just a way to save money. Other times, a filmmaker is using the prop as a clever homage to another film: Mel Brooks was such a big fan of Kenneth Strickfaden's Frankenstein that when it came time to make his love letter/parody Young Frankenstein, the director used the old electrical equipment from the original 1931 horror classic.
From flying cars to teddy bears to lightsabers, reused film props are Hollywood's way of going green, saving cash, and paying respect to the past.
back to page 1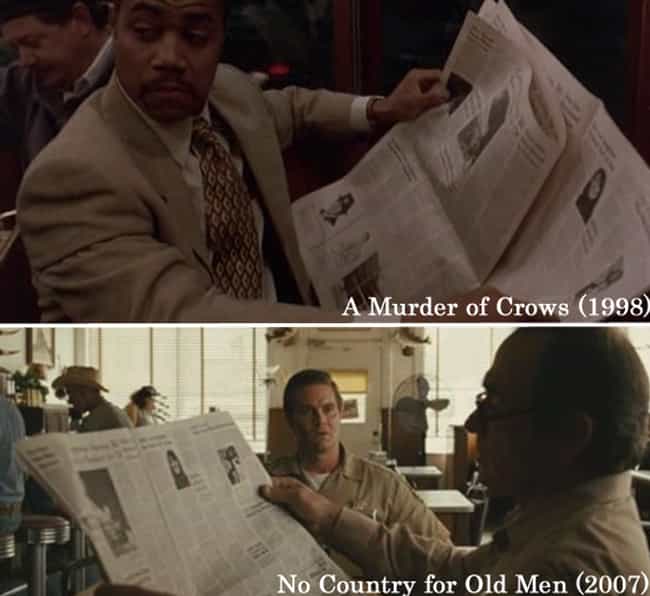 An extremely observant Redditor noticed that the same newspaper kept popping up in several movies and television shows. It contained the black and white headlines, "She's 3rd Brightest But Hard Gal to See" and "Compromised Housing Bill Sent to President for OK."
The newspaper has been used in the films No Country For Old Men, A Murder of Crows, and several TV shows including Married With Children, Modern Family (so yes, Ed O'Neill has been reading the same newspaper for several years), Scrubs, and Lucky Louie, to name just a few.
So what gives? Newspapers are cheap, why recycle them? The paper actually comes from a prop company in California called Earl Hays Press. Movies and television shows use copies of the same prop (it's not the same exact paper), so they don't have to pay a real newspaper for legal clearance to show their headlines on film. A newspaper prop from EHP only costs $15.
see more on No Country for Old Men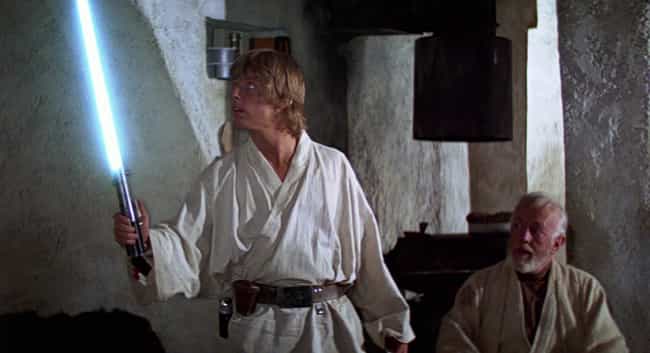 In what can best be described as ironic prop recycling, the lightsaber that Darth Vader wields in Return of the Jedi actually belonged to his estranged son Luke Skywalker. Vader's saber is simply Luke's repainted sword from Star Wars and The Empire Strikes Back. Vader's original lightsaber was reportedly stolen.
see more on Star Wars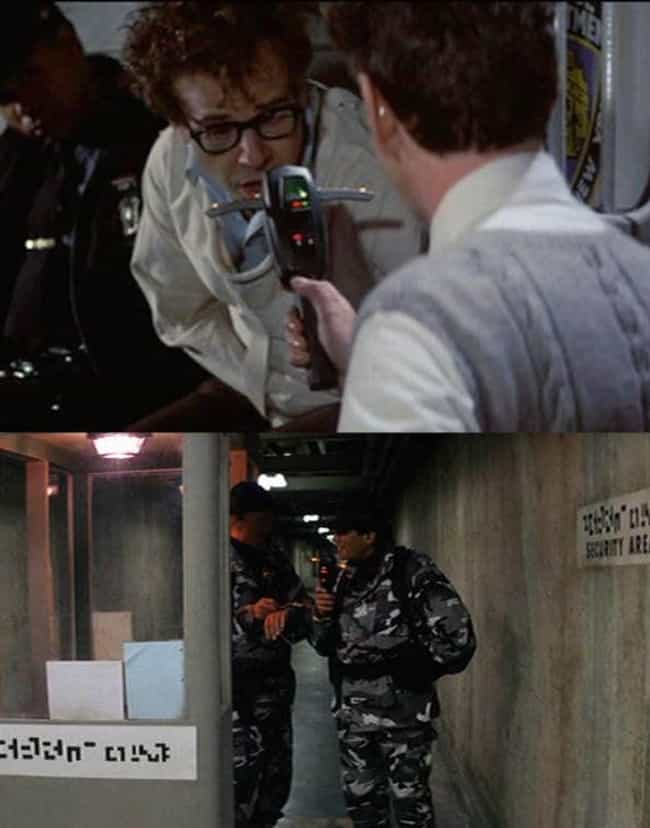 The P.K.E. (Psycho-Kinetic Energy) meter used in the original Ghostbusters to check the area for ghosts was reused in two movies starring former professional wrestlers. In John Carpenter's They Live, starring Roddy Piper, the P.K.E. was painted black and used as an alien walkie-talkie. The meter was also used in the Hulk Hogan vehicle Suburban Commando as a tracking device.
see more on Ghostbusters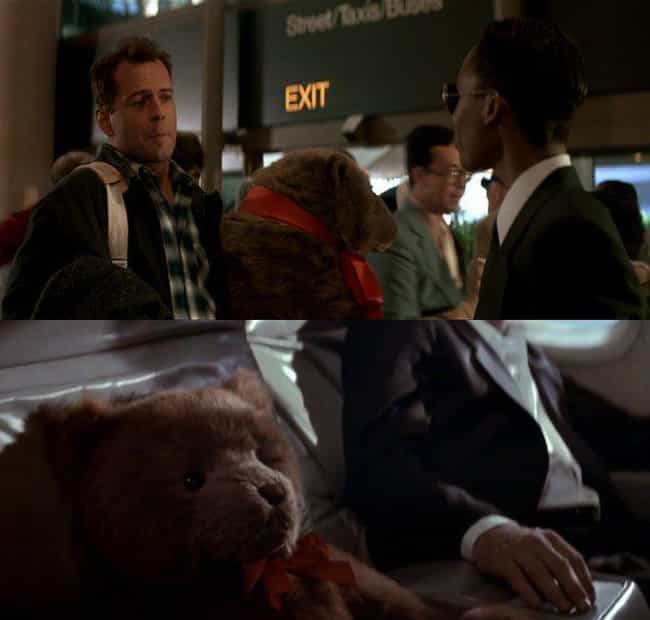 John McTiernan directed both The Hunt For Red October and Die Hard - two totally different movies linked by one cute brown teddy bear. The bear makes its first appearance as the present Jack Ryan gets for his daughter in The Hunt For Red October. That same teddy bear represented the gift that John McClane bought for his kids for Christmas in Die Hard.
see more on The Hunt for Red October