Entertainment
14 Movie Props Used in Multiple Movies

Updated November 5, 2019
28.9k views
14 items
For many films, elaborate sets are built, costumes are stitched together, and props are made. But what happens to the props after the film has wrapped production? Sometimes, the props are destroyed. Other times, they sit around in some Hollywood storage bin, wasting away. However, some props are brought back to life. They are given a fresh coat of paint or a simple rebuild and land a gig on another set. Here is a list of famous props used in more than one movie.
Even big-budget Hollywood movies use recycled props. Why build a whole new jet when you can find one in storage, collecting dust? Sometimes, reusing props is just a way to save money. Other times, a filmmaker is using the prop as a clever homage to another film: Mel Brooks was such a big fan of Kenneth Strickfaden's Frankenstein that when it came time to make his love letter/parody Young Frankenstein, the director used the old electrical equipment from the original 1931 horror classic.
From flying cars to teddy bears to lightsabers, reused film props are Hollywood's way of going green, saving cash, and paying respect to the past.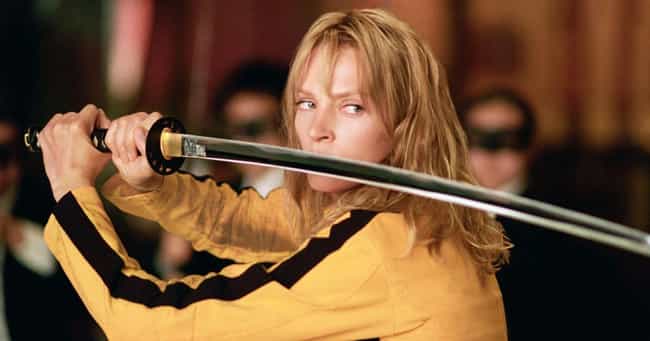 The Bride is one badass assassin, and her weapon of choice is the Hattori Hanzo (a fictional sword company) sword in Tarantino's postmodern homage to martial arts movies. Tarantino's story goes that Hanzo swore a blood oath to not ever make another sword again, but changes his mind after the Bride explains that the purpose of the sword will be to kill Bill in an act of revenge.
This same exact sword appears just a couple years after the first
Kill Bill
in Frank Miller and Robert Rodriguez's
Sin City
. The sword is used by Miho, a mute assassin of Japanese decent. The tie between the films makes perfect sense, as Tarantino and Rodriguez are frequent collaborators.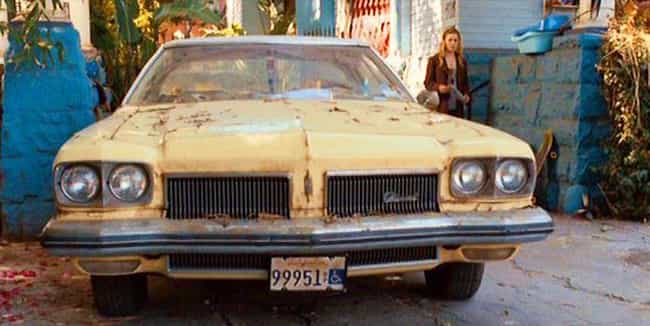 Sam Raimi's 1973 yellow Oldsmobile Delta 88 may be the most recurring prop car in film history. Originally his own college car, the classic vehicle first appeared in Raimi's Evil Dead movies. Then the director used the same car in Crimewave, Darkman, A Simple Plan, The Gift, Drag Me to Hell, The Quick and The Dead (yeah, it's a Western, so it was under a covered wagon, because of the whole continuity thing), and Spider-Man.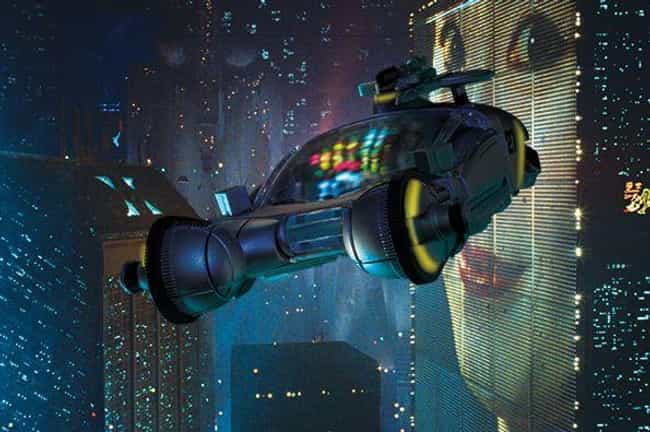 Some directors go to great lengths to ensure that the props used in their films are not recycled. Director Ridley Scott wanted all the prop vehicles destroyed after filming Blade Runner. Somehow, the coolest vehicle in the film (and maybe the coolest in any sci-fi movie), the Police Spinner car driven by Rick Deckard, survived destruction. It received a new coat of paint and appeared in Back to the Future II.
By now, you've seen Se7en, and you know what's in the box. But despite what you may think, the audience never actually sees Gwyneth Paltrow's severed head. Perhaps we were originally supposed to, though, because the filmmakers did actually make a replica head of the blonde beauty.
Brad Pitt revealed during an interview with Entertainment Weekly in 2011 that he would only sign on to play Detective Mills under two conditions, "With Se7en, I said, 'I will do it on one condition – the head stays in the box. Put in the contract that the head stays in the box.' Actually, there was a second thing, too: 'He's got to shoot the killer in the end.' He doesn't do the 'right' thing, he does the thing of passion."
But Paltrow's prop head would not go to waste. We do finally get a chance to see it a few years later in Steven Soderbergh's
Contagion
. Paltrow's character is one of the first people to get infected with the film's deadly virus and her severed head appears in a gruesome autopsy scene.