Weird History
10 Flat-Out Bizarre Historical Field Guides To Prostitution

Prostitution truly is the world's oldest profession, and while historical field guides to the trade have undoubtedly existed since ancient times, special small, printed, and detailed books were widely available for sale in major world cities during the 18th and 19th centuries. The guides provided a variety of information, including where to find pros, their addresses, the names of brothels or individuals, descriptions of the same, and sometimes even prices for services rendered. Some guides came complete with detailed maps of this trade's neighborhoods.
Cosmopolitan locations drew in pros since cities had a constant, transient population of businessmen, soldiers, sailors, and others who were passing through. These men were often lonely - but more often just looking for a good time - and were eager to experience the excitement of a new city. The little field guides were very inexpensive, printed on cheap paper, and almost always disposed of before a client's departure from the city. Such books were not the sort of thing a man would want to be discovered in his luggage upon his return home. Therefore, few of these guidebooks have survived.
Importantly, most guides include two methods of dispensing information. First and foremost there was the moral disclaimer. In other words, the guides repeatedly and fervently warned and cautioned potential customers to stay away from such neighborhoods for their own personal safety. And yet - on the same page - they provide detailed directions, addresses, names, and even descriptions of the women in a given house, just in case one should stumble into such areas "accidentally." Frequently, the phrase "[not] that anyone should ever go there" followed a vivid description of the destination. Second, do not expect to find graphic descriptions in the antiquated guides. The workers were generally described in virtuous terms, such as "[she] is fresh from the country," or the guides objectified the female body as landscape: "[the] large, fair hills rising upon her chest" or "her fragrant, lush lower garden." Perhaps people from earlier times better appreciated leaving some things to the imagination.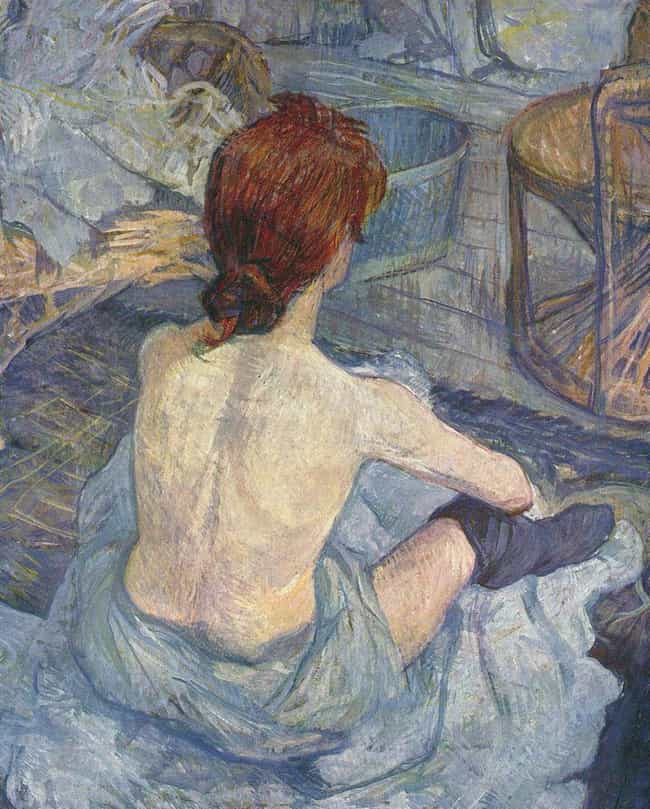 Philadelphia's 'Guide To The Stranger'
Full title: A Guide to the Stranger or Pocket Companion for THE FANCY, Containing a List of the Gay Houses and Ladies of Pleasure In The City Of Brotherly Love And Sisterly Affection. This handy guide to Philadelphia's ladies of the evening was published in 1849, though earlier editions likely existed.
Typical of such booklets, the reader was warned and admonished against visiting houses of ill-repute, while making sure to state the precise address and exactly who lived there. Just so you'd know to stay away from.
On offer at "Miss Sarah Turner's House, No. 2 Wood St., was everything calculated to make a man happy. The young ladies are beautiful and accomplished; they will at any time amuse you [...] none but gentlemen visit this Paradise of Love."
Not every house received such a good review, however. One of the worst, albeit contradictory criticism, was awarded to a certain Mrs. Hamilton, who resided on Locust Street: "This woman has been long enough at the accommodation of single gentlemen and their wives, that she has grown bald and toothless in the service. Beware of this house, stranger, as you would the sting of a viper."
London's 'Covent-Garden Ladies'
Full title: Harris's List of Covent-Garden Ladies: or, Man of Pleasure's Kalender, for the year 1788 (1789, 1790, 1793), etc. 18th-century London produced perhaps the cheekiest guide to local services. Harris's List was a standby for years and was openly available for sale in shops and on the street for about two shillings. Generally, around 120 women or their houses were included, with some added and some removed in newer editions.
The actual number of London pros during the late 18th century was between 6 and 7 thousand, so it was something of an honor (or, for those receiving an unfavorable review, a dishonor) to make the annual Harris's List.
The English guidebook is unusual among others of its kind in that it often lists prices for sexual services. Additionally, it generally offers full descriptions of the women, including details about their breasts and genitals. Often, though, these descriptions were couched in poetic or landscape language, such as the poem that appears describing "Miss B---nd of Frith Street":
A rose-bud blows in either cheek, Round which the lily makes its bed;

Two dimples sweet good nature speak, And auburn ringlets deck her head.

Her heaving breasts pant keen desire, Their blushing summits own the flame;

Her eyes seem wishing something nigher,

Her hand conducts it to the same.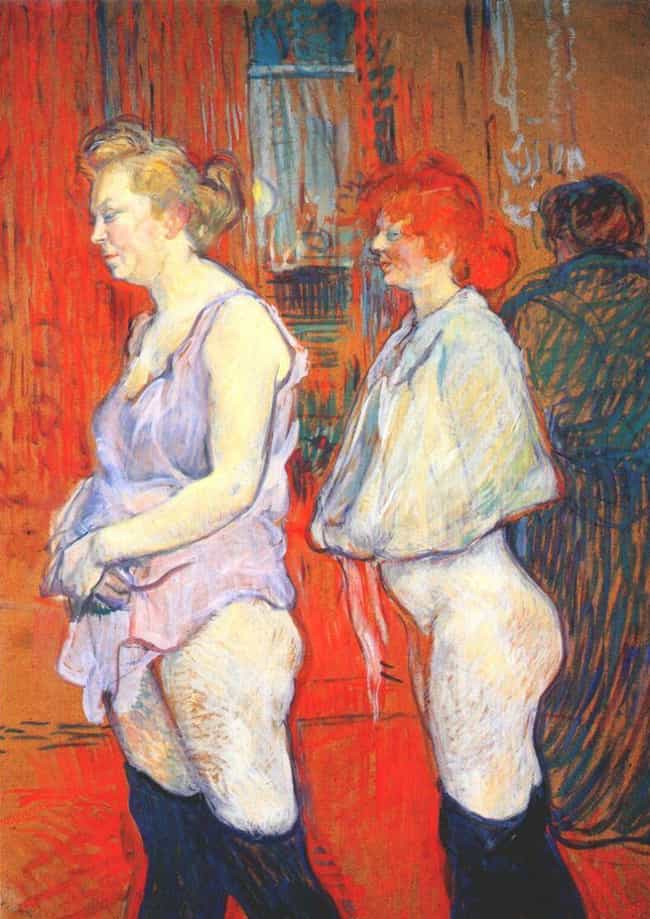 New York's Gentleman's Companion
Full title: A Vest Pocket Guide to Brothels in 19th-Century New York for Gentlemen on the Go. New York City experienced shockingly rapid growth during the 19th century, which meant there were always plenty of transients making their way in, out, and through the town. Businessmen, sailors, immigrants, and plenty of curious local men all contributed to this movement. The Gentlemen on the Go guide covered a variety of entertainment options available to residents and visitors to the city, with the section dedicated to sexual establishments labeled, enticingly, "Temples of Love."
Surviving copies of this guide date to 1870, but, without a doubt, there were many earlier editions. Like others of its type, the authors spend a good deal of time telling cautionary tales about "bad neighborhoods" to avoid, while providing very specific address details just in case one accidentally stumbled into trouble. For example:
But we point out the location of these places in order that the reader may know how to avoid them, and that he may not select one of them for his boarding house when he comes to the city. Our book, will, therefore, be like a warning voice to the unwary - like a buoy attached to a sunken rock, which warns the inexperienced mariner to sheer off, lest he should be wrecked on a dangerous and unknown coast.
A house on Houston St., kept by a Miss Emma Benedict, received high praise:
It is a first class house with eight lady boarders. Everything here is arranged in the first style, while the bewitching smiles of the fairy-like creatures who devote themselves to the services of Cupid are unrivaled by any of the fine ladies who walk Broadway in silks and satins new.
The entire length of Greene St., according to the author, is "a complete sink of iniquity" and best avoided altogether.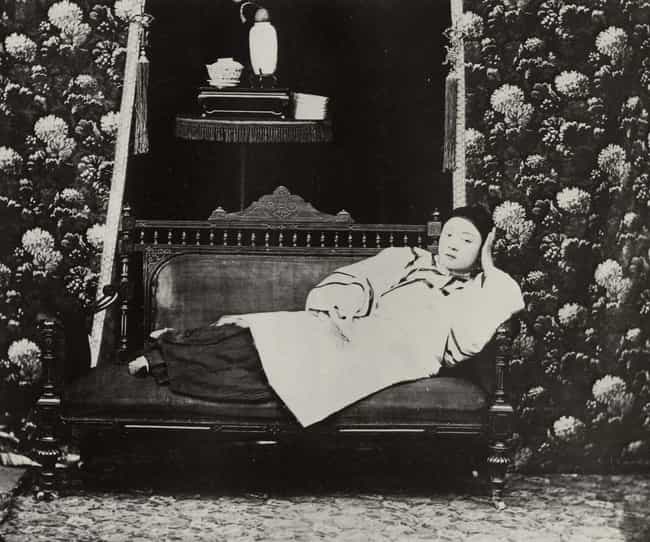 'A Complete Look At Shanghai Philandering'
Shanghai is an international city that attracted a great many visitors for both business and pleasure. 19th-century guides to the "soiled doves" of Shanghai also used the sex-worker-as-landscape method of description employed in Europe.
Titles included Precious Mirror of Shanghai, A Sixty-Year History of the Shanghai Flower World, Pictures of the Hundred Beauties of Flowerland, and perhaps a favorite due to the frankness in its title, A Complete Look at Shanghai Philandering.
The guidebooks included biographies of famous pros, anecdotes about famous customers, and the usual names, addresses, and descriptions of the women themselves. The guides also included exhaustive glossaries of trade language, detailed maps, and stern descriptions of expected behavior on the part of clients. No mention was ever made about how the women came to be these professionals or if they were there on their own free will or not.