Music
Inside Queen's Unforgettable Live Aid Performance

Updated October 17, 2018
403.3k views
12 items
When Queen performed at Live Aid, they gave the show of a lifetime. Often called Queen's best live show, the 20-minute performance changed music forever. In 1985, Bob Geldof and Midge Ure organized Live Aid in mere weeks, securing musical artists from around the world to raise funds for famine relief in Ethiopia. They described Live Aid as a "global jukebox" and held dual concerts at Wembley Stadium in London and JFK Stadium in Philadelphia, welcoming a total of more than 170,000 guests.
Queen were among more than 75 acts that performed on July 13, 1985. They rocked the stage at Wembley Stadium, mastering their set in a way that marveled fans and fellow performers alike. Queen's performance brought together some of the band's greatest hits and an energy only a frontman like Freddie Mercury could provide. The story of Queen at Live Aid is a tale of pure talent and musical brilliance.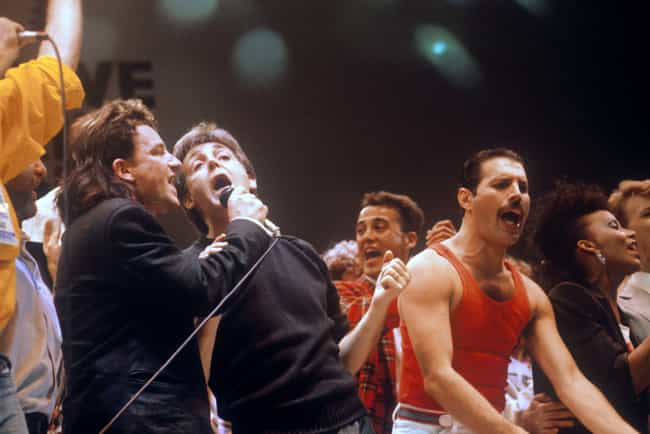 Freddie Mercury Knew It Was A Competition And Reveled In It
According to Freddie Mercury, everyone realized Live Aid was going to bring out the best in all the performers. He anticipated that the acts would "be trying to outdo each other, which will cause a bit of friction. It makes me personally proud to be a part of it."
Mercury later explained the reason the band agreed to perform Live Aid:
I'm doing it out of pride, pride that I've been asked, as well as that I can actually do something like that. And so basically I'm doing it out of feeling that one day all the hard work that I've actually done over the years has paid off, because they're actually asking me to do something to be proud of.

I'm actually in with all the biggies and I can do something worthwhile. To actually sing something that's an integral part of what's going on, you know, and the song ["We Are the Champions"] seems to convey that anyway, without us thinking about it. That's what's magical, and I think that's going to probably bring tears to my eyes, I tell you, when I do it.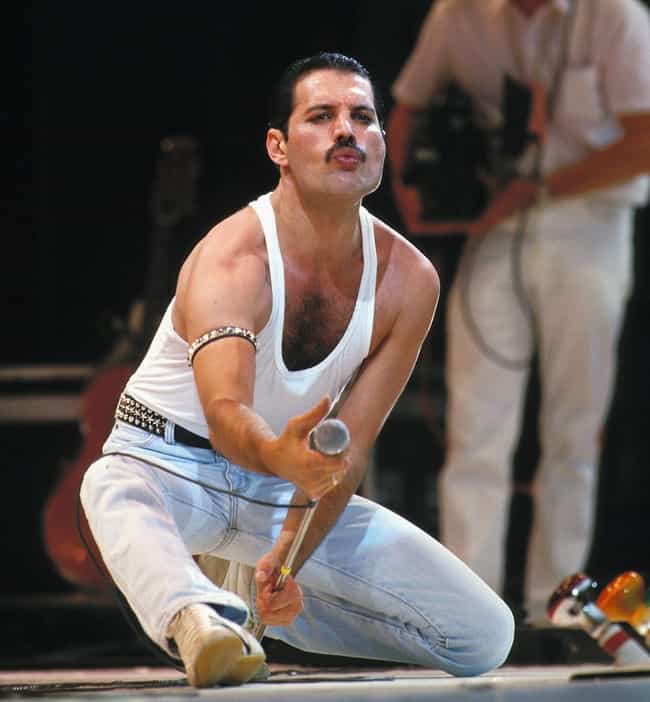 Queen Requested An Ideal Time Slot
Bands like U2 wanted to perform at a time that could optimize their exposure to American audiences. Queen aimed for an opportune time slot for the same reason, but they also considered audiences who were watching from around the world.
The band performed at 6 pm - primetime in the UK. It was an ideal time since viewers could still tune in without feeling burned out by the 16-hour concert, which featured every big rock band since the '70s.
More than a billion people across the globe watched the show, but the UK and the US comprised the main audience.
Queen Designed An Epic Musical Mashup To Fit Into 20 Minutes
Performers had no input on the lights, sets, and other visual elements for their performances, but this was no problem for Queen. Lead guitarist Brian May commented that the lack of control over the stage gave the band the "opportunity to show that it's the music first and foremost."
Groups like U2 only played two songs, while others like Bryan Adams, David Bowie, and The Cars played four or five. Queen wanted to maximize their time and showcase their old tunes with new songs. They ended up with a set list that melodically combined six of their best-known hits, including an abridged "Bohemian Rhapsody."
Queen Masterfully Mixed Songs From The Previous Decade
Not only did Queen create a set list that encouraged thousands of spectators to sing along, but their song choices included hits from throughout the decades, effectively creating a sense of nostalgia among their fans.
They placed "Hammer to Fall" and "Radio Ga Ga" from The Works right in the middle of their set between their biggest and best-known songs. The band practiced the transition between songs until the whole collection became a seamless medley, which they wanted people to identify with and enjoy.
The band experienced the height of their popularity in the 1970s, and by 1982, they were still ranking in the top 5 and went platinum in the UK with The Works. However, their performance at Live Aid revitalized their appeal just in time for the release of A Kind of Magic.