Entertainment

Raging Bull Movie Quotes

52 votes
24 voters
3.2k views
10 items
List Rules Upvote your favorite Raging Bull movie quotes
Best Raging Bull quotes, with movie clips, ranked by fans. This list of great movie quotes from Raging Bull collects all of the most famous lines from the film in one place, allowing you to pick the top quotes and move them up the list. Quotations from movies are repeated all the time in other movies, on television, in speeches and in day-to-day life, so having a good knowledge of good movie quotes (and having resources useful to search movie quotes) have become essential. Many of the most notable quotes come from sources you may not even know about, some could even be the most memorable Raging Bull quotes or come from some of the other most quotable movies of all time.
Consistently named one of the best movies of all time, Raging Bull is the story of boxer jake LaMotta, whose inability to turn off the fierce nature that makes him a legend in the ring off gradually destroys his life outside of it. Robert DeNiro turned in a career-defining performance as the troubled pugilist and earned an Academy Award for Best Actor to compliment the film's other six Oscar nominations and one additional win (for Best Editing).
This list includes all the best Raging Bull lines and moments, just as they appeared in the actual movie script. Whether they are funny quotes, sad quotes, quotes about love or death, all the most famous Raging Bull quotes are here.
Jake La Motta
: Who's an animal? Your mother's an animal, ya son of a b***h.
Should this be higher or lower?
Jake La Motta
: Come on, hit me. Harder. Harder.
Joey LaMotta
: What the f**k do you want? That's hard. What are you trying to prove?
Should this be higher or lower?
Jake La Motta
: She says he's pretty.
Joey LaMotta
: Yeah, well, you make him ugly.
Should this be higher or lower?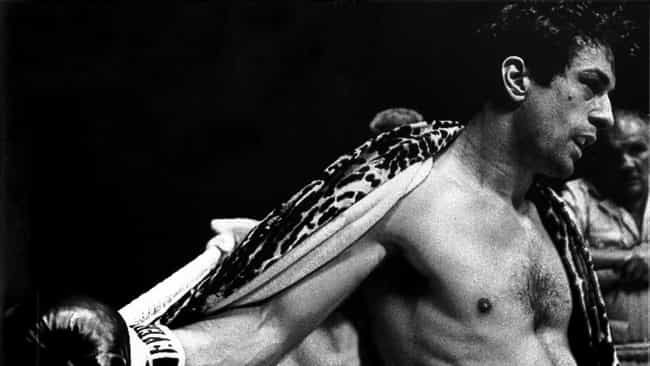 Jake La Motta
: Friends. They're in a huddle. Big business meeting. By the pool, they sit around and talk. Big deals. They make sure she can hear. Big Man. Get the f**k outta here. Big shot. Get 'em all in a back room, smack 'em around, no more big shot, without his gun. They're tough guys. They're all tough guys.

Should this be higher or lower?