Entertainment
Rank My Neon Outfits from the '90s

Updated August 22, 2018
444 votes
118 voters
9.7k views
12 items
The '90s were the worst time for fashion in American history. Literally every single item of clothing that every person wore in the 1990s was embarrassing. Here is a gallery of some of my best outfits from the '90s that featured neon and also happened to be captured on film. I turned seven in 1990, which means I spent all of my formative years in the world's worst clothes. Many of them were neon.
Let's get this out of the way: Until I had my long hair cut short in 3rd Grade, my older brother's friends all called me Bowhead. While I don't want to pin the blame for this solely on my mom—after all, a lot of the gals wore bows in those days—I can't help but believe in my heart that this was mostly her fault. After all, photographic evidence from this time shows that she put bows on my head every single day of my entire life, including beach days (waterproof ones made of, like, metal) and days before I even had hair (adhered with Velcro; no joke). But the bows didn't just stop at my poor little head. I also had a variety of shirts and pants and even swimsuits that had bows on them—and not just painted on. Like full 3D real bows sewn onto my clothes. What was going on? Who was letting this happen? (My mom.)
Anyway, I haven't even gotten to the neon problem yet. The '80s were a kewl dude surf's up time of fluorescent palm trees and hot pink convertibles containing babes with shades and French cut bikinis. Then the 1990s rolled in and got very confused by cellular telephones, skateboarding, Bill Clinton, and hip-hop. There was just so much stuff going on, nobody could agree on one style that was "in." So, naturally, my mom just got me neon stuff with bows on it. Whatever; that was her call. Now, as an adult, I mostly wear neutrals: black, navy, or, if I'm feeling colorful, grey. But I digress. Don't be shy. Vote up your favorite of my outfits!!!
Why Stop with Neon Bows on Your Clothes? A Million Can Go in Your Hair, Too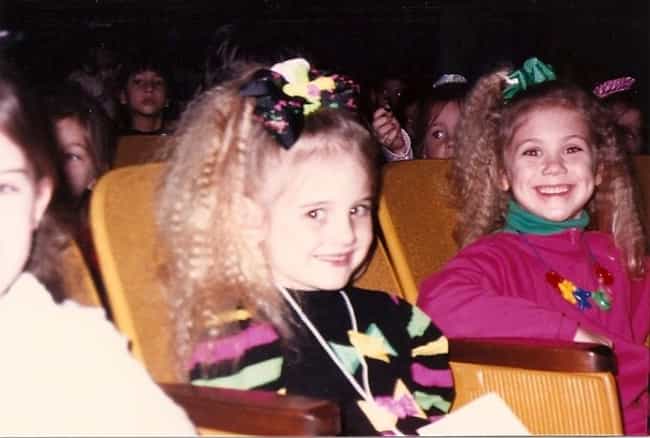 If you thought neon applique only worked on white, it is time for you to guess again. Neon bows can go on black, too. And even on bows. And do you know what else can go on a bow? Puffy paint.
Is this Mardi Gras? Is that why I am dressed like this, and is it where Jill got that sweet beaded necklace? Did we plan our twin crimps or was it a crimping coincidence? One of the best parts of the pre-digital era is that some great questions can remain mysteries.
Is this my best neon 'fit?
I Refused to Wear the Same Shirt as Everyone Else to the Hermitage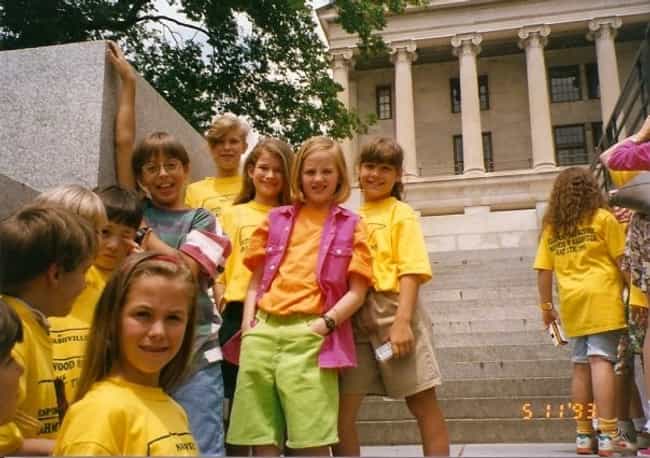 This is an actual battle I fought in 4th Grade. When I won, this is what I wore on our class field trip to Nashville instead of that ~dorky~ yellow shirt. Looks like I convinced my boyfriend Korey Martin not to be slave to the yellow shirt, either. Well, great. I think everyone will agree that we look great.
An unrelated but true tale of that girl right behind me in the khakis: Her name was Nikki, and that was her first year at our school. She tried to wedge herself between me and my BFF Lisa, who is also standing right there next to me, and we were all kind of friends together for a while I guess. Then, at a birthday party late in the year, Nikki told everyone she was going to push me out of a hayride and //kill// me. Why? I don't remember, but I think it was because she liked Korey Martin, and I was also probably a little snatch to her. Anyway, it was a whole thing, and the girl whose party it was cried. The next year, Nikki went to a different school, and we never heard from her again. I think about her from time to time, and I sincerely hope she has found what she is looking for in life (10-year-old girls to bully).
Is this my best neon 'fit?
Purple Unitard, Red Panty Things on the Outside, Enormous Red Bow. Magnif.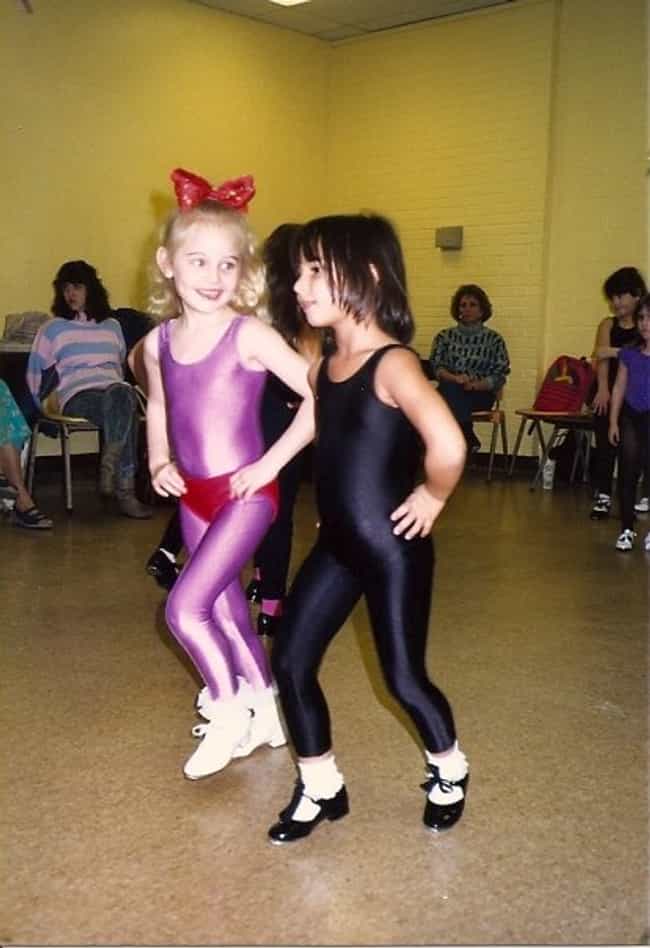 Bethany lived around the corner from me and was about 3 ft tall. Here we are in tap class during an exhibition for our parents or something. Is this the best photograph of all time? You be the judge.
(Don't miss Debbie's sweater at 9:00.)
Is this my best neon 'fit?
Max Fischer, President of the Neon Bow Society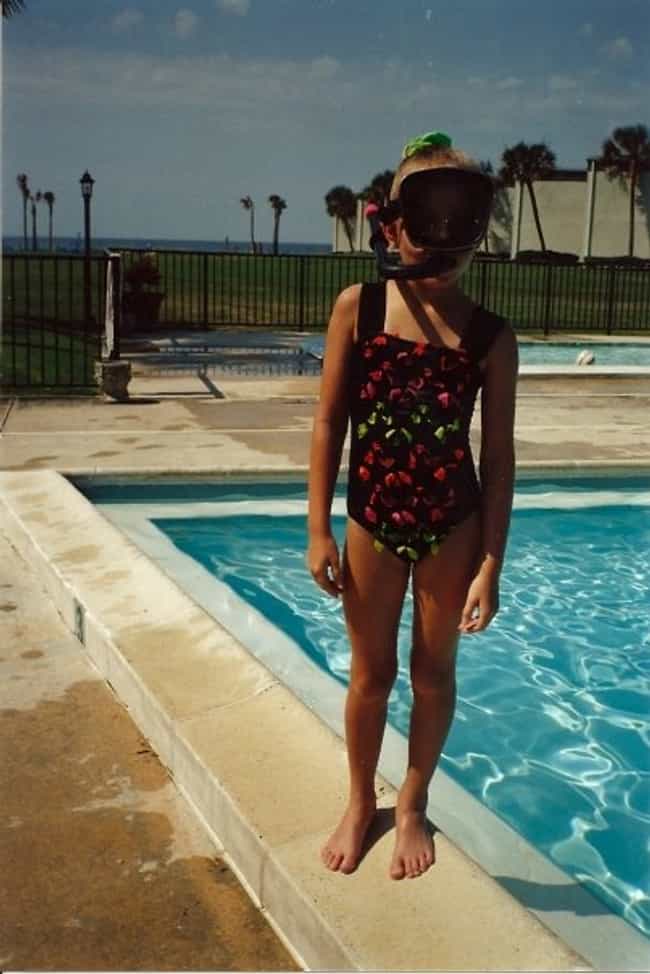 I counted. There are approx. 25 neon bows on that thing, and you better believe I'm wearing a waterproof bow behind that neon green scrunchie. This made me easier to spot in the swimming pewl.
Is this my best neon 'fit?