Weird History
Rare US Currency That's Worth A Ton Of Money Now

Paper currency in America has a vast and complex history. Its various banknotes, limited editions, and errors have fascinated collectors and money dealers for centuries - and inspired not a few artists.
From the rarity of a banknote to the image on the face of the bill to the story behind why the legal tender is no longer in circulation, there are so many factors that can influence the value of paper money. Here's a look at some of the rare notes that are now worth a whole lot of cash - if you happen to find them lying around in an old attic or at the back of a thrift store.
Note: It's important to remember that the values listed below reflect bills that are in mint condition, or as close to uncirculated condition as possible.
back to page 1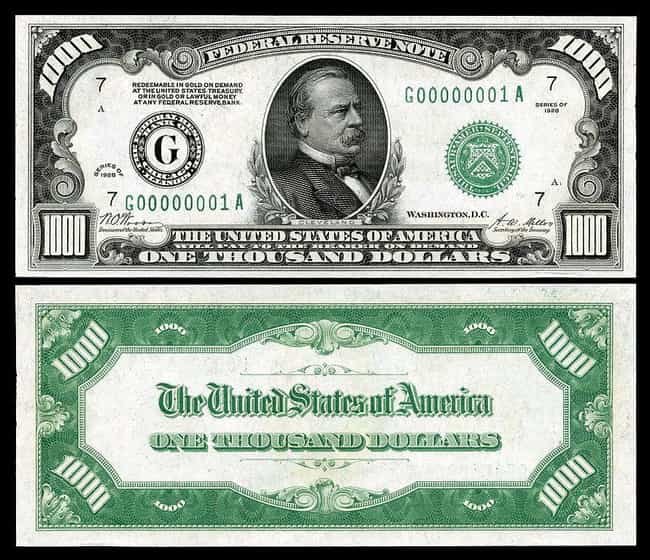 What It's Worth: $1,800 to $4,700 and up
Why It's Worth So Much: While the largest denomination currently in circulation is the $100 bill, the government was printing and releasing $1,000 bills as late as 1934 - and people could still request them from banks until the late 1960s. However, the 1928 run is of particular interest for collectors, considering their uniqueness.
There are believed to be 68,000 of these bills available to collectors, so their value depends on multiple factors. The most valuable 1928 $1,000 bills are from the Boston District - signified by an "A" inside the Federal Reserve seal to the left of President Cleveland's portrait - or have a low-digit serial number. Bills with a star next to the serial number are significantly rarer, and thus more valuable, and have been sold for as much as $18,000.
1993 $20 Federal Reserve Note Misprint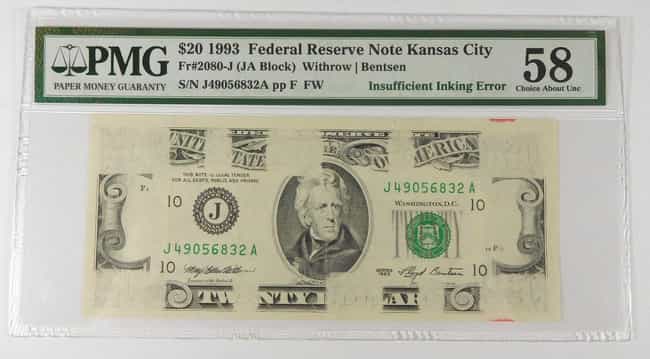 What It's Worth: $2,500 and up
Why It's Worth So Much: Nearly any officially released misprinted bill can be worth a lot. One $20 bill with an "insufficient ink error" that left it missing patches of the front image is valued at nearly $2,600.
Misprintings on notes can be worth thousands because they are rarely entered into circulation and are removed when discovered, adding to their scarcity. The king of all misprints is known as the "double denomination" misprint, which occurs when the value printed on the front is different than the value printed on the back. However, double denomination bills are exceedingly rare.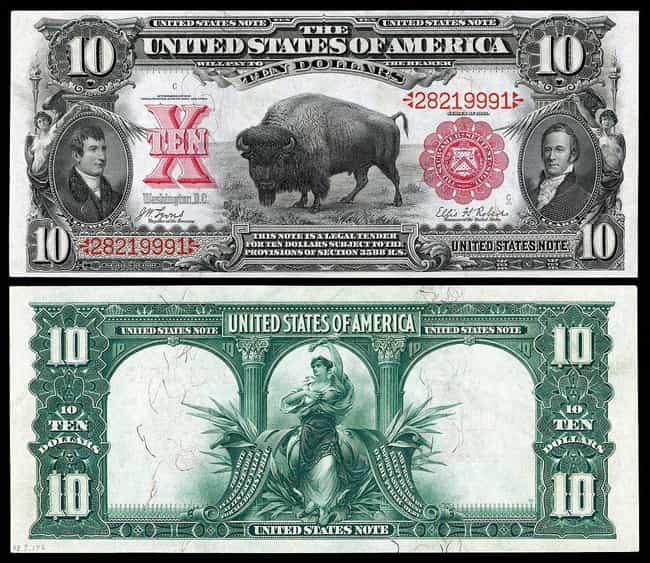 What It's Worth: $1,000 and up
Why It's Worth So Much: The $10 legal tender note, nicknamed the bison note, is exceedingly popular among collectors, more so for its imagery than its actual rarity. It was the first bill of its denomination to not feature a portrait of Daniel Webster. Instead, it features a massive bison on its face, flanked by portraits of explorers Meriwether Lewis and William Clark. The note was issued to commemorate the 100th anniversary of their famous expedition.
For years, the bison depicted on the bill was believed to be the famous Black Diamond, which served as the model for the buffalo nickel. However, it's now believed that the animal that served as the model for the note was a stuffed bison displayed in the Smithsonian in the 19th century. The main determining factor for the value of the bill is its condition.
Low Serial Number 2013 $5 Bill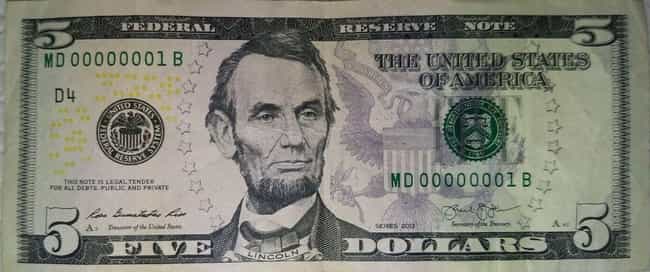 What It's Worth: $1,500 and up
Why It's Worth So Much: Truth be told, the value of these bills isn't based on the rarity of the bill itself, but its low serial number. Even contemporary notes that are otherwise common can fetch huge amounts if they have significantly low serial numbers.
A 2013 series $5 bill with a serial number "00000001" sold for $1,776 in May 2019. Modern bills with serial numbers below 100 can similarly be worth big bucks.