Button Mash
12 Easter Eggs You Probably Missed In 'Red Dead Redemption 2'

Updated November 13, 2018
16.9k views
12 items
People can't stop buzzing about Red Dead Redemption 2, and for good reason. A prequel to the 2010 original release, the game received universal acclaim even before its debut on October 26, 2018. Naturally, the Easter eggs in RDR 2 get a lot of buzz, and the game garners immense applause from critics and fans alike. It tells the story of outlaw Van der Linde crew members Arthur Morgan and John Marston, among other memorable characters.
Hidden references in video games aren't a new concept, but the Easter eggs in RDR 2 may blow your mind. The game's creators went to great lengths, crafting layers of secrets and surprises for players. Let's take a look at the things you might have missed in Red Dead Redemption 2.
back to page 1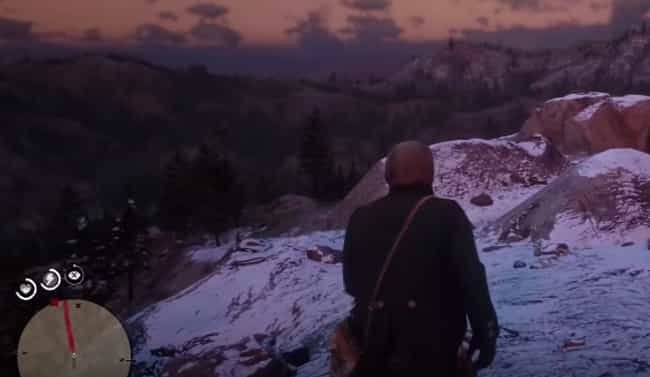 Yes, you can go on a UFO hunt in RDR 2. Start by opening your map and finding Emerald Ranch and the East of Heartland Overflow. If you zoom in on New Hanover, you'll see a small shack. Make your way there and look for a strange note. Then, head to Mount Shann by opening your map and zooming in on North West of Strawberry. When you get there, go all the way to the top to the rock circle. Then head back to the shack, but be sure that it's nighttime when you do.
When you follow all the correct steps, you'll encounter a green glow from above at the shack. Act fast so you don't miss the UFO outside.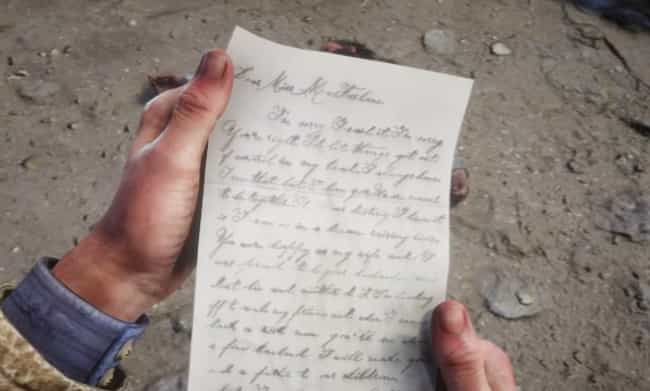 There's a bit of backstory for RDR character Bonnie MacFarlane in RDR 2. On the shore of Flat Iron Lake, you'll find a man who appears to be comatose. However, he comes to long enough to give you a letter. It's a love note to Bonnie, explaining a bit of the character's motivations. It reads:
Dear Miss MacFarlane, I'm sorry. I said it. I'm sorry. You're right. I do let things get out of control in my head. I always have. I see that but I love you. We are meant to be together. It is our destiny. I know it is. I saw us in a dream, raising kids. You were very happy as my wife and I was proud to be your husband. Dreams don't lie and neither do I.
I'm heading off to make my fortune and when I come back as a rich man, you'll see what a fine husband I will make you, and a father to our children. And no, I won't grow up. On that subject you're wrong. I've got so many things to say to you. I'm going to continue with the writing of this letter later, but believe me when I say, we are destined for a long, happy life together. Even your father will come to believe it and accept me, no matter how humble my birth.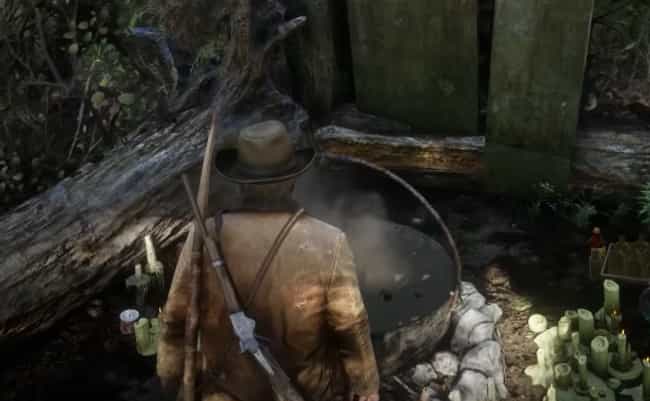 The witch cauldron doesn't seem to play a big role in the overall progression of the game, but it's a fun find. If you find the Wapiti Indian Reservation fast travel point on your map and follow it, you'll encounter a cauldron of mysterious liquid that's actually drinkable. After drinking it, you'll pass out and wake up in another location.
There are some items you can take the from the site of the cauldron, but it doesn't seem to have any effect on the game overall.
Kaa, The Snake From 'The Jungle Book'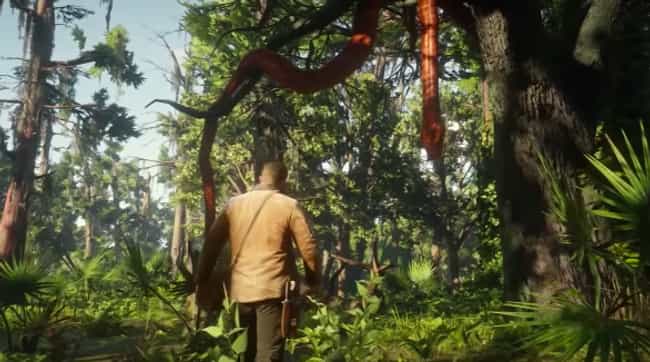 There aren't just Middle Earth and South Park references in this game - creators even included an homage to the The Jungle Book. Make your way towards Lemoyne to the top of the "O," and find a giant snake that looks a lot like Kaa from the classic book-turned-film.