Entertainment
The Coolest Celebrity Responses to Fan Letters

4.8k votes
1.8k voters
439.9k views
28 items
Admit it, you have a favorite celebrity. But as much as most people love their favorite celebs, only a select few have ever flung themselves at their feet and offered their adulation by writing (and sending!) fan mail. Few lucky fans have even been surprised by their favorite celebrities in person! Can you imagine if you wrote to Val Kilmer and he just tossed your letter into the garbage? He'd probably think to himself, "that's where you belong - person who wrote that letter in the garbage." We wouldn't be able to handle the shame. Fortunately, for a few brave fans, the stars on this list took the time to respond with a funny and insightful note (and sometimes a full letter). So which Hollywood celebrities actually respond to fan mail? Everyone from POTUS to Prince.
A lot of the stars on this list are exactly the people who you think would respond to fan mail - Conan O'Brien, Stephen Fry - nerdy sorts who can take a break from playing D&D to write back to their fans. But some of the celebrities on this list might surprise you. Who would have thought that Johnny Depp would want to take time from his busy schedule of lying around on an island to write an email? Not us.
This list is a compilation of some of the best celebrity responses to fan mail, and we hope you find these letters as entertaining and down right cool as their recipients did. Vote for your favorite celebrity fan mail response and shout at us in the comments to let us know if you've received anything cool from
a famous person
. And no,
French Stewart
doesn't count.
back to page 1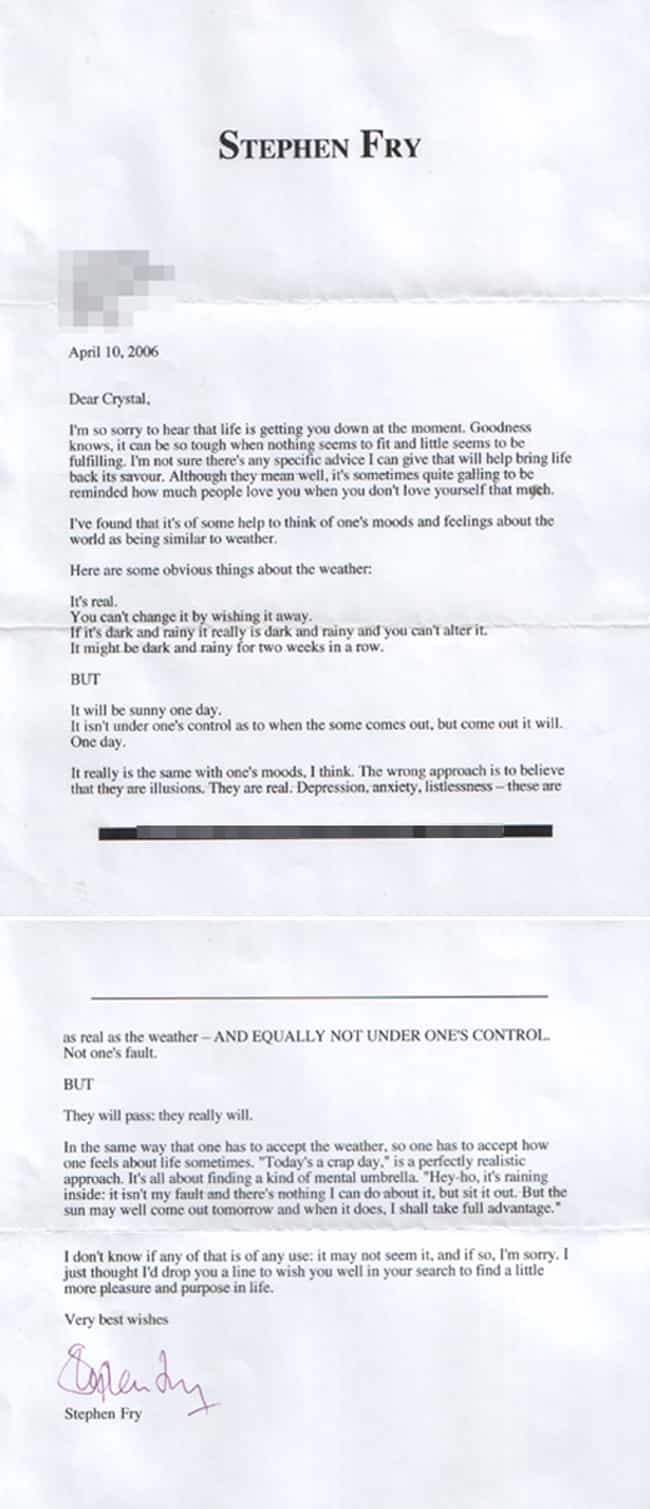 In 2006, a young woman who was suffering with depression reached out to Stephen Fry, one of the funniest men on earth, and also someone who has publicly dealt with depression.
His response was wonderful and should be printed on quilts for ever and ever.


Is this cool?
see more on Stephen Fry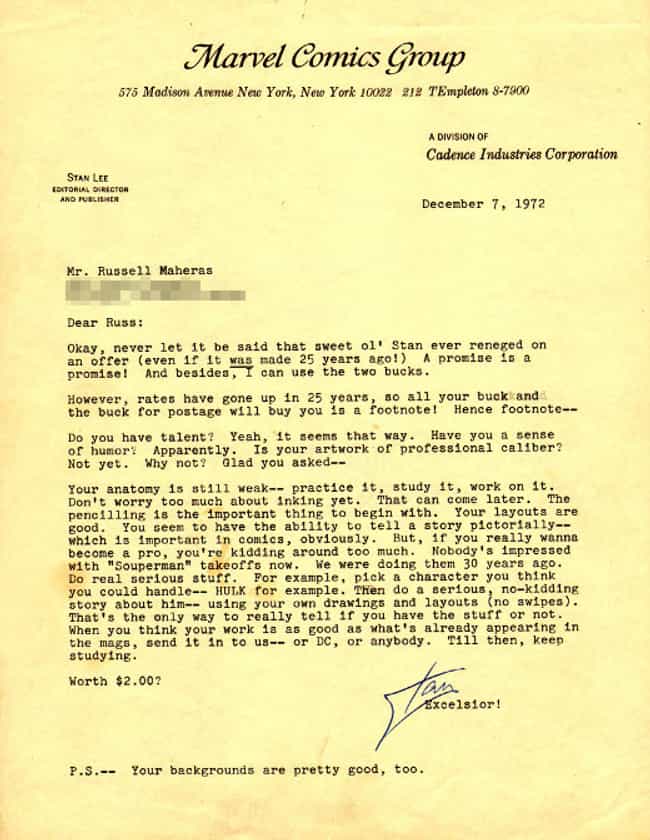 In his 1947 book,
Secrets Behind the Comics,
Stan Lee
offered readers a chance to have their comic book artwork reviewed for the price of $1.25
. Years later an enterprising young man sent in $2 (you gotta think about inflation, ya'll) and actually
got a response from Stan The Man.

Is this cool?
see more on Stan Lee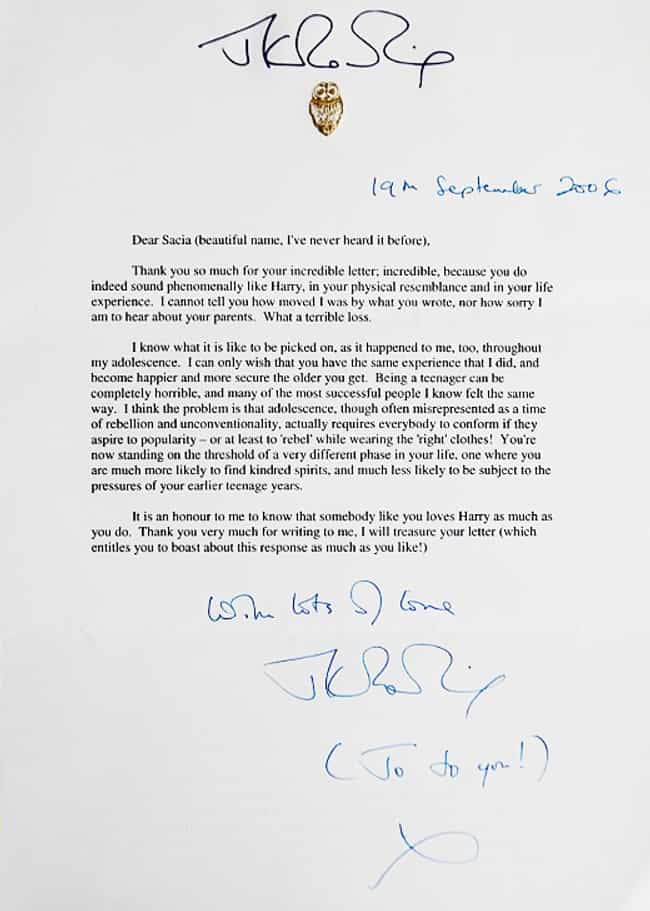 When a young fan wrote to J. K. Rowling thanking her for creating a best friend and semi-imaginary companion, the last thing she expected was for the SUPER POPULAR author to
write back with words of hope.
We're not crying, we just have something in our eye.

Is this cool?
see more on J. K. Rowling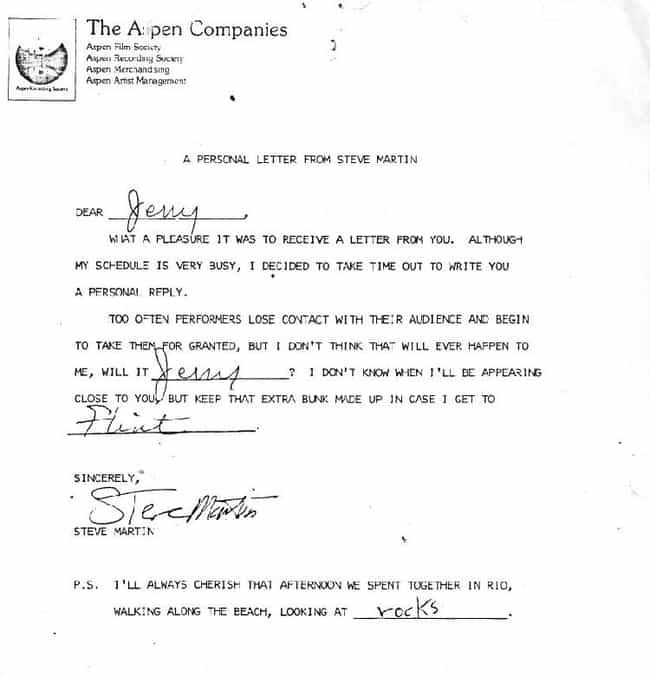 When popular comedian, actor, and banjo player Steve Martin was at the height of his comedic prowess, he received daily Santa-sized mail sacks full of fan letters. The only way he could respond to them all was with this hilarious form letter.


Is this cool?
see more on Steve Martin