Richard Milhous Nixon's presidency was full of excitement, intrigue, grievously bad judgment, and booze – which is why so many drunk Richard Nixon stories have lived on long past the man. Tales about the end of his tenure as president are no different.
In the wake of Watergate – as his removal from the Oval Office became imminent in the late summer of 1974 – it was clear to Nixon that he had to do the unthinkable. He had to resign. As he slowly accepted his fate, he turned increasingly inward, brooded, drank, swore, and took out his frustrations in alarming ways. Nixon didn't handle his liquor well, and with the end of his presidency in sight, Watergate, depression, and scotch got the better of him as his time in office drew to a close.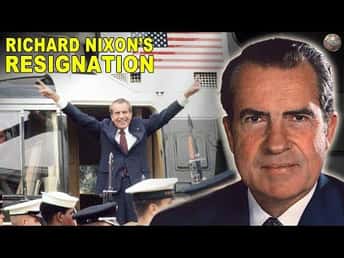 Photo: National Broadcasting Company, with the cooperation of the United States Navy. / Wikimedia Commons / CC BY-SA 3.0

Aides Would Often Find Nixon Drunk And Playing Music From His Favorite 1950s Documentary

Nixon loved to get drunk and play the music from Victory at Sea, a 26-part documentary about World War II naval combat that was made in the 1950s. Nixon wasn't alone in enjoying the score from the series. The music, recorded by the NBC Symphony Orchestra, was critically acclaimed, as was the entire run of the series.

When Nixon wasn't listening to Victory at Sea, he was busy listening to himself. Nixon was known to replay the tapes recorded in the Oval Office over and over again, especially the parts that were being used against him as his presidency crumbled.