Food
Planet Hollywood, A Restaurant Starring Bruce Willis And A Bunch Of Celebs, Was A $1 Billion Flop

When we look back on the fun novelty restaurants that came out of the '90s, one question, in particular, comes to mind: what happened to Planet Hollywood? In 1996, you couldn't go two feet without bumping into a Planet Hollywood. Today, you have to wonder where the restaurants are hiding. When the movie-themed eateries first hit the scene in 1991, they seemed like an instant success. Diners were drawn in by the fun and weird food, movie props, and the possibility of eating next to your favorite movie stars, like Bruce Willis and Arnold Schwarzenegger. In less than 10 years, though, the franchise closed dozens of locations and nearly collapsed.
A ton of people still have nostalgia for the high-concept disaster of a restaurant and may wonder if any Planet Hollywood locations remain on Earth. The tale of Planet Hollywood is a strange one, full of petty lawsuits and cheap celebrity endorsements - the fall of the Roman Empire has nothing on Planet Hollywood.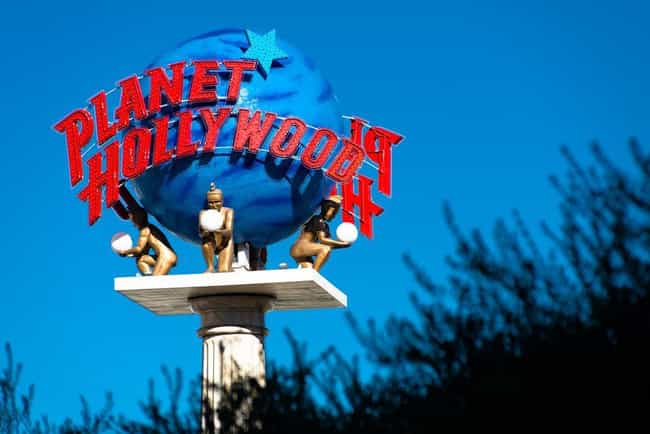 It Was Envisioned As Hollywood's Answer To Hard Rock Cafe
Bryan Kestner, who appeared as a med tech in the 1987 film The Running Man starring Arnold Schwarzenegger, approached movie producer Keith Barish with a business idea. Inspired by the success of Hard Rock Cafe, Kestner suggested creating a franchise of restaurants themed around major Hollywood movies. His name for the franchise - Cafe Hollyrock - was rejected, but Barish liked the idea and started planning the venture with former Hard Rock Cafe CEO Robert Earl.
Kestner had a stake in the business, too, but later complained he was given minimal stock in the company and little-to-no credit for the idea.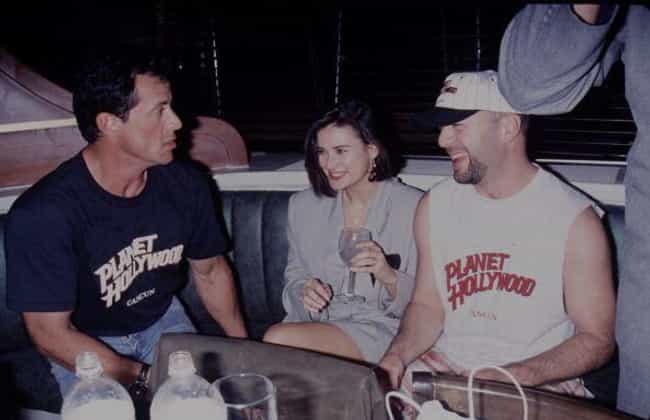 The Biggest Names In '90s Movies Funded The Venture
Keith Barish used his Hollywood contacts to rustle up a group of superstar investors. Bruce Willis, Arnold Schwarzenegger, Demi Moore, and Sylvester Stallone held the biggest stakes, and they were sometimes even mistaken for owners. Along with other Hollywood investors, including Whoopi Goldberg and Patrick Swayze, celebrities ultimately made up 17% of the company's ownership.
Stars were expected to attend openings of new restaurants (for a fee, of course) and occasionally drop in on locations, giving diners the hope they might spot their favorite actors while eating. By all accounts, it was a very faint hope.
Each Restaurant Had Its Own Merch Store
One way Planet Hollywood initially brought in the dough was with the gift shops attached to its locations. After eating, you could pick up a variety of Planet Hollywood merchandise, including keychains, t-shirts, watches, and leather jackets. The restaurant even briefly had mascots, a dinosaur named Bubba and gorilla named George, now extinct outside of eBay.
The gift shops were so popular that Planet Hollywood eventually began to open Planet Hollywood Superstores, which only sold the merchandise.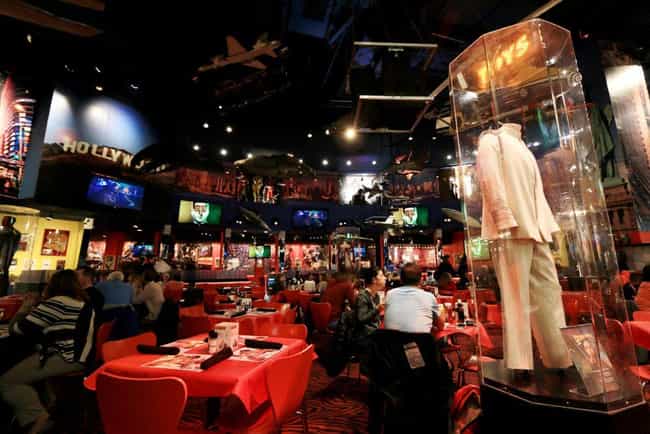 Movie Props Filled The Walls, But Many Were Unimpressive
One of the biggest draws for Planet Hollywood visitors was that they would be dining among some of the most beloved movie props and costumes in Hollywood history. The initial batch of items apparently included Dorothy's costume from The Wizard of Oz, the pottery wheel from Ghost, and the Batmobile. Some "props" were less exciting, though, including a plastic replica of the meat slab Rocky uses to train.
Eventually, it became unclear what was genuine versus a replica, and staff reportedly found it difficult to identify from which movies many of the items originated.