Entertainment
Here's What The Cast Of Robin Hood: Men In Tights Looks Like Now

Updated June 14, 2019
1.1M views
12 items
Robin Hood: Men in Tights is a spoof of pretty much every Robin Hood movie every made. Mel Brooks's 1993 film wasn't very well received at the time, but the film has acquired cult status over the years, and it's easy to see why - with dancing merry men, an ironclad chastity belt, and a Robin Hood who could actually speak with an English accent, what's not to like?
But what happened to the Robin Hood: Men in Tights actors and actresses? Some of the stars of the flick are still around - Dave Chappelle and Patrick Stewart are as popular as ever. Several actors who made noteable cameos in the movies have since passed away; Issac Hayes (Asneeze), Dick Van Patten (the Abbot), and Dom DeLuise (Don Giovanni) all helped make Robin Hood: Men in Tights the clever, comedic gem we all know and love.
Some of the other cast members of Robin Hood: Men in Tights appear to have vanished - or have they? Where are they now? Here's a look at the men in tights (tight tights!) and women who made Robin Hood: Men in Tights the comedy classic it is today.
Cary Elwes Continued Acting And Has Dabbled In Voice Work And Writing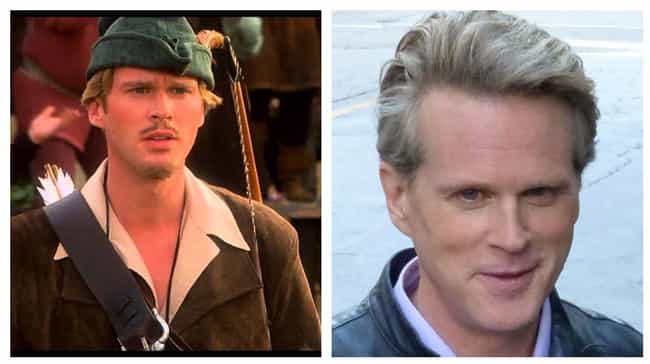 Then: Cary Elwes started acting in the early 1980s, most notably taking the lead role in The Princess Bride in 1987. He went on to take on roles in comedies like Hot Shots! (1991) as well as dramas such as Glory (1989) and Bram Stoker's Dracula (1992) before becoming Robin Hood in Robin Hood: Men in Tights. His portrayal of Robin earned him the nickname "the next Errol Flynn" from the film's director and co-star, Mel Brooks.
Now: Elwes has continued working in films of all kinds, from teenage thrillers like The Crush (1993) to action flicks like 1996's Twister to the Saw franchise horror series. He's appeared in television shows like The X-Files, Psych, and Life in Pieces.
In addition to appearing on screen, Elwes has done a fair amount of voice work on shows such as Family Guy and Sofia the First. He wrote about his experiences making The Princess Bride in his memoir As You Wish: Inconceivable Tales from the Making of The Princess Bride and appeared in a 2018 Culligan Water commercial as an homage to the movie.
Age: 56
Birthplace: Westminster, London, United Kingdom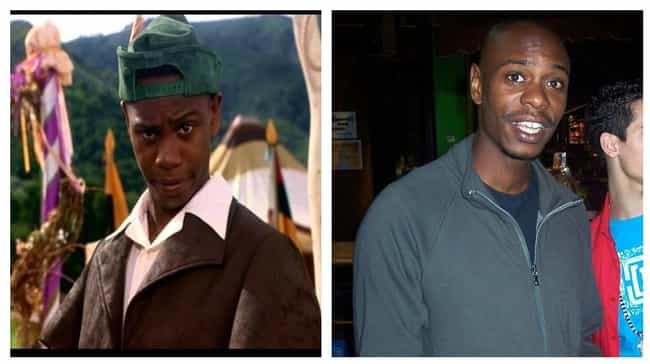 Then: Mel Brooks cast Dave Chappelle as Ahchoo, Robin Hood's sidekick in Robin Hood: Men in Tights, introducing him to the world. Brooks described Chappelle as "so unassuming, so sweet, as well as funny" and knew he was the perfect guy for the role.
Now: Chappelle continued acting, appearing in a television series called Buddies in 1996. His next major role was in the film Half-Baked, a film he co-wrote with his Chappelle's Show producing partner Neal Brennan. The two went on to create the eponymous comedy show, which Chappelle also starred in during the early 2000s. He walked away from the show in 2005 after disputes with the network and other writers. When he famously fled to Africa in 2005, there was widespread speculation about drug abuse and mental health issues, but Chappelle asserts he just wanted "sleep." Chappelle released several Netflix comedy specials in 2017, revitalizing his career on his terms. The specials were successful, but there's no indication as to what Chappelle may do next. He remains pretty reclusive, living on a farm in Ohio with his family.
Age: 45
Birthplace: Washington, D.C., USA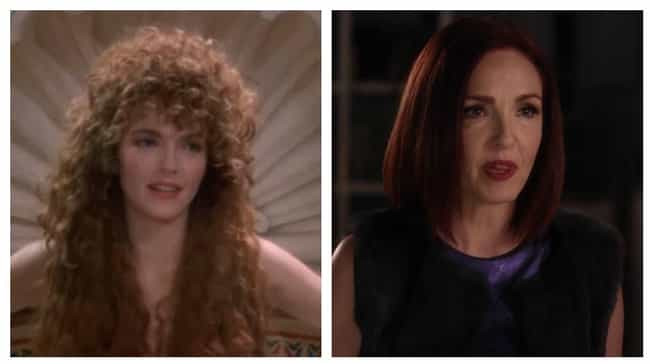 Then: Amy Yasbeck appeared on television shows like Magnum, P.I. and Murphy Brown during the late 1980s before taking a lead role in the Problem Child movies of 1990 and 1991. She was also in Pretty Woman in 1990. She then appeared as Maid Marian - the damsel in distress who makes up the female component in the love triangle with Robin Hood and the Sheriff of Rottingham.
Now: After Robin Hood: Men in Tights, Yasbeck starred on the show Wings between 1994 and 1997 and on the show Already, Already in 1998 and 1999. Yasbeck married actor John Ritter in 1999 but was widowed in 2003 when he died of an aortic dissection. She acted on and off during the early 2000s, appearing on shows like Life on a Stick (2005). She put her Beverly Hills home she shared with Ritter up for sale in August 2017, which garnered a lot of attention. She continues to advocate for heart disease awareness.
Age: 56
Birthplace: Blue Ash, Ohio, United States of America
Then: As the gnarly witch Latrine, Tracey Ullman counseled King John and lusted after the Sheriff of Rottingham. Before taking that role, however, Ullman had already achieved fame with her show, The Tracey Ullman Show (1987-1990), the vehicle that gave the world The Simpsons.
Now: Ullman focused on television after her witchy role in Robin Hood: Men in Tights. Tracy Takes On (1996-1999) was another foray into sketch comedy for Ullman, while her appearances on Ally McBeal were both dramatic and comedic. Ullman did a lot of voice work during the 1990s and early 2000s as well. Ullman returned to sketch comedy in 2016 with Tracey Ullman's Show and 2017's Tracey Breaks the News. She also appeared in the television mini-series Howards End in 2017.
Age: 59
Birthplace: Slough, United Kingdom