Entertainment

The Best Ever Robin Williams Movies

72.1k votes
9.6k voters
789.2k views
57 items
List Rules Vote for your favorite movies, regardless of critic reviews or how big the role was.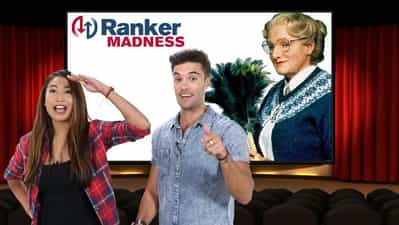 Celebrate the actor's memory with this list of the best Robin Williams movies, ranked best to worst with movie trailers when available. Robin Williams's highest grossing movies have received a lot of accolades over the years, earning millions upon millions around the world. The order of these top Robin Williams movies is decided by how many votes they receive, so only highly rated Robin Williams movies will be at the top of the list. Robin Williams has been in a lot of films, so people often debate each other over what the greatest Robin Williams movie of all time is. If you and a friend are arguing about this then use this list of the most entertaining Robin Williams films to end the squabble once and for all.If you think the best Robin Williams role isn't at the top, then upvote it so it has the chance to become number one. The greatest Robin Williams performances didn't necessarily come from the best movies, but in most cases they go hand in hand.
A list made up of films like Mrs. Doubtfire and Good Will Hunting.
"This list answers the questions, "What are the best Robin Williams movies?" and "What are the greatest Robin Williams roles of all time?"
Steven Spielberg and Christopher Nolan are among those who have directed Robin Williams at one point or another during their careers in the film industry. If you're a fan of Robin Williams, then check out our lists of the best Billy Crystal and Will Smith movies as well.
1

Good Will Hunting

Ben Affleck, Robin Williams, Matt Damon

Good Will Hunting is a 1997 American drama film directed by Gus Van Sant, and starring Matt Damon, Robin Williams, Ben Affleck, Minnie Driver and Stellan Skarsgård. Written by Affleck and ...more
2

Dead Poets Society

Robin Williams, Ethan Hawke, Lara Flynn Boyle

Dead Poets Society is a 1989 American drama film written by Tom Schulman, directed by Peter Weir and starring Robin Williams. Set at the conservative and aristocratic Welton Academy in the ...more
3

Mrs. Doubtfire

Robin Williams, Pierce Brosnan, Sally Field

Mrs. Doubtfire is a 1993 American comedy film, starring Robin Williams and Sally Field and based on the novel Alias Madame Doubtfire by Anne Fine. It was directed by Chris Columbus and ...more
4

Good Morning, Vietnam

Robin Williams, Forest Whitaker, J. T. Walsh

Good Morning, Vietnam is a 1987 American comedy film written by Mitch Markowitz and directed by Barry Levinson. Set in Saigon in 1965, during Vietnam, the film stars Robin Williams as a radio DJ ...more
5

Aladdin

Robin Williams, Gilbert Gottfried, Frank Welker

Aladdin is a 1992 American animated musical fantasy film produced by Walt Disney Feature Animation and released by Walt Disney Pictures. Aladdin is the 31st animated feature in the Walt Disney ...more
6

Hook

Gwyneth Paltrow, Julia Roberts, Robin Williams

Hook is a 1991 American fantasy adventure film directed by Steven Spielberg and written by James V. Hart and Malia Scotch Marmo. It stars Robin Williams as Peter Pan/Peter Banning, Dustin ...more
7

Jumanji

Kirsten Dunst, Robin Williams, Patricia Clarkson

Jumanji is a 1995 American fantasy adventure film directed by Joe Johnston. It is an adaptation of the 1981 children's book of the same name by Chris Van Allsburg. The film was directed by Joe ...more
8

Patch Adams

Robin Williams, Philip Seymour Hoffman, Monica Potter

Patch Adams is a 1998 semi-biographical comedy-drama film starring Robin Williams, Monica Potter, Philip Seymour Hoffman and Bob Gunton. Directed by Tom Shadyac, it is based on the life story of ...more
9

Awakenings

Robert De Niro, Robin Williams, Vin Diesel

Awakenings is a 1990 American drama film based on Oliver Sacks' 1973 memoir of the same title. It tells the true story of British neurologist Oliver Sacks, fictionalized as American Malcolm ...more
10

The Birdcage

Robin Williams, Gene Hackman, Hank Azaria

The Birdcage is a 1996 American comedy film, directed by Mike Nichols and stars Robin Williams, Gene Hackman, Nathan Lane, and Dianne Wiest. Dan Futterman, Calista Flockhart, Hank Azaria, and ...more
11

What Dreams May Come

Robin Williams, Cuba Gooding Jr., Max von Sydow

What Dreams May Come is a 1998 American fantasy drama film, starring Robin Williams, Cuba Gooding Jr., Annabella Sciorra and Max von Sydow. The film is based on the 1978 novel of the same name ...more
12

Night at the Museum

Robin Williams, Ben Stiller, Carla Gugino

Night at the Museum is a 2006 American fantasy adventure-comedy film based on the 1993 children's book of the same name by Milan Trenc. It follows a divorced father trying to settle down, ...more
13

Jack

Jennifer Lopez, Robin Williams, Diane Lane

Jack is a 1996 American comedy-drama film starring Robin Williams, Diane Lane, Jennifer Lopez, Fran Drescher, Bill Cosby, and Brian Kerwin. It was directed by Francis Ford Coppola. Williams ...more
14

The Fisher King

Robin Williams, Jeff Bridges, Tom Waits

The Fisher King is a 1991 American comedy-drama film written by Richard LaGravenese and directed by Terry Gilliam. It stars Robin Williams and Jeff Bridges, with Mercedes Ruehl, Amanda Plummer, ...more
15

One Hour Photo

Robin Williams, Connie Nielsen, Clark Gregg

One Hour Photo is a 2002 American psychological thriller film written and directed by Mark Romanek and starring Robin Williams, Connie Nielsen, Michael Vartan, Gary Cole, and Eriq La Salle. ...more
16

Insomnia

Al Pacino, Robin Williams, Hilary Swank

Insomnia is a 2002 American thriller film directed by Christopher Nolan, and starring Al Pacino, Robin Williams and Hilary Swank. It tells the story of two Los Angeles homicide detectives ...more
17

Night at the Museum: Battle of the Smithsonian

Amy Adams, Robin Williams, Ben Stiller

Night at the Museum: Battle of the Smithsonian is a 2009 American adventure comedy film directed by Shawn Levy, and starring Ben Stiller, Amy Adams, Owen Wilson, Hank Azaria, Christopher Guest ...more
18

Bicentennial Man

Robin Williams, Sam Neill, Oliver Platt

Bicentennial Man is a 1999 American science fiction family comedy-drama film starring Robin Williams. Based on the novel The Positronic Man, co-written by Isaac Asimov and Robert Silverberg, ...more
19

The World According to Garp

Robin Williams, Glenn Close, John Lithgow

The World According to Garp is 1982 American comedy-drama film directed by George Roy Hill and starring Robin Williams in the title role. It is based on the novel of the same title by John ...more
20

Flubber

Robin Williams, Marcia Gay Harden, Wil Wheaton

Flubber is a 1997 comedy film and a remake of The Absent-Minded Professor, directed by Les Mayfield. The film was produced by Walt Disney Pictures, and stars Robin Williams, Marcia Gay Harden, ...more
21

A.I. Artificial Intelligence

Meryl Streep, Robin Williams, Jude Law

A.I. Artificial Intelligence, also known as A.I., is a 2001 American science fiction film written, directed, and produced by Steven Spielberg, and based on Brian Aldiss's short story Super-Toys ...more
22

Happy Feet

Nicole Kidman, Hugh Jackman, Robin Williams

Happy Feet is a 2006 Australian-American computer-animated musical family film, directed, produced and co-written by George Miller. It was produced at Sydney-based visual effects and animation ...more
23

Popeye

Robin Williams, Linda Hunt, Dennis Franz

Popeye is a 1980 American musical comedy film, directed by Robert Altman and is a live-action film adaptation of E. C. Segar's Thimble Theatre aka Popeye comic strip. It stars Robin Williams as ...more
24

Moscow on the Hudson

Robin Williams, María Conchita Alonso, Paul Mazursky

Moscow on the Hudson is a 1984 American romantic comedy-drama film starring Robin Williams, directed and co-written by Paul Mazursky. Williams plays a circus musician who defects while on a ...more
25

August Rush

Robin Williams, Keri Russell, Jonathan Rhys Meyers

August Rush is a 2007 drama film directed by Kirsten Sheridan and written by Nick Castle, James V. Hart, and Paul Castro, and produced by Richard Barton Lewis. Deciding to run away to New York ...more