Music
Rock Bands With The Coolest Custom Beers

Updated July 10, 2019
193 votes
53 voters
2k views
14 items
List Rules Vote up the rockin' beers you'd be proud to tip back.
Heavy rock and beer go together like condoms and casual sex. If you're gonna regularly indulge in one, it sure helps to have a stockpile of the other. Okay, Ozzy once said, "Wine is fine, but whiskey's quicker." Nonetheless, there's nothing like sipping a quality IPA, a hearty stout, an amber ale, a smooth lager or even a cheap but potent malt liquor with the speakers thumping. Even sh*tty groups sound better after a few beers. And who better to judge a good brew than dudes whose bands are supplied with cases of the stuff every night on tour?
Then there are the super-serious beer guys, like Khemmis drummer Zach Coleman, who works as the head brewer of metal beer producer TRVE Brewing in Denver, and super-metalhead and 3 Floyds brewer Todd Haug, who has worked with various bands to come up with cool signature products.
Iron Maiden, Megadeth, Mastodon, Kid Rock, and AC/DC are just a handful of major rock musicians to market their own beers. Other, far more mainstream entities, including the Grateful Dead Estate, Paul McCartney, Pixies, Elbow, New Order, Queen and, yes, Hanson have joined the signature beer sweepstakes. But seriously. Who's gonna drink harder, rock harder, destroy more sh*t and puke more frequently than hard rock and metal bands and their fans? So, ignore those indie and classic rockers and get your micro-beers from dudes that know a Hefeweizen from a Belgian pale ale, or at least drink enough that, after a few, the differences between a Pliny the Elder double IPA and Pabst Blue Ribbon don't mean a thing.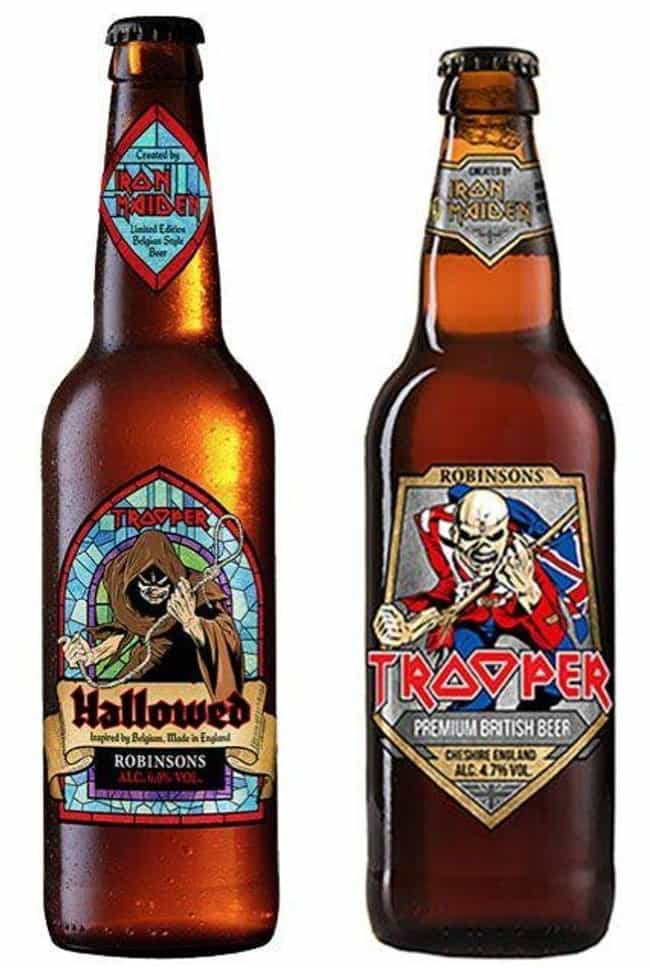 One of the leaders in the band beer business, Iron Maiden took their ESB-style Trooper premium British ale to the market in 2013. Ever the industrialists, they're now on to their fourth partnership deal with UK company Robinson Brewing. Hallowed is a 6.0% ABV Belgian-style red ale – compared to the 4.7% ABV of The Trooper.
The image on the Hallowed bottle isn't as cool as the Trooper, which depicted the band's mascot Eddie charging into battle holding the British flag. For Hallowed, Maiden decided to position Eddie wearing a brown robe, brandishing a noose and standing in front of a stained glass window which feels more "Run To The Hills" than have a nice quiet drink.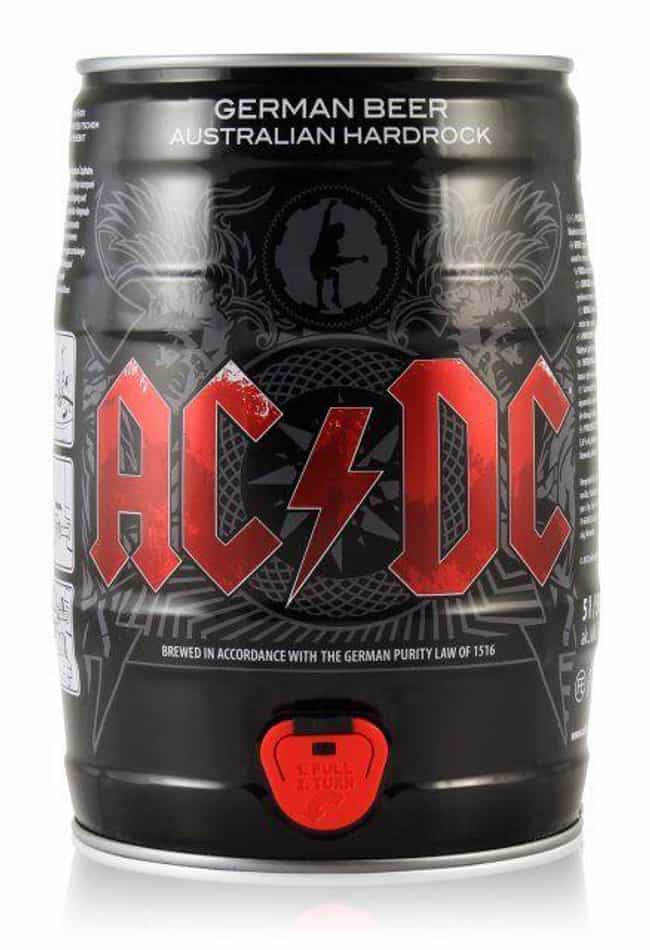 Nevermind that guitarist Angus Young doesn't drink, AC/DC's heralded vocalist Bon Scott loved beer to absolute excess. So the band's got cred. Plus, go find an AC/DC fan without a beer and we'll show you a teenager without a smart phone.
The band doesn't mess around when it comes to their eponymous custom German-style beer, which is available in 24-ounce cans and Sapporo-style mini barrels. Both are 5% ABV and the barrel can depicts a silhouette image of Angus wearing a guitar. Both feature a black can, an emblem pattern and the band's logo in bright red. As the band sang, "Have a drink on me" -- they're not gonna pay for it or anything, but you have their glowing endorsement to delve in.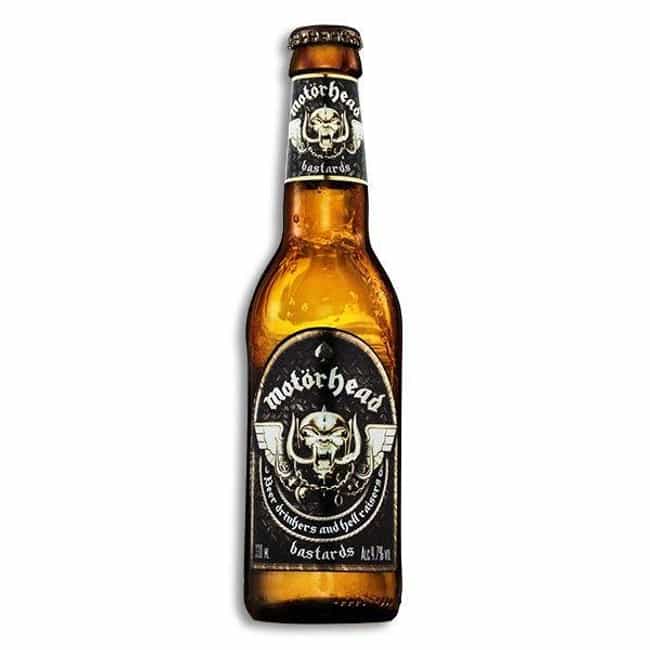 Back in 2012, more than three years before the death of Motorhead legend Lemmy Kilmister, the band launched its first signature beer. Bastards was a mass-produced American adjunct lager from Krönleins Bryggeri brewery, and if contained 4.7% ABV, a somewhat meager amount of booze coming from the Doctor of Jack Daniel's. While fans appreciated the tribute, many were less pleased by the mediocre quality of the product, which also scored poorly with critics.
So Motorhead teamed up with Arcadia Brewing Co. and discussed its options. The result, Road Crew beer launched in December 2015 under the flag of the brewer, the band and Camerons and Global Merchandizing, who all agreed to dedicate the beverage to some of the biggest drinkers of all, the road crew. Road Crew is an American IPA/Indian Pale Ale that contains 6.2 ABV. The product is available in bottles, cans, kegs and casks.
"Röad Crew is a world-class rock and roll beer from the world's loudest band," said the band's guitarist in a statement. "Enjoy the taste of Motorhead wherever you are! Lemmy lives. Motorhead for life." Amen.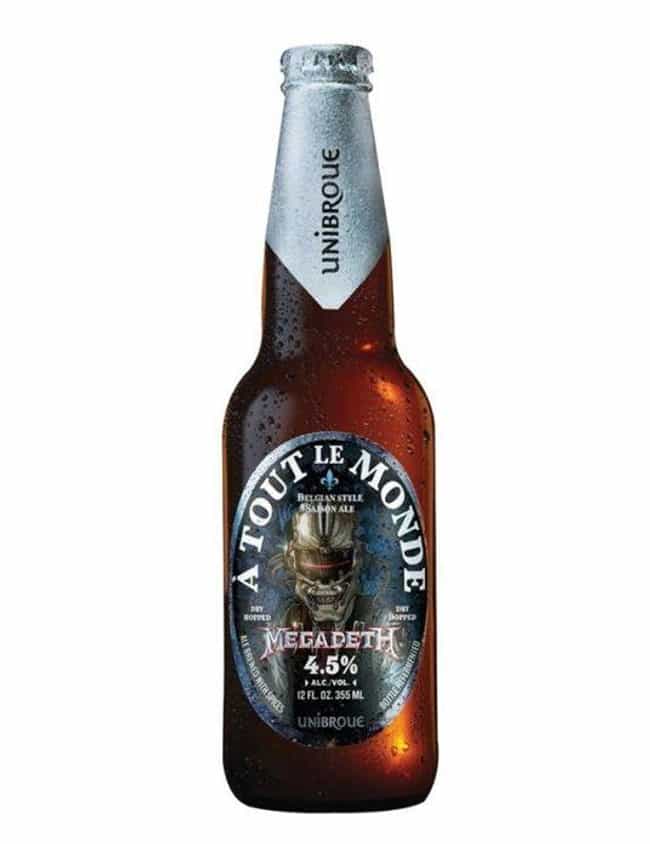 Vic Rattlehead, Megadeth's beloved skeleton mascot, adorns the bottle of this microbrew, which was named after a song on the band's 1994 album Youthanasia. Despite the "Hellraiser"-ish imagery, Megadeth's Belgian light-style microbrew is a classy beer. Aimed at fans of Hoegaarden who are sometimes forced to settle for Blue Moon, A Tour le Monde is tasty and light on the palate. More accurately, it's a saison ale that uses a dry hopping technique and was brewed by Unibroue to Mustaine's specifications. The lowest alcohol content of any of the company's brands, A Tout Le Monde has a 4.5 % ABV. Nonetheless, it received a gold medal at the 2017 World Beer Championship, which rated it the best saison with a score of 93 points. That should demonstrate "who's buying."