Living
Being A Rodeo Clown Is A Way More Dangerous Job Than You Ever Imagined

Rodeo clowns might be known for their buffoonery and antics, wild makeup, and over-the-top clothing, but their job is no day at the circus. The people who go into this line of work are doing a vital, selfless task - all while entertaining a crowd. All this is at high risk to their own lives and safety.
Being a rodeo clown is a calling that only a few stalwart souls answer. After all, they aren't doing it for the glamour of the job, or the glory, and definitely not the salary. It's a dangerous job that requires a person to entertain a large crowd while protecting a rider from an angry bull.
They Deliberately Put Themselves In Harm's Way
A rodeo clown's responsibility is to divert the bull's attention after it throws off a rider. This is a hazardous job, and those who undertake this profession can expect an injury (or several) at some point.
Once the rider falls off the bull, the clown comes in to protect the rider. They're deliberately putting themselves in harm's way for the sake of someone else. The rider only has to stay on the bull for eight seconds, and they often fall long before that. The rodeo clown squares off with the bull for significantly more time.
Famed Rodeo Clown Leon Coffee Has Broken 142 Bones
Like in any industry, there are rodeo clown legends. One of them is Leon Coffee, who has worked the rodeo circuit since the early 1970s. In that time, he's broken 142 bones, including his ribs and both legs multiple times. "I've always been an adrenaline junkie," he said.
Also among Coffee's wounds: a major head injury. "It was such a traumatic blow that my brain told my heart to stop beating. And I literally died five times in one night," Coffee explained.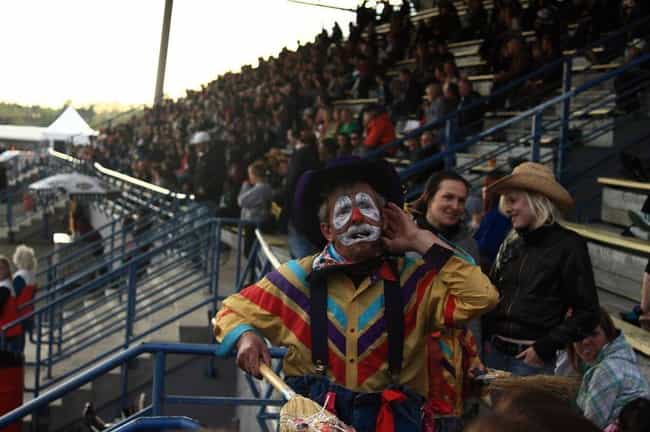 They Need To Know Very Precise Ways To Approach The Bull
There is a precise art to being a rodeo clown. Approaching a bull in the ring is dangerous - especially after it's been riled up by the rider - and there are specific ways to do it.
A rodeo clown understands the safest and most effective way to approach the bull. Often that means standing in the animal's blind spot. The bull can't charge what it's struggling to see.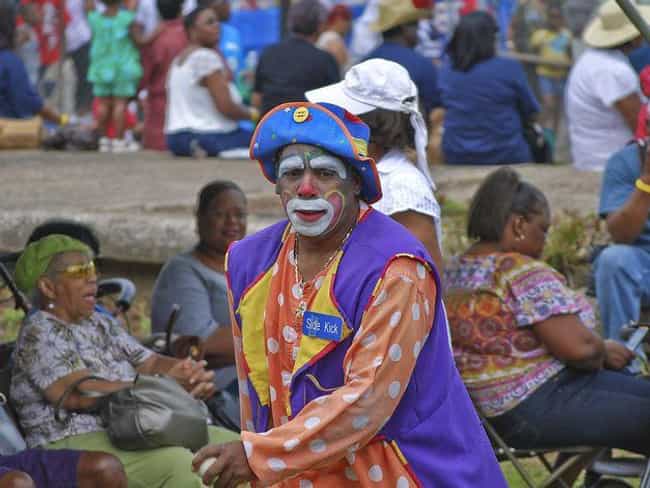 Loose clothing is a must when facing off with a bull. A rodeo clown wears baggy clothing not because it looks more cartoonish, but because it makes it easier to escape. If a clown works to get the bull's attention, and in the process gets hooked by a horn, they have a few more precious seconds to get away thanks to the baggy clothes.
Those pants they wear are called a "bullfighting skirt" because there's no crotch in them.