Food
Romano's Macaroni Grill Recipes

Updated June 14, 2019
193 votes
129 voters
13.7k views
7 items
Romano's Macaroni Grill recipes - the easy way to prepare the best dishes from the Romano's Macaroni Grill menu. These are copycat recipes, not necessarily made the same way as they are prepared at Romano's Macaroni Grill, but closely modeled on the flavors and textures of Romano's popular food, so you can bring the exotic tastes of one of the best restaurant chains around to your own table for a fraction of the cost.
Founded in Leon Springs, Texas in 1988, Romano's Macaroni Grill focuses on Mediterranean and Italian fare and operates across the US and in 12 other countries around the world. The popular menu lead to the creation of pre-packaged frozen dishes inspired by the chain's most popular items.
From Red Lobster Cheddar Bay Biscuits to Buffalo Wild Wings hot sauce, chain and franchise restaurants are popular destinations around the world. Eating out too frequently can be costly, not to mention that it's hard to control portion size, ingredients, or the style of cooking to suit your preferences.
Making Tony Roma's recipes on your own allows you to save money while enjoying your favorite menu items from the casual dining spot. This list collections the best copycat Tony Roma's recipes from around the Web.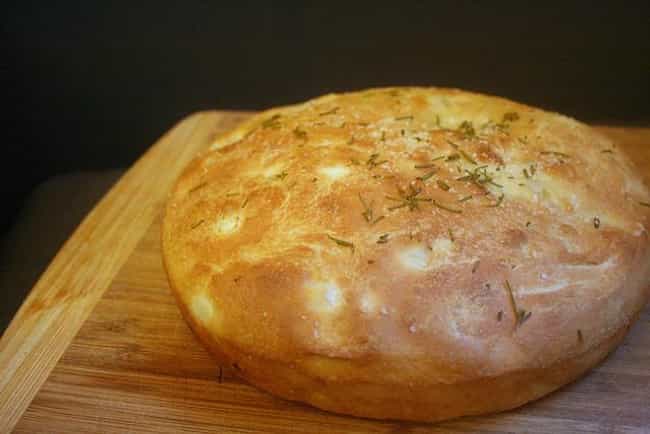 1 Tablespoon Dry yeast
1 Teaspoon Canola oil
1 Tablespoon Sugar
Nonstick cooking spray
1 Cup Warm water
2 Tablespoon Margarine
2 1/2 Cup White flour
1/4 Cup Fresh rosemary; chopped - (or 2 tbsps dried)
1 Teaspoon Salt
- Place yeast, sugar and water in a large bowl or food processor; allow mixture to become bubbly.
- Mix in 2 cups of flour and salt; knead for about 10 minutes until smooth and elastic, add flour if necessary.
- Oil a bowl, put dough in it and cover with a towel; let rise in a warm place for an hour, until doubled in size.
- Punch down dough and divide in half; let dough rest for a few minutes.
- Coat 2 9-inch square cake pans with nonstick spray.
- Press dough into pans; melt margarine.
- Brush margarine over tops of loaves; sprinkle rosemary over loaves and lightly press into the surface.
- Let loaves rise again until doubled, about 45 min.
- Preheat oven to 450 F.
- Lightly sprinkle salt over loaves; bake for 20-25 minutes, until lightly browned.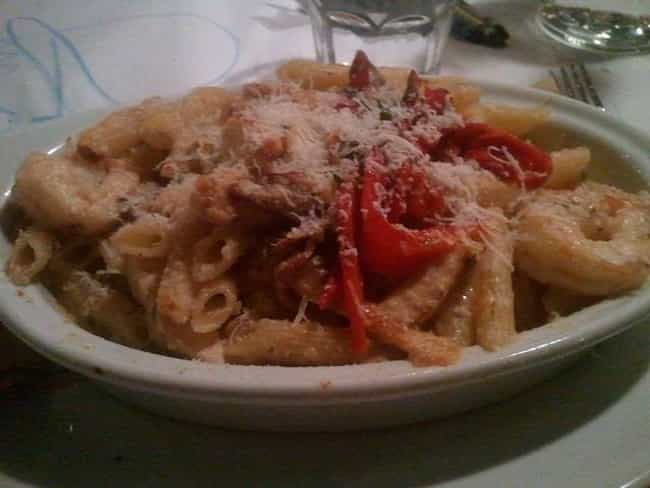 * Gratinata Sauce:
2 Teaspoon Butter
2 Teaspoon chopped garlic
1 Teaspoon Dijon mustard
1 Teaspoon salt
1 Teaspoon chopped rosemary
1 cup marsala wine
1/4 Teaspoon cayenne pepper
8 cups heavy cream
* Penne Rustica:
1 Ounce pancetta or bacon
18 each shrimp peeled and deveined
12 Ounce grilled chicken breast, sliced
4.5 cups of granita sauce
48 Ounce Penne Pasta, precooked
3 Teaspoon pimentos
6 Ounce butter
1 Teaspoon chopped shallots
1 pinch of salt and pepper
1 cups parmesan cheese
1/2 Teaspoon paprika
6 sprigs of fresh rosemary
- Sauce: Saute butter, garlic, and rosemary until garlic begins to brown; add marsala wine and reduce by one-third.
- Add remaining ingredients and reduce by half of original volume; set aside.
- Saute pancette until brown; add butter, shallots, and shrimp.
- Cook until shrimp are evenly pick but still translucent.
- Add chicken, salt, and pepper; mix thoroughly.
- Add granita sauce and 1/2 cup of parmesan cheese; simmer until sauce thickens.
- In a large bowl, combine shrimp and chicken mixture with precooked pasta.
- Place mixture into single serving dishes or one large casserole dish; top with remaining cheese and pimentos and sprinkle with paprika.
- Bake at 475 for 10-15 minutes; remove and garnish with fresh rosemary sprig. Serves 6.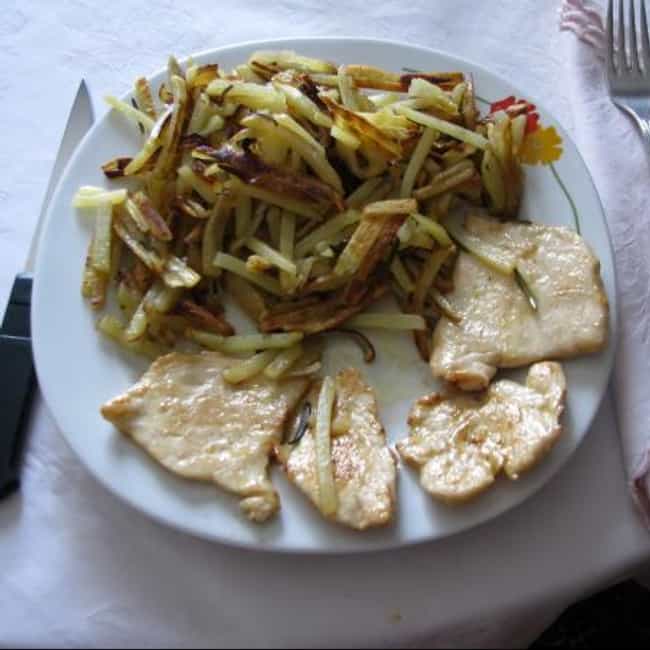 * Lemon Butter Sauce:
4 ounces lemon juice
2 ounces white wine
4 ounces heavy cream
1 pound (4 sticks) butter
Chicken & Pasta:
6 to 8 (3-ounce) chicken breasts, pounded thin
Oil and butter for sauteing chicken
1/2 to 3/4 cup flour, seasoned with salt and pepper, for dredging
6 ounces pancetta, cooked
12 ounces mushrooms, sliced
12 ounces artichoke hearts, sliced
1 tablespoon capers
1 pound cappellini pasta, cooked
Chopped parsley, for garnish
- Sauce: Heat lemon juice and white wine in a saucepan over medium heat.
- Bring to a boil and reduce by one-third; add cream and simmer for 3-4 minutes until mixture thickens.
- Slowly add butter until completely incorporated; season with salt and pepper.
- Remove from heat; keep warm.
- Cook pasta; drain.
- Heat a bit of oil and two tablespoons butter in a large skillet.
- Dredge chicken in flour; saute in pan, turn once, until brown and cooked through.
- Remove chicken from pan; add remaining ingredients.
- Heat until mushrooms are softened and cooked; add chicken back to pan.
- To serve: Place cooked pasta on each plate; add half of butter sauce to chicken mixture and toss.
- Taste and adjust, add more sauce if needed.
- Place chicken mixture over pasta; garnish with parsley. Makes 10 servings.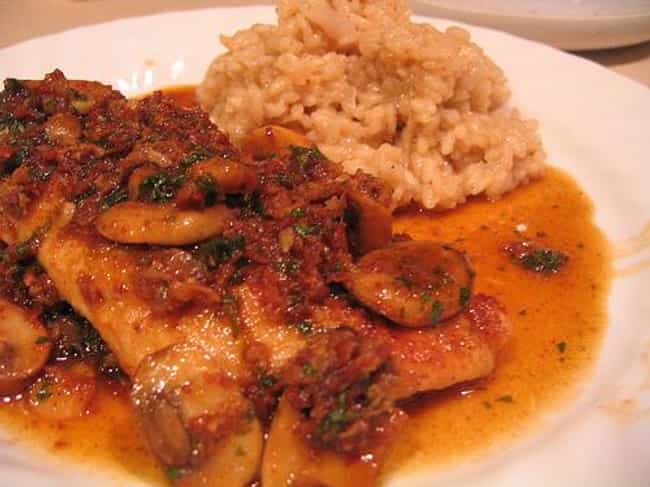 1 lb boneless skinless chicken breast , cut into 8 pieces
ground pepper
flour , for coating
6 tablespoons butter
1 tablespoon olive oil
1 cup mushroom , thinly sliced
1 garlic clove , minced
1 shallot , minced
2 tablespoons parmesan cheese , grated
6 tablespoons marsala wine , dry not sweet
2 tablespoons chicken stock
- Place chicken pieces between waxed paper and flatten; dust each piece with salt, pepper and flour, shake off excess.
- Melt 3 tablespoons butter and oil in skillet; fry chicken in batches on medium heat for 5 minutes each side.
- Remove chicken from pan; arrange in a single layer in shallow ovenproof pan.
- Put in low oven at 275-300 to stay warm.
- Add 2 tablespoons butter and garlic to skillet and saute for a few minutes until soft; add mushrooms and saute for 5 minutes.
- Use slotted spoon to lift mushrooms out of skillet; arrange mushrooms on top of chicken breasts.
- Sprinkle with cheese; put back in oven.
- Pour Marsala wine into skillet along with chicken broth and remaining 1 tablespoon butter; boil rapidly until reduced by half.
- Remove chicken from oven, plate it and pour wine mixture over chicken breasts.
- Serve chicken along with a small portion of angel hair pasta on plate.