Food
Romano's Macaroni Grill Recipes

181 votes
122 voters
12.8k views
7 items
Romano's Macaroni Grill recipes - the easy way to prepare the best dishes from the Romano's Macaroni Grill menu. These are copycat recipes, not necessarily made the same way as they are prepared at Romano's Macaroni Grill, but closely modeled on the flavors and textures of Romano's popular food, so you can bring the exotic tastes of one of the best restaurant chains around to your own table for a fraction of the cost.
Founded in Leon Springs, Texas in 1988, Romano's Macaroni Grill focuses on Mediterranean and Italian fare and operates across the US and in 12 other countries around the world. The popular menu lead to the creation of pre-packaged frozen dishes inspired by the chain's most popular items.
From Red Lobster Cheddar Bay Biscuits to Buffalo Wild Wings hot sauce, chain and franchise restaurants are popular destinations around the world. Eating out too frequently can be costly, not to mention that it's hard to control portion size, ingredients, or the style of cooking to suit your preferences.
Making Tony Roma's recipes on your own allows you to save money while enjoying your favorite menu items from the casual dining spot. This list collections the best copycat Tony Roma's recipes from around the Web.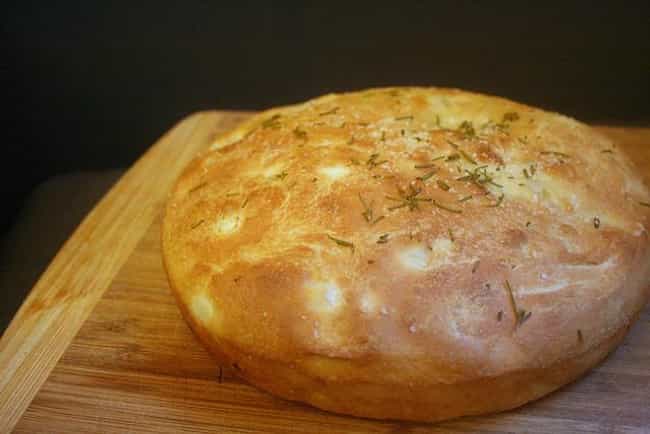 1 Tablespoon Dry yeast
1 Teaspoon Canola oil
1 Tablespoon Sugar
Nonstick cooking spray
1 Cup Warm water
2 Tablespoon Margarine
2 1/2 Cup White flour
1/4 Cup Fresh rosemary; chopped - (or 2 tbsps dried)
1 Teaspoon Salt
- Place yeast, sugar and water in a large bowl or food processor; allow mixture to become bubbly.
- Mix in 2 cups of flour and salt; knead for about 10 minutes until smooth and elastic, add flour if necessary.
- Oil a bowl, put dough in it and cover with a towel; let rise in a warm place for an hour, until doubled in size.
- Punch down dough and divide in half; let dough rest for a few minutes.
- Coat 2 9-inch square cake pans with nonstick spray.
- Press dough into pans; melt margarine.
- Brush margarine over tops of loaves; sprinkle rosemary over loaves and lightly press into the surface.
- Let loaves rise again until doubled, about 45 min.
- Preheat oven to 450 F.
- Lightly sprinkle salt over loaves; bake for 20-25 minutes, until lightly browned.

Would you try this?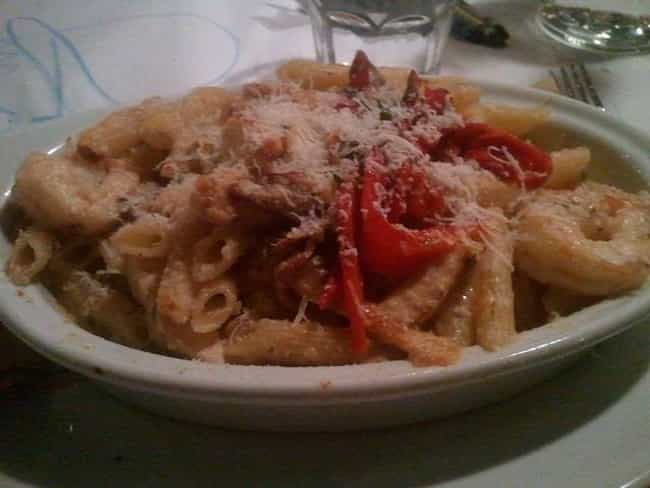 * Gratinata Sauce:
2 Teaspoon Butter
2 Teaspoon chopped garlic
1 Teaspoon Dijon mustard
1 Teaspoon salt
1 Teaspoon chopped rosemary
1 cup marsala wine
1/4 Teaspoon cayenne pepper
8 cups heavy cream
* Penne Rustica:
1 Ounce pancetta or bacon
18 each shrimp peeled and deveined
12 Ounce grilled chicken breast, sliced
4.5 cups of granita sauce
48 Ounce Penne Pasta, precooked
3 Teaspoon pimentos
6 Ounce butter
1 Teaspoon chopped shallots
1 pinch of salt and pepper
1 cups parmesan cheese
1/2 Teaspoon paprika
6 sprigs of fresh rosemary
- Sauce: Saute butter, garlic, and rosemary until garlic begins to brown; add marsala wine and reduce by one-third.
- Add remaining ingredients and reduce by half of original volume; set aside.
- Saute pancette until brown; add butter, shallots, and shrimp.
- Cook until shrimp are evenly pick but still translucent.
- Add chicken, salt, and pepper; mix thoroughly.
- Add granita sauce and 1/2 cup of parmesan cheese; simmer until sauce thickens.
- In a large bowl, combine shrimp and chicken mixture with precooked pasta.
- Place mixture into single serving dishes or one large casserole dish; top with remaining cheese and pimentos and sprinkle with paprika.
- Bake at 475 for 10-15 minutes; remove and garnish with fresh rosemary sprig. Serves 6.

Would you try this?
Carmela's Chicken Rigatoni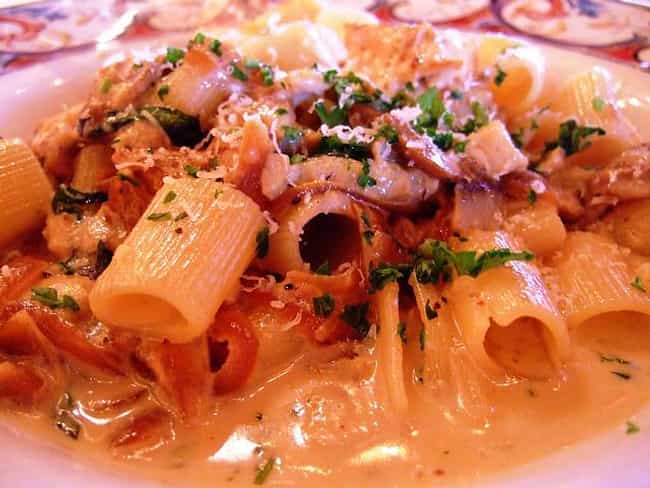 6 ounces butter-flavored oil
8 ounces mushrooms
12 ounces grilled chicken
salt and pepper
2 teaspoons basil
6 ounces caramelized onion
6 ounces cooking wine
20 ounces heavy cream
24 ounces rigatoni pasta
2 ounces parmesan cheese
- In a hot saute pan add butter flavored oil, mushrooms, chicken, basil, caramelized onions, salt and pepper; saute for a minute.
- Add wine and sauté for a minute; add heavy cream and bring to a boil over high heat.
- Dip pre-cooked pasta in boiling water for 10 seconds; drain thoroughly.
- Put pasta in saute pan; sauté until well incorporated.
- Toss briefly over fire, add parmesan cheese; continue to toss until cheese is completely incorporated.
- Transfer to plate, garnish with parsley. Makes 4-6 servings.

Would you try this?
3 ounces julienne-shredded fresh spinach
3 ounces grilled chicken, sliced and chilled
1 ounce ripe Roma tomatoes, diced
1/2 ounce pine nuts, lightly toasted
1/2 ounce sun-dried tomatoes, julienne cut
1/2 ounce capers
1/2 ounce sliced black olives
1/2 ounce julienne-cut radicchio
5 ounces orzo pasta, cooked and chilled
3 ounces roasted, garlic lemon vinaigrette
1/4 ounce shaved Grana Padana Parmesan cheese
Fresh cracked black pepper, for garnish
- In the order listed, place all ingredients, except Parmesan cheese, in a chilled mixing bowl.
- Toss and serve in a bowl; garnish with shaved Parmesan cheese and fresh cracked pepper.

Would you try this?