Superheroes
Things You Didn't Know About Ruby Rose

Fun facts about Ruby Rose: She loves tigers and used to sing church songs in the style of Mariah Carey. But despite a relatively harmless track record as far as celebrities go, the model, DJ/VJ, actress, and director sparks waves of online controversy - often inadvertently - no matter what she does.
Rose took America by storm after landing a recurring role in Netflix's hit series Orange Is the New Black. Since then, she joined Taylor Swift's squad, directed a music video for the Veronicas, and landed parts in action blockbusters like John Wick: Chapter 2. As a gender-fluid actor, the star advocates for the LGBTQ+ community and speaks out against bullying. Yet somehow, Ruby Rose's controversies run rampant. That's apparently just the price of fame, which she grabbed on her own terms after numerous rejections.
Now, she's been cast as The CW's Batwoman. She'll be the first openly gay superhero with her own series if it gets picked up by the network. The announcement created a Twitter storm, with naysayers decrying Rose as not "lesbian enough" to play a lesbian character. So who is the star under the edgy pixie cut and tattoo sleeves, and is her ubiquitous controversy warranted?
Batwoman Is The First Openly Gay Superhero To Get A Dedicated Show
Rose was cast as Batwoman in the summer of 2018 for a crossover DC event on The CW. If the crossover and planned pilot are successful, Rose's appearance will mark the first time an openly gay superhero has gotten their own show.
Rose's Batwoman isn't the Batwoman everyone remembers from their youth, though - she's gone through a major transformation. Kate Kane (Batwoman's real identity) was introduced to the DC extended universe in the 1950s as Batman's love interest. In 2006, the comic rewrote the superhero's backstory.
The character was re-introduced as a lesbian with Jewish heritage. Rose's version of Kane is a woman "armed with a passion for social justice and flair for speaking her mind."
She Deleted Twitter After 'Batwoman' Backlash
After Rose announced her role as Batwoman, Twitter erupted in controversy. Some thought Rose wasn't a good enough actor. Others didn't like the fact that Batwoman is Jewish, but Rose is not. Some claimed she didn't qualify as a lesbian because she's gender fluid. Things got so bad that Rose deleted her Twitter account and limited her Instagram comments, according to Us Weekly.
"Where on Earth did 'Ruby is not a lesbian, therefore, she can't be Batwoman' come from - has to be the funniest, most ridiculous thing I've ever read," Rose tweeted before deleting her account. "I came out at 12? And have for the past five years had to deal with 'she's too gay.' How do y'all flip it like that? I didn't change."
She Identifies As A Gender-Fluid Lesbian
Rose was 12 when she came out as a lesbian to her mother. In an interview, the star admitted that it was particularly difficult because she didn't know anyone who was LGBTQ+ and didn't know her new identity "was a thing." In fact, she informed her mother that when she did get a boyfriend, "he" was going to be a girl.
Now, Rose identifies as gender fluid and doesn't see herself as conventionally male or female. This was reflected in her short Break Free. She told Elle:
For the most part, I definitely don't identify as any gender. I'm not a guy; I don't really feel like a woman, but obviously I was born one. So, I'm somewhere in the middle, which - in my perfect imagination - is like having the best of both sexes. I have a lot of characteristics that would normally be present in a guy, and then less that would be present in a woman. But then sometimes I'll put on a skirt - like today.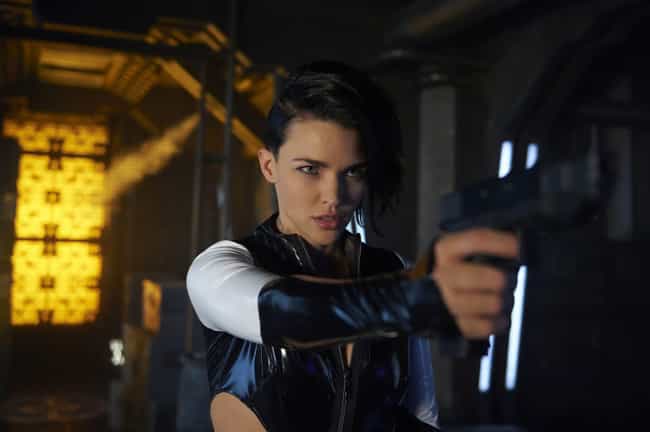 She Was Told She Looked Too Much Like Justin Bieber To Be A 'Sexy Girl' In An Action Movie
According to Vanity Fair, a director once told Rose that she looked "too much like Justin Bieber" to play the "sexy girl" in his action flick. That's what led Rose to create her short film, Break Free. A few years later, though, she did become an action star. Rose landed roles in three of the most acclaimed action franchises in Hollywood, playing Ares in John Wick: Chapter 2, Adele Wolff in xXx: Return of Xander Cage, and Abigail in Resident Evil: The Final Chapter.
In 2018, The CW announced Rose would play the next DC Batwoman in its annual crossover event - and potentially reprise the role in a subsequent television series. According to the character's official logline, Batwoman is "armed with a passion for social justice and a flair for speaking her mind… an out lesbian and highly trained street fighter primed to snuff out the failing city's criminal resurgence."
Rose told Jimmy Fallon she was "thrilled" about getting the role, saying, "I get to be Batwoman, what? I feel like the reason I kept getting so emotional is because, you know, growing up watching TV, I never saw someone on TV that I could identify with, let alone a superhero."