Watchworthy
11 Emotional Episodes Of The Simpsons That Made You Cry

Updated March 12, 2020
15.2k votes
3.9k voters
155.9k views
11 items
List Rules Vote up the Simpsons moments that made you cry the hardest.
With nearly three decades worth of episodes under its belt, The Simpsons has come a long way from its humble beginnings as an interstitial animated short for The Tracey Ullman Show. All of that time naturally engendered large shifts in the show's direction, but when The Simpsons was at its peak, it was unrivaled in terms of handling emotional issues on prime time.
Sad Simpsons episodes are a crucial part of the show. They really managed to make you laugh just as hard as they made you cry. Let's remember these impactful Simpsons moments, and recall why we first fell in love with Springfield's most dysfunctional family.
Data-driven recommendations based on voting from over 40 million monthly visits to Ranker.
Try the free app
Do It For Her - "And Maggie Makes Three"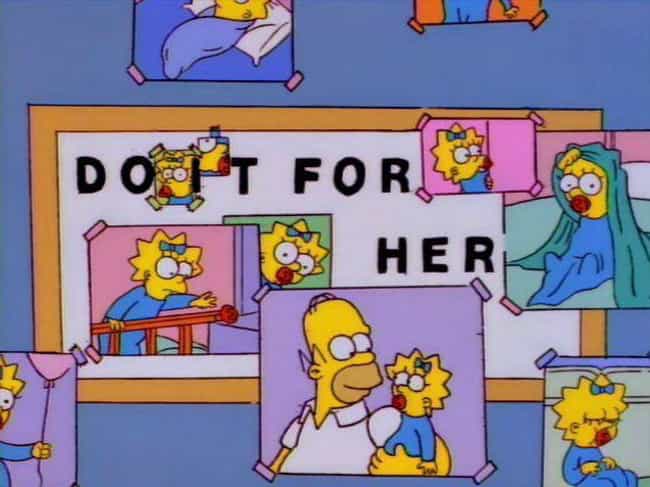 The granddaddy of all emotional Simpsons moments arrived in Season 6 with the episode "And Maggie Makes Three." In the episode, the family looked through old photo albums and in the process reminisced about the unplanned birth of Maggie. We see how Homer's plans for a different life (his dream was to work at Barney's Bowlarama) are completely tossed out the window by Maggie's birth. He's forced to beg for his old position back at the nuclear plant.
He's able to get the job, but is forced to forever look at a special unmotivational plaque that reads, "Don't forget, you're here forever." At the end of the episode, the kids ask Homer why there are no picture of Maggie in the photo albums and Homer replies that there are pictures, but he keeps them where he needs the most cheering up. All of Maggie's pictures cover up the plaque so it reads, "Do it for her." It's a beautifully devastating moment, even if it's kind of weird Homer elected not to include Bart and Lisa.
We'll Really Miss You, Mrs. K. - "Four Regrettings And A Funeral"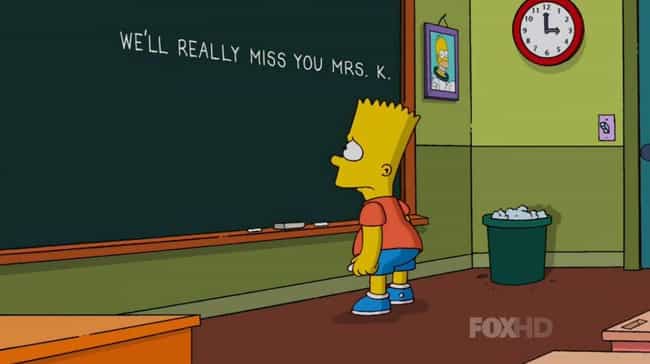 Marcia Wallace was the talented, Emmy Award-winning actress who provided the voice of Bart's teacher, Mrs. Krabappel, from 1990-2013. Sadly, Marcia passed away due to illness in October of 2013. The creators of The Simpsons consider her irreplaceable, and so they decided to retire the character, rather than recast. As a tribute, the third episode of the show's 25th season, "Four Regrettings and a Funeral," featured a moving tribute to Wallace.
In that episode's opening credits, Bart's usual gag of writing humorous lines on the chalkboard as punishment was replaced by only a single line, reading: "We'll really miss you, Mrs. K." It was a lovely gesture in honor of one of The Simpsons' best characters and actors.
Homer Watches The Stars - "Mother Simpson"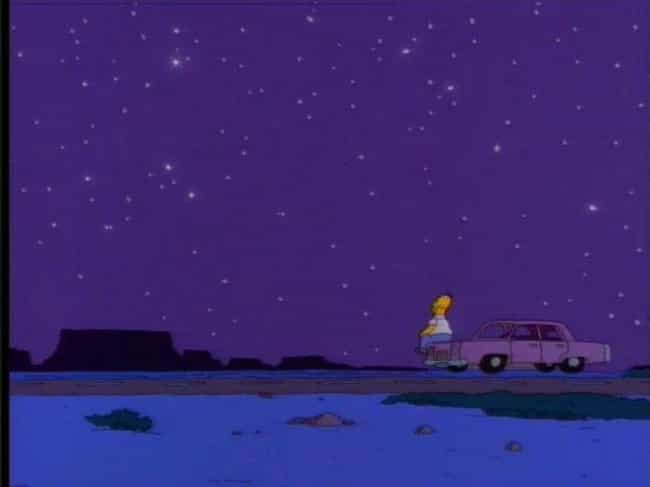 "Mother Simpson" is the eighth episode of the show's seventh season, and it deals with the return of Homer's fugitive hippie mother, Mona (Glenn Close). At that point in the series, she had never been seen before. Mona comes back to Springfield because she thinks Homer is dead, and the two are overjoyed upon reuniting.
After acting suspicious, Mona reveals her past to the family, in particular the fact that she's on the run for sabotaging Mr. Burns's germ warfare lab back in the '70s. Sadly, Burns finds out that Mona has returned and she's forced to go back on the lam to avoid being arrested. The episode ends with a mostly silent credit sequence accompanied only by composer Alf Clausen's beautiful score as Homer stares up at the stars and contemplates his life.
Homer's Last Night - "One Fish, Two Fish, Blowfish, Blue Fish"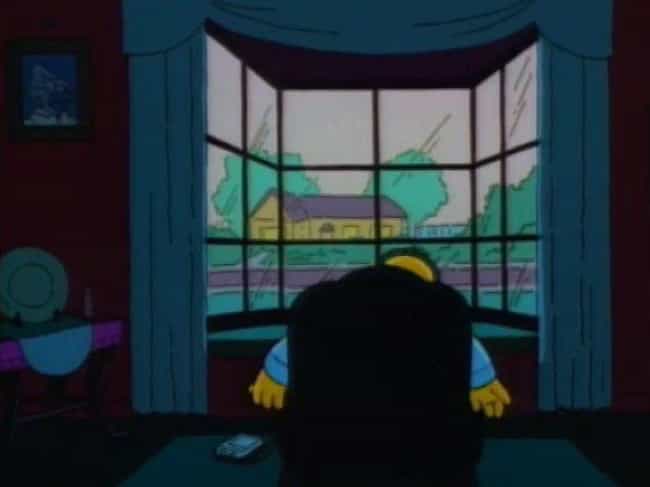 Homer Simpson's appetite has always gotten him into trouble, but never was it worse than in "One Fish, Two Fish, Blowfish, Blue Fish," the 11th episode of Season 2. While out for sushi, Homer insists on trying fugu, a dish made from poisonous blowfish that must be perfectly prepared to be eaten safely. After eating it, Homer is informed that the dish may have been prepared incorrectly. Dr. Hibbert tells him that he likely only has 22 hours to live.
Accepting his fate, Homer decides to spend his last day wrapping up his affairs, crossing items off his bucket list, and spending time with his loved ones. As dawn approaches, he slumps over in his chair and appears dead, but Marge discovers him to be simply asleep. Homer's "final" day is full of bittersweet moments, and as he looks at his sleeping family for what he believes to be the last time, the episode really makes you feel that he's about to die, even when you watch it for the hundredth time.