Culture
Why Is There A 450-Year-Old Catholic Statue Of A Flayed Saint In The Middle Of Milan?

Visitors to Milan's Duomo are often shocked by the Saint Bartholomew statue. Unlike other statues in the church, Saint Bartholomew stands completely naked, wearing his own skin thrown over his shoulder. That's because Saint Bartholomew was flayed, literally skinned alive as a punishment for converting people to Christianity. Sculpted by Marco d'Agrate in 1562, the statue of St. Bartholomew shows the apostle completely stripped of his skin, holding a knife in his hand.
Bartholomew was just one of many Christian martyrs who suffered a gruesome demise. St. Lawrence was roasted alive on a grill over hot coals. St. Euphemia was fed to lions and bears. And St. Castulus was buried alive. Why did artists paint and sculpt scenes of torment? Martyrdom was a badge of honor for these Christian saints because their suffering brought them closer to Christ. By showing a skinned saint, artists drove home the story of Bartholomew's life.
St. Bartholomew's Statue Is Draped In His Own Skin Because He Was Flayed Alive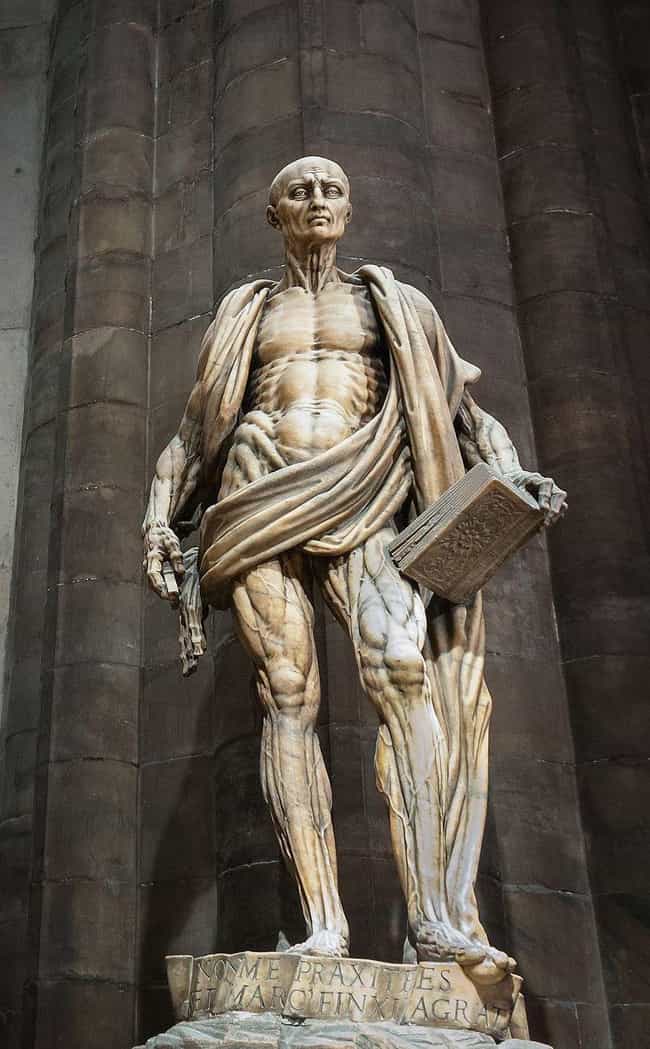 St. Bartholomew was one of Christ's apostles who faced a grisly demise. While on a mission to India, he was punished for converting people to Christianity. But the end itself was particularly vicious. Bartholomew was reportedly flayed alive, his entire skin removed as he watched the process in agony.
As a result of his martyrdom, for centuries St. Bartholomew was shown holding his own skin. The statue of St. Bartholomew in Milan, created by Marco d'Agrate in the 16th century, remains one of the most realistic artistic depictions of the saint.
The Grisly End Was Punishment For Converting A King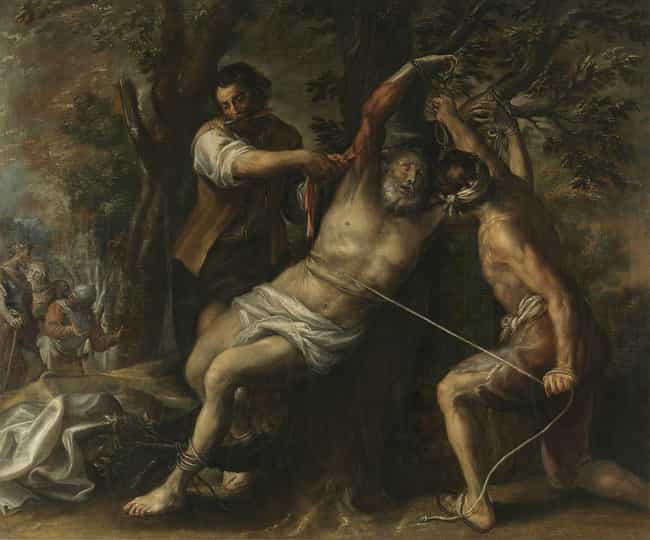 According to the Golden Legend, written during the 13th century, Bartholomew earned his grisly martyrdom for converting a king in India. As one of Christ's apostles, Bartholomew traveled the world spreading the message of Christianity.
On his trip, Bartholomew cast out several demons, convincing King Polemius to convert to Christianity. Bartholomew's religious mission enraged the king's brother, who ordered the apostle's end.
The text explained how the angry brother ripped Bartholemew's clothes off, ordered him beaten and commanded that his underlings flay the apostle alive.
The Saint Was Flayed Like A Leather Bag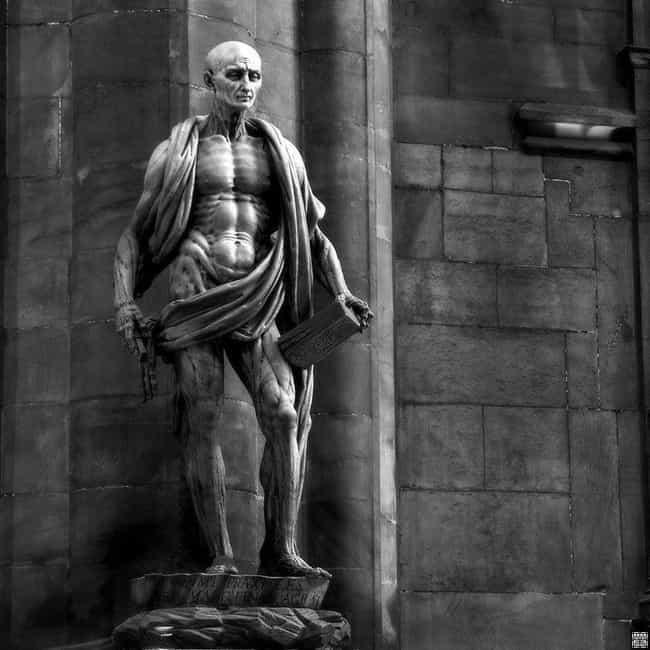 The story of St. Bartholomew appeared in many texts. One, by St. Theodore Studita who wrote in the 11th century, used an animal metaphor to describe the saint's death.
"After he had to be in such great and intolerable pain," Theodore explained, "he had been played by the wicked [one], in the manner of a leather bag."
The statue in Milan harkens back to Theodore's description. Bartholomew drapes his own skin over his body as though it were cloth or leather, wearing it like a garment.
Other Sources Disagree On Bartholomew's Demise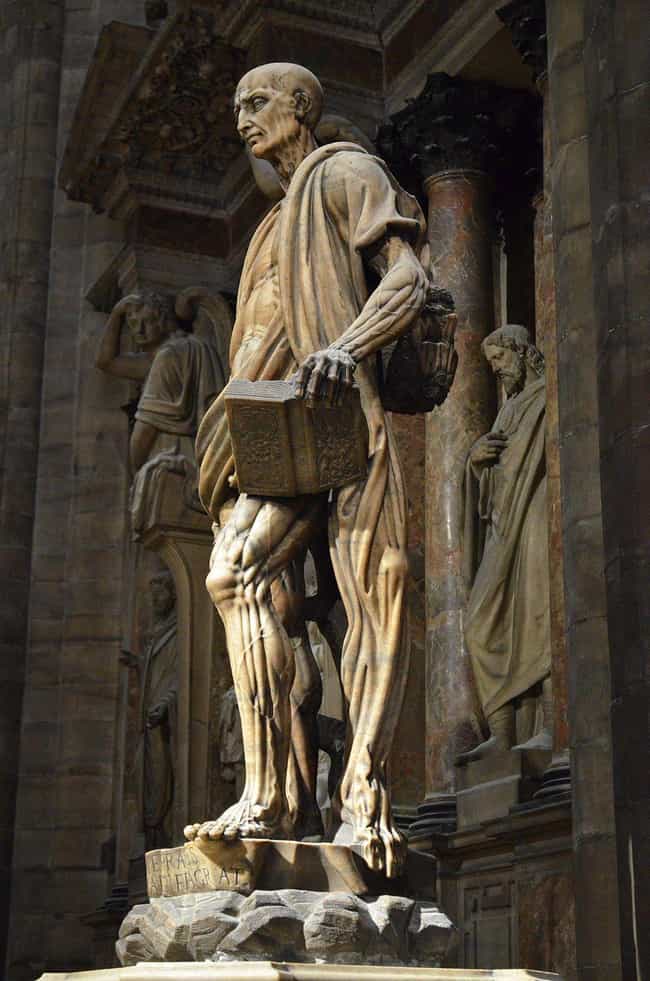 The famous statue in Milan shows the apostle holding his own skin. But some sources claim Bartholomew was never flayed.
The 13th century Golden Legend says Bartholomew was flayed alive in India but also records other accounts of the saint's martyrdom. For example, St. Dorotheus said Bartholomew was not flayed but instead perished from an upside-down crucifixion. Ambrose and St. Theodore recorded that Bartholomew was flayed, but Theodore claims the story happened in Albania, and that the saint had his head removed after being flayed. Other sources only the latter punishment took place say.
The author of the Golden Legend, Jacobus, tried to combine all three claims, stating that Bartholomew was pulled off the crucifix so he could be flayed and then decapitated.