Graveyard Shift
Sarah Paulson's Story In AHS: Cult Is A Retelling Of Lana's Story In Asylum - Which Is Bad For Ally

Updated September 22, 2017
17k views
9 items
American Horror Story loves to tease fans with clues and connections to previous seasons, and Season 7, Cult, is no expection. There are some intriguing similarities between this season's Ally Mayfair-Richards and Season 2's Lana Winters, both played by AHS veteran Sarah Paulson.
For one, they are Sarah Paulson's lesbian characters, characters that may be close to the actress, who is a lesbian herself. But careful viewers of AHS will spot more evidence about this theory about Ally on AHS: Cult. The link between American Horror Story: Cult and Asylum extends not just to the characters of Lana and Ally, but to everyone around them, from their romantic partners to their therapists to their sons.
Redditors like beastboi27 first noticed some of the connections after the Season 7 premiere and the clues have only continue from there. Read on for a list of hints and theories about Sarah Paulson's Lana and Ally (and her other AHS characters, too). And keep track, as each episode reveals more ways that Lana and Ally on American Horror Story are connected.
Lana And Ally Are Both Punished For Being Lesbians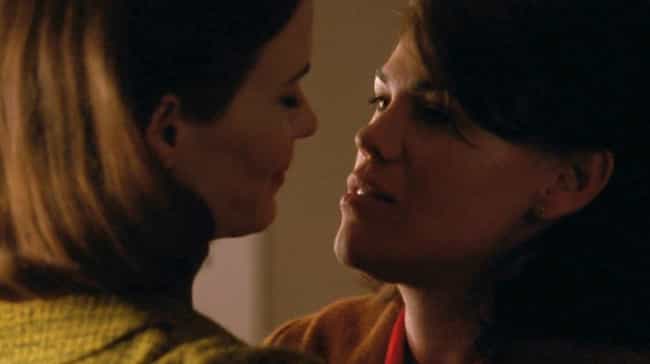 In Season 2, Asylum, Lana Winters is a journalist who is kidnapped, tortured, and nearly killed while investigating Briarcliff Manor. She is also a lesbian, in a relationship with schoolteacher Wendy Peyser (Clea Duvall).
In the repressive atmosphere of 1960s America, Sister Jude blackmails Wendy into having Lana committed to Briarcliff, where she is forced to undergo brutal tortures under the guise of therapy to "cure" her of her homosexuality.
Cult's modern-day Ally Mayfair-Richards lives in a more enlightened time and place, but even so, she is bullied and harassed for being a lesbian. Angry protestors dub her "the lesbian George Zimmerman" after she accidentally kills her employee, a Latino immigrant. Ally's so-far-unknown tormentors post a fraudulent Craigslist ad claiming she and her wife Ivy (Alison Pill) are interested in a threesome with a man. When a man shows up at their house naked and ready to go, the women insist he leave, but instead he becomes aggressive, accuses them of purposefully humiliating him because they are lesbians, and threatens to rape them, only leaving after Ivy chases him out of the house.
Even the "neighbors from hell" (Leslie Grossman and Billy Eichner) taunt Ally for being a lesbian, despite the fact that husband Harrison is a gay man.
Lana And Ally Are Both At The Mercy Of Psychiatrists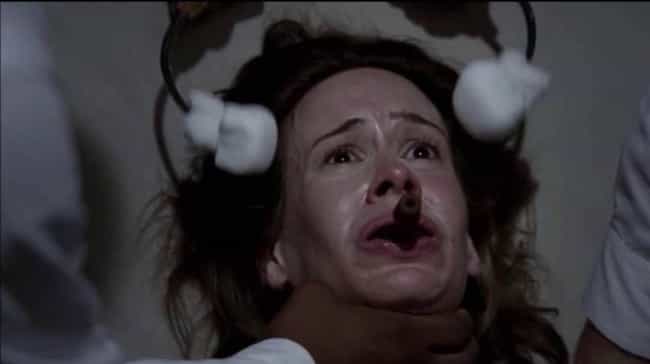 The plot of Asylum revolves around the Briarcliff insane asylum and the unethical treatments and experiments taking place there. After Lana is wrongly committed to Briarcliff, Dr. Oliver Thredson (Zachary Quinto) forces her to ingest vomit-inducing drugs and submits her to sexual assault. Sister Jude (Jessica Lange) also forces her to undergo electroshock therapy in an attempt to erase her memory. And that all pales in comparison to the horrifying medical experiments being performed by Nazi doctor Arthur Arden (James Cromwell).
Though it might be a stretch to call Drs. Arden and Thredson psychiatrists, many of their methods were employed by real-life psychiatrists of that era, including electroconvulsive therapy, the use of isolation and restraints, and treatments intended to "cure" homosexuality (and of course, Nazi medical experiments were all too real).
In 2017, Ally relies on her psychiatrist, Dr. Rudy Vincent (Cheyenne Jackson) to help her manage her phobias, but there's ample evidence that he's far from the innocent advisor he claims to be.
No One Believes Their Crazy Stories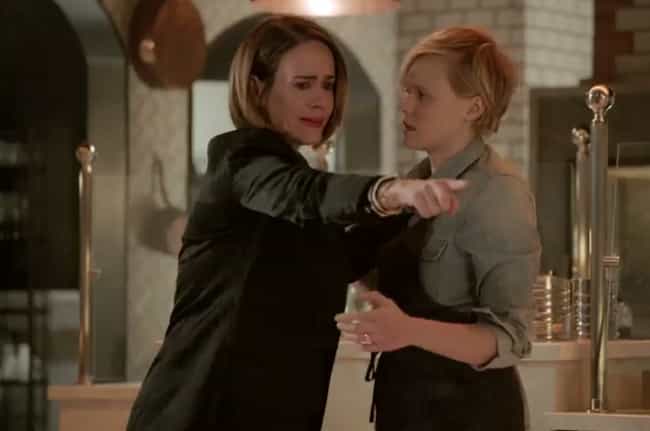 And you can't really blame them. In Asylum, journalist Lana wants to uncover the identity of the serial killer Bloody Face (Zachary Quinto) but when she finds he is, in fact, Briarcliff's respected psychiatrist Dr. Oliver Thredson, at first Sister Mary Eunice (Lily Rabe) is sure it's Lana who is insane. Happily, Lana has it all on record and she's vindicated at last.
Fast forward to 2017 and Ally sounds even crazier trying to convince people that she is being terrorized by a gang of murderous clowns only she can see. Not only does no one believe that the clowns exist anywhere except in Ally's imagination, Ivy doesn't believe her when she claims that their next-door neighbors murdered their son's guinea pig. Ally pleads with Ivy, the police, Dr. Vincent, anyone to listen to her, but the only person who seems to understand is the certifiably deranged Kai (Evan Peters).
They Both Have Some Creepy Kids
In Asylum, Lana is raped by the serial killer Bloody Face and becomes pregnant. She gives her son Johnny (Dylan McDermott) up for adoption, though she secretly checks in with him throughout his childhood. Johnny grows up and becomes a serial killer like his father, until Lana mercifully kills him.
Ally's son Oz (Cooper Dodson) is much more tame than Johnny - so far. But he's also a pretty creepy 10-year-old, obsessed with violent Twisty comic books. He suffers night terrors and dreams about - you guessed it, killer clowns. His biological father is a mystery, but Oz does look a bit like Kai Anderson (Evan Peters), doesn't he?
Some fans speculate Oz might really be Michael Langdon (Asher Gian Starita), the murderous toddler from Season One. In that season, Michael was the son of Tate Langdon - played, naturally, by Evan Peters. And like Johnny, Michael was the product of rape.
Cteavin on Reddit breaks it down:
"Ozzy, the little boy, is already interested in murder (Twisty comics) and is drawing murder victims with an understanding that he shouldn't ('are you going to tell my moms?'). He's Tate's son from Murder House - he even looks like Tate with the wild curly haircut. In this story, Ozzy is the anti-Christ."
If Oz is the anti-Christ, he's got company.