Graveyard Shift
All The Symbology Associated With Satan, Decoded

Updated June 14, 2019
51.5k views
14 items
Religion is steeped in symbolism and archaic knowledge. Of the various sects of spirituality, Satanism is one of the most densely packed. Because of its generations-long history, Satanic symbolism has changed and grown over the years; however, when Anton LaVey created the Church of Satan in the 1960s, he added even more symbols to the lexicon of Satan.
Some of these Satanic symbols are helpful if you'd like to figure out how to sell your soul, while at least one of them is most likely just a reference to a groovy demonic tune. Many of them are still used today in some form or fashion, although a few have passed into the mists of time - most likely a result of modern Satanists discarding deity worship for a more straightforward philosophy.
Each of these symbols has a fascinating backstory, though some are more malevolent than others.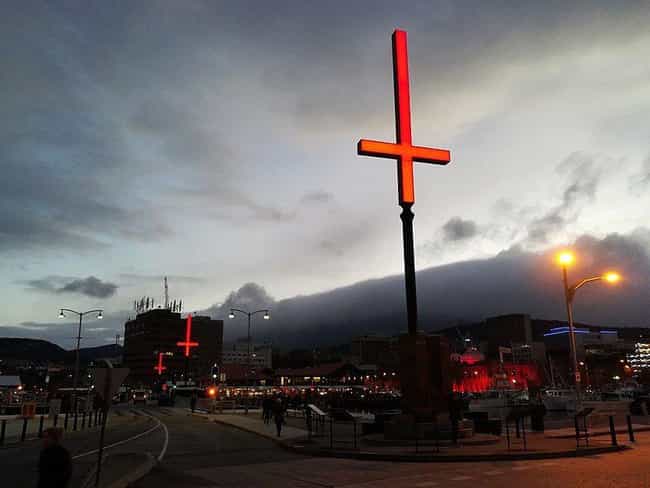 Where did it come from?
The inverted cross originates from the biblical-era story which claims that when Saint Peter was slain in Rome under the persecution of Nero, he requested to be crucified upside-down. Whether his choice was made as an affront to Christ or as a symbol of humility - as he may not have wanted to be considered as holy as Christ - is unclear. Even Catholic scholars are unsure whether this truly occurred.
How was it used?
The upside-down cross was used by both high-level members of the Catholic church and by Satanists. The office of the Pope recognizes the inverted cross as a means of symbolizing one is not worthy of God, while Satanic groups who see the crucifix as a symbol of power - not all do - use it to mock Christianity.
How is it seen today?
The inverted cross can be seen on the Jamaican and Scottish flags, as well as in the Petrine office and on various papal accouterments. Any piece of pop culture that features witches, devil worship, or Satan is likely to contain at least one inverted cross.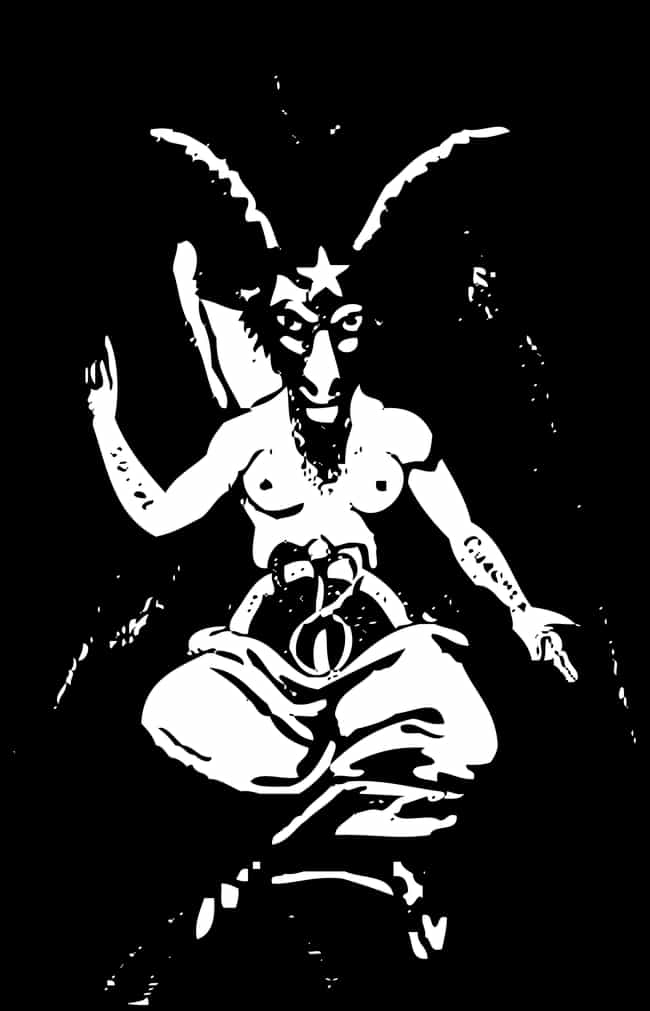 Where did it come from?
Stories of Baphomet date back to around 1100 when the Knights Templar, under duress, admitted to worshipping an idol referred to as either "Baphomet" or "Mahomet," which has been interpreted as the Prophet Muhammad. The modern version of the idol, however, wouldn't appear until 1856, when French occultist Eliphas Levi drew it.
Levi featured the creature in his book Transcendental Magic: Its Doctrine and Ritual and envisioned it as a winged, hermaphroditic creature with the body of a human and the head of a goat. Along with his cloven hooves, Baphomet features a pointed star on his forehead and the Latin words for "separate" and "join together" inscribed on his arms. Essentially, Baphomet's ideology focuses on bringing disparate concepts together and bringing people into one harmonious union.
How was it used?
In the early 20th century, Aleister Crowley took Baphomet's imagery and interpreted it as a symbol of magick. He believed the idol represented the divine unification of opposites, much like the sperm and egg. He was also responsible for connecting Baphomet to Satan through the concept of suppressed knowledge.
How is it seen today?
Today, Baphomet has been reinterpreted as a catch-all icon of Satanism, as well as a symbol of humanity's "inherent nature" to rebel against structure and rules. Baphomet is also referred to as a token of "enlightened inquiry and personal freedom."
Medallion Of The High Priest
Where did it come from?
As one might expect from the founder of the Church of Satan, Anton LaVey's sigil is more flashy than the standard pentagram. The logo is a woven, upside-down, five-pointed white star with a red lightning bolt in the center, meant to announce the wearer as a High Priest of the Church of Satan.
According to the Church's website, LaVey was inspired by the lightning bolt from the logo of RKO Pictures.
How was it used?
The medallion was used to signify that the wearer had ascended to the stage of High Priest of the Church of Satan. A platinum star and a gold lightning bolt indicated that someone was slightly above the "Fourth Order," while the white star with a red lightning bolt was saved specifically for LaVey - he was the only member of the "Fifth Order."
How is it seen today?
After the Church of Satan stopped using symbols to denote order, the Medallion of the High Priest fell out of fashion; the logo has made a comeback, however, thanks to current members of the Church displaying it to show their allegiance to LaVey.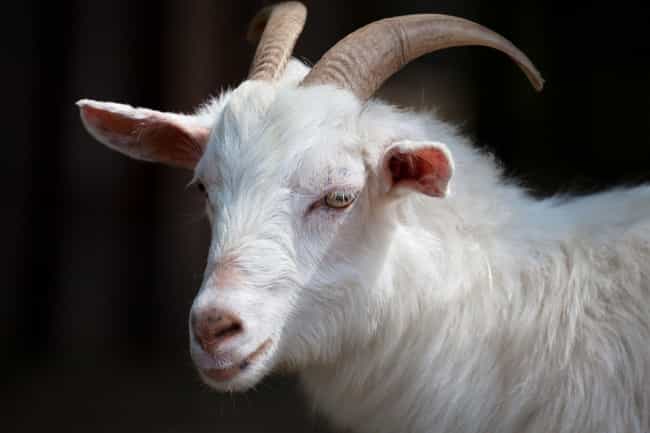 Where did it come from?
As with most of the Satanic imagery collected here, evil goat lore began in Europe. Malcolm Gaskill, a professor of early modern history at the University of East Anglia, explained to Slate that in many engravings and paintings depicting a witches' sabbath, Satan is represented as "a goat or a goat-like man."
How was it used?
Goats have appeared in various forms of Satanic lore, either as a representation of the dark lord himself or as his familiar. Goats are the one symbol representing the devil that hasn't changed much from its original incarnation.
How is it seen today?
The Satanic goat is one of the most prominent symbols in modern Satanic religions. Not only are goat heads included in the logos for both the Church of Satan and the Satanic Temple, but Baphomet's head is that of a goat, which is perhaps why people often see the animal as creepy and devilish. The 2015 film The Witch even reveals the family's goat, Black Philip, is a familiar of Satan's, if not Satan himself.