Unspeakable Times
A Teen Was Reunited With Her Birth Mother - But It Wasn't A Happy Reunion

When Savannah Leckie was 16 years old, the adopted child went to live with her birth mother on a seemingly idyllic farm in Missouri inhabited by small goats and other animals. But what sounds like the beginning of a heart-warming story took a sinister turn when Savannah was reported missing in July of 2017. The deeper the story goes, the darker it gets; as the investigation into Savannah's disappearance progressed, police discovered Savannah's charred remains as well as the dark backstory of the girl's life on the farm. Stories of mothers who kill are particularly baffling and this one, which continues to be shrouded in uncertainty, is no different.
As is the case with most people murdered by their parents in dark family crimes, the details surrounding Savannah's death and her life with her birth mother grow more and more disturbing as previously unknown facts come to light. The shocking details of this case provide gruesome insight into Savannah Leckie's troubled life.
Police Allege Her Birth Mother's Abuse Was So Severe, It Resulted In Savannah's Death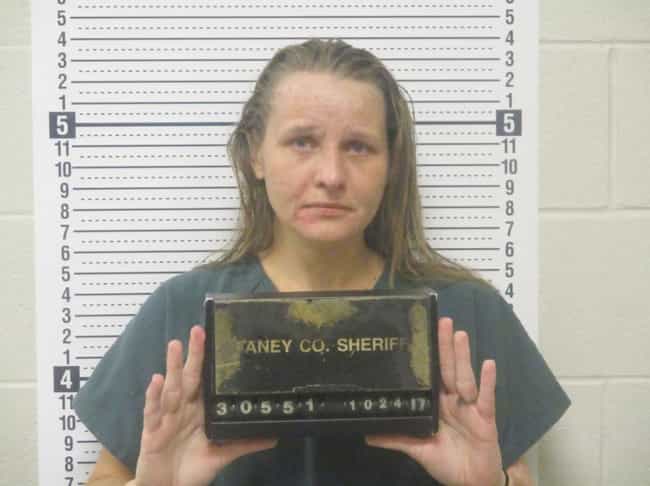 During the investigation into Savannah's disappearance, an ex-boyfriend of Rebecca Ruud revealed the gruesome ways in which Rebecca abused her daughter. Savannah suffered from depression and self-harmed. Upon finding the cuts on Savannah's arm Rebecca scrubbed the area with salt and alcohol everyday to discipline her and intentionally cause pain. Rebecca admitted to the abuse in a police interview. She subjected Savannah to other punishments, such as forcing her to crawl through a pig pen and submerge herself in swamp water. Savannah endured regular beatings and spankings as well as abuse involving a water hose.
Exactly how Savannah died is unclear. Her body was so badly burned when her remains were discovered by police that her cause of death is unknown.
She Said Savannah Was Injured In A Fire But Wouldn't Allow Her To Be Treated
On the afternoon of July 18th, Rebecca Ruud contacted the Theodosia Fire Department as well as the Ozark County Sheriff's Office to report a fire on her property. She said the fire left her and Savannah with burns. Ruud reported it as a house fire, but authorities later discovered that it was actually a brush fire. Firefighters treated Ruud for a burn on her arm, but when they asked to see Savannah, Ruud told them that she was taking a shower.
She said they should stay away from the trailer where Savannah lived on the property because she'd likely be lying naked on her bed since it was a hot day.
Rebecca Reported Savannah Missing Two Days After She Reported The Fire
On July 20, two days after calling the fire department, Ruud reported Savannah missing to police. She claimed that Savannah blamed herself for the fire and for the injuries they both sustained, which was why she supposedly ran away. Ruud said that Savannah took a pillow and blanket with her.
Ruud and her boyfriend, Robert Peat Jr., said they last saw the 16-year-old girl on July 19. Peat later reported that a bottle of 30 prescription painkillers was missing from the residence, which prompted police to search the property.
Savannah's Remains Were Found In A Burn Pit
Deputies obtained a search warrant to examine Ruud's property after they heard reports of abuse and began to suspect that Savannah hadn't run away after all. When they arrived at the house, they discovered Peat and Ruud had driven 100 miles to Summersville, Missouri, to get married. Married couples can't be forced to testify against each other in court, although the rule doesn't always apply in the case of victims who are minors.
Police reports indicate the house was more secure than usual. On previous visits, gates and doors had been left open, but this time, they were closed. Near the house, authorities discovered a pile of leaves and branches on a patch of charred earth. Beneath the pile, searchers found a button with ducks imprinted on it as well as finger bones, vertebrae, and teeth. Forensic analysis confirmed the bones belonged to Savannah.