Graveyard Shift
The Most Disturbing Horror Movie Scene From The Year You Were Born

May 15, 2020
27.9k views
30 items
Over the last 50 years or so, filmmakers from all over the world have been giving us some of the most unforgettable scenes in horror history. But if you were to break down the scariest movie scenes by year, which ones would come out on top? What was the scariest horror movie scene, for instance, in 1981 or 1997? What was scariest movie scene the year you were born? The following 30 films, sorted by release date, might provide the answer you seek.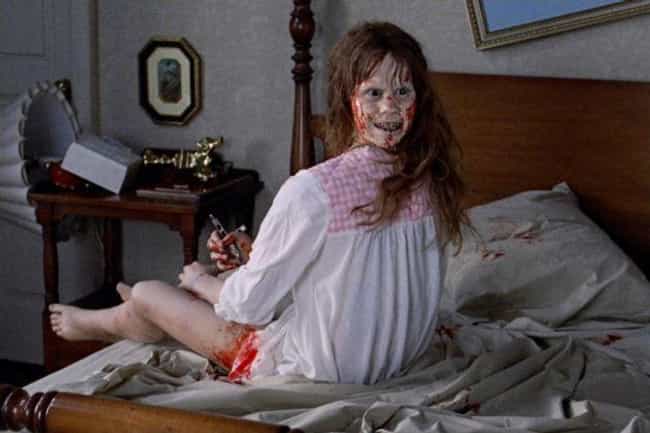 There might be other, more traditionally scary scenes in William Friedkin's film, but as far as pure visceral shocks go, nothing beats Regan (Linda Blair) using a crucifix in a most uncouth manner whilst uttering crude blasphemies.
The Exorcist is a 1973 American supernatural horror film directed by William Friedkin, adapted by William Peter Blatty from his 1971 novel of the same name. The book, inspired by the 1949 exorcism case of Roland Doe, deals with the demonic possession of a 12-year-old girl and her mother's desperate attempts to win back her child through an exorcism conducted by two priests. The film features Ellen Burstyn, Max von Sydow, Jason Miller, Linda Blair, Lee J. Cobb, and Mercedes McCambridge. It is one of a cycle of "demonic child" films produced from the late 1960s to the mid-1970s, including Rosemary's Baby and The Omen. The Exorcist was released theatrically in the United States by Warner Bros. ...more on Wikipedia
Actors: Max von Sydow, Ellen Burstyn, Linda Blair, Lee J. Cobb, William Peter Blatty, + more
Released: 1973
Directed by: William Friedkin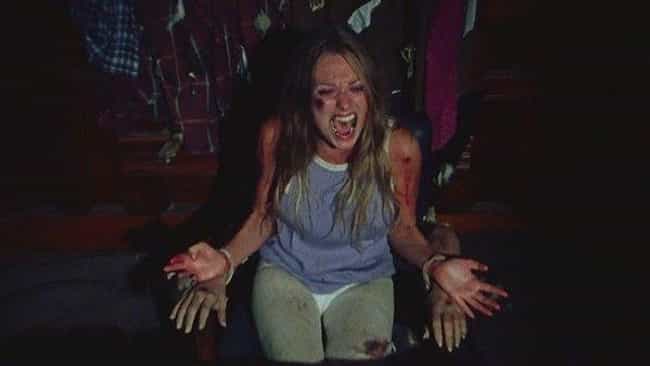 Perhaps no other horror film makes a person want to shower more than The Texas Chain Saw Massacre, and this scene - chock full of grotesque imagery and ceaseless screaming from Sally (Marilyn Burns) - all but ensures no amount of cleansing will ever scrub the film from one's mind.
This movie is a 1974 American slasher film, directed and produced by Tobe Hooper, who cowrote it with Kim Henkel. It stars Marilyn Burns, Paul A. Partain, Edwin Neal, Jim Siedow and Gunnar Hansen, who respectively portray Sally Hardesty, Franklin Hardesty, the hitchhiker, the proprietor, and Leatherface, the main antagonist. The film follows a group of friends who fall victim to a family of cannibals while on their way to visit an old homestead. ...more on Wikipedia
Actors: Gunnar Hansen, Marilyn Burns, Edwin Neal, John Henry Faulk, Jim Siedow, + more
Released: 1974
Directed by: Tobe Hooper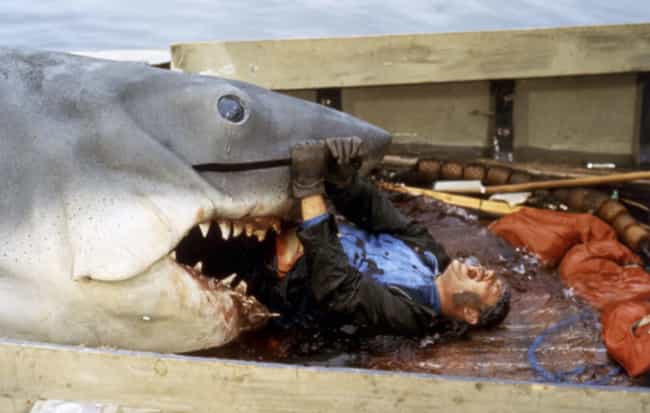 One of the nastiest ends for a character every shot, this prolonged chomp-fest is deeply unsettling to watch (and a gateway for gore-hounds).
Jaws is a 1975 American thriller film directed by Steven Spielberg and based on Peter Benchley's novel of the same name. The prototypical summer blockbuster, its release is regarded as a watershed moment in motion picture history. In the story, a giant man-eating great white shark attacks beachgoers on Amity Island, a fictional summer resort town, prompting the local police chief to hunt it with the help of a marine biologist and a professional shark hunter. The film stars Roy Scheider as police chief Martin Brody, Richard Dreyfuss as oceanographer Matt Hooper, Robert Shaw as shark hunter Quint, Murray Hamilton as the mayor of Amity Island, and Lorraine Gary as Brody's wife, Ellen. The ...more on Wikipedia
Actors: Steven Spielberg, Richard Dreyfuss, Roy Scheider, Robert Shaw, John Searle, + more
Released: 1975
Directed by: Steven Spielberg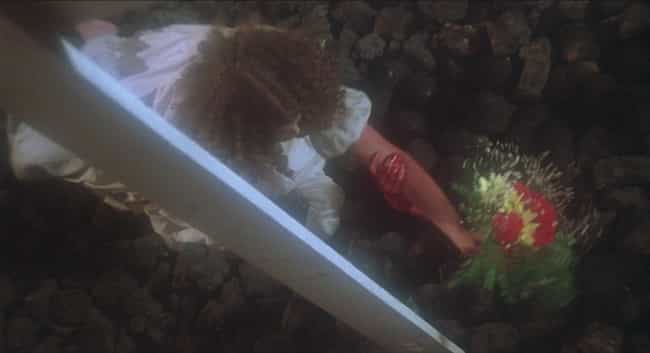 Upon first viewing, no one sees it coming, and upon repeated screenings, this classic jump scare still packs a wallop, even when you see it coming.
Carrie is a 1976 American supernatural horror film based on Stephen King's first major 1974 novel of the same name. The film was directed by Brian De Palma and written by Lawrence D. Cohen. The film received two Academy Award nominations, one for Sissy Spacek in the title role and one for Piper Laurie as her possessed mother. The film featured numerous young actors – including Nancy Allen, William Katt, Amy Irving, and John Travolta – whose careers were launched, or escalated, by the film. ...more on Wikipedia
Actors: John Travolta, Sissy Spacek, Piper Laurie, Nancy Allen, Amy Irving, + more
Released: 1976
Directed by: Brian De Palma