Graveyard Shift
Villains In Children's Movies Who Are Way Too Scary For Children

4.3k votes
888 voters
15.7k views
15 items
List Rules Vote up the movie villains so frightening, they might accidentally scar kids for life.
Most parents wisely shield their young children from horror movies until they're old enough to handle them. Still, plenty of supposed "family friendly" movies feature villains and monsters that are just as terrifying as Jason Voorhees or Freddy Krueger. Most stories require an antagonist of some kind, and children's movies usually soften their villains by giving them redeemable qualities, or just by making them funny.
The villains on this list, however, are pure, unfiltered nightmare fuel. Here are some kids movie villains who were way too scary for kids.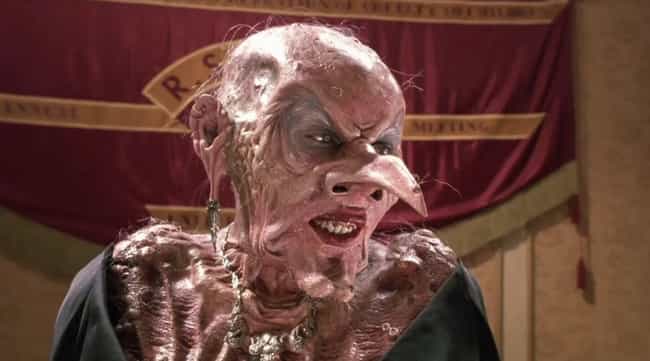 Based on Roald Dahl's 1983 children's book of the same name, The Witches involves a newly orphaned boy, Luke, and his grandmother, Helga, who stay at a seaside hotel to allow Helga to recover from an illness. They soon realize the hotel is also hosting a convention of witches, who masquerade as normal-looking women to hide their true identities. Luke discovers the witches plan to use a magic potion to turn all the children in England into mice.
Why they're scary: Witches have been used to scare children (and adults) for centuries, and these particular witches are definitely the extreme variety. Unlike the witches in, for example, Hocus Pocus, these ones are ruthless, brutal, and actively enjoy slaying children. Credit certainly goes to director Nicholas Roeg; before making The Witches, he was primarily known for making adult-oriented films, including Don't Look Now, The Man who Fell to Earth, and Walkabout.
Scariest moment: The moment when Luke eavesdrops on the witches' secret meeting, and witnesses them transform into their true selves: scaly, bald, grotesque monstrosities.

A little much?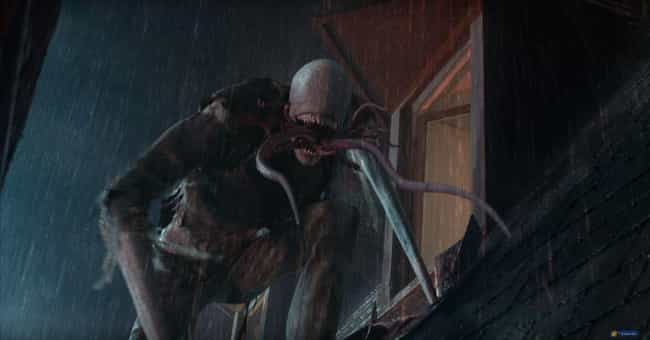 Miss Peregrine's Home for Peculiar Children follows the 16-year-old Jake, whose grandfather, Abe, told him stories about growing up on the island of Cairnholm, off the coast of Wales. Abe lived in a home for children with paranormal powers called Peculiars. Things weren't peaceful on Cairholm as the children were constantly hunted by a group of invisible monsters called "Hollowgasts," or "Hollows." The Hollowgasts have no eyes, and their goal is to eat the Peculiars' eyes to gain eyesight and become visible.
Why they're scary: A Hollowgast would be an effective monster in any scary movie, not just one for children. These are former scientists who were disfigured in an experiment to attain immortality, which transformed them into eyeless, sharp-teethed mutants. They're extremely tall and strong, and they have multiple snake-like tongues they use to grab their targets. They resemble a cross between Slenderman and Venom, and the scariest thing is you can't even see them before they strike.
Scariest moment: There are plenty of terrifying fight scenes between the children and the Hollowgasts, but we'll go with the scene when Miss Peregrine tells Jake about the creatures' origin. Seeing the scientists change into horribly disfigured monsters is bad enough, but watching them regain their visibility by slurping down a platter of eyeballs? That sticks with you.

A little much?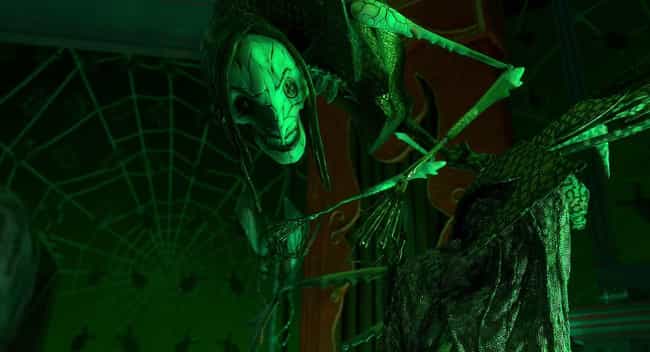 When 11-year-old Coraline and her parents move to a new town in Oregon, and Coraline finds her folks too busy to give her much attention, she discovers a secret door in their apartment that leads to a magical world. There, she meets her parents' doppelgangers, Other Mother and Other Father, who are identical to real her parents except that they have buttons for eyes. At first, Other Mother and Other Father seem loving and devoted to Coraline, but when she refuses to let them sew buttons into her eyes, things go south quickly. Other Mother reveals herself to be an ancient malevolent entity called "The Beldam." For centuries, she's been luring children into her fantasy world in order to trap them and nab their souls so that she can continue to live.
Why they're scary: The idea of meeting button-eyed duplicates of your parents is creepy enough already. But Other Mother plays on one of the deepest human fears - the idea that those who are supposed to love us the most might actually mean us harm. For many younger viewers, it's a lot to take in.
Scariest moment: At the end of the film, Other Mother finally shows her true form, revealing herself as Beldam, AKA a terrifying spider-like creature.

A little much?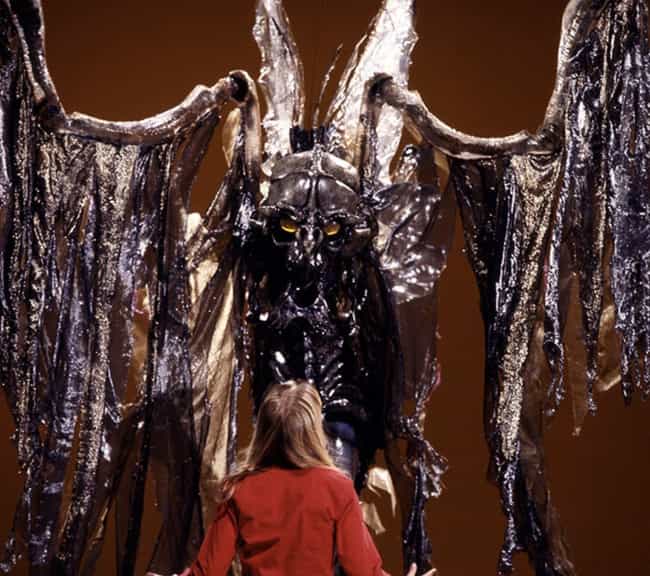 Based on Florence Engel Randall's 1976 novel of the same name, the 1980 Disney film The Watcher in the Woods follows the Curtis family as they move to a remote mansion in England. Upon arriving, the family's eldest daughter, Jan, begins having strange visions of a blonde girl named Karen who disappeared 30 years earlier. Jen and her younger sister Ellie investigate the nearby woods, where they experience several unsettling phenomena, from mysterious flashing lights to strange glowing objects. Eventually, they discover the source of their trouble is an alien entity from another dimension called The Watcher.
Why they're scary: The Watcher is the main antagonist in what is overall a very scary film, particularly for Disney. During the late '70s and early '80s, Disney was trying to court older viewers instead of just young children. Trailers and the home video release of The Watcher in the Woods actually included a disclaimer warning parents to pre-screen the movie for younger viewers.
Scariest moment: Like Jaws, The Watcher in the Woods builds suspense by not showing the villain until well into the story. When the Watcher finally appears at the end of the movie, revealing its true form - a skeletal, demonic creature - it proves well worth the wait.

A little much?