Graveyard Shift
The 13 Scariest Internet Memes of All Time

Looking for a meme that brings every irrational fear you've ever had while you're alone to life? You've found 13. These are a few of the most pervasive, creepiest, goriest memes that have made their way to your screens and inboxes over the years. Be prepared for the hair on the back of your neck stand up, freak out, and march off.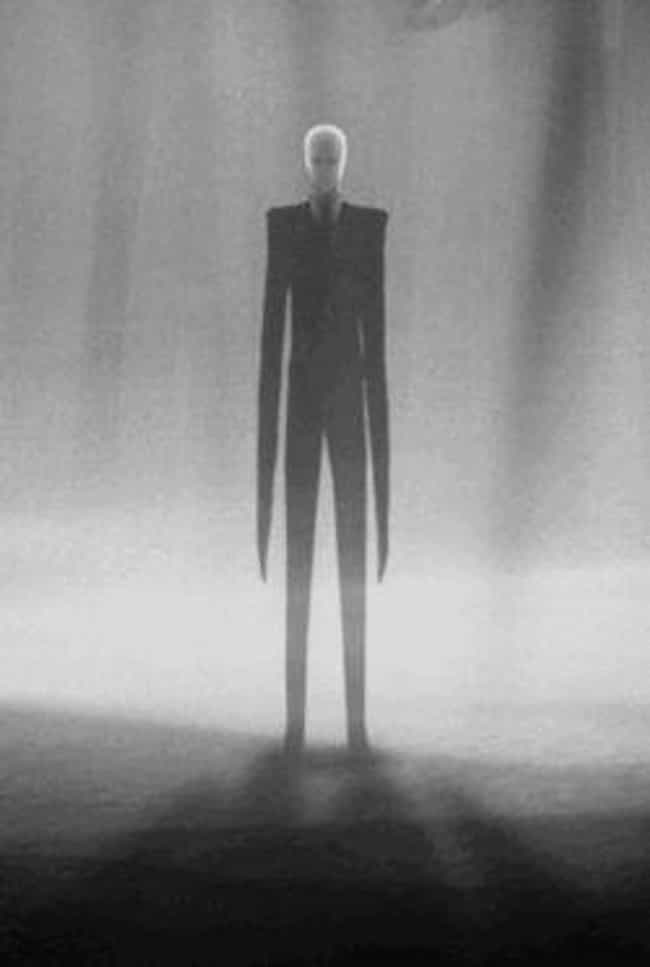 *Update: In June of 2014, two 12-year-old girls from Wisconsin stabbed their 12-year-old friend nearly to death after they learned about Slender Man online. One of the girls told a detective that they were acting as "proxies" of the mythological character and that he told them to do it.
Slender Man is probably the most ubiquitous, successful, and well-known terrifying or scary internet meme. Until 2014, he was mostly a legend, a ghost story that kids of the Internet generation told each other.
Slender Man is a tall, thin figure that lurks in the shadows, taunting his victims in their waking and sleeping hours. According to the Internet myth, he has the ability to stretch and shorten his arms and has tentacles coming out of his back. The Slender Man can cause memory loss, insomnia, paranoia, coughing fits ("Slendersickness"), photograph/video distortions, and he can teleport at will, according to the myth surrounding this supernatural creature.
Tracing its origins back to a video game called "Chzo Mythos," a character called Cabadath or "Tall Man" lurked in the pixels of the amateur game and is thought to have provided some inspiration for the creation of Slender Man–something that actually scares people and can be really eerie because of how well-done it usually is.

Origin: It all started in a 2009 Something Awful Photoshop contest to produce creepy, paranormal pictures, complete with accounts to make them sound more authentic. One of the more successful ones, a pair of pictures that depicted a slender, abnormally tall man lurking in the shadows, found its way to 4chan.com, along with an account of fourteen children who went missing the same day the photos were taken.
There have been countless fake accounts, images and made of the Slender Man ever since the legend caught on.
There's a Slender Man song, a Slender Man documentary, and even a popular Slender Man video game. There is an ongoing web ARG (alternate reality game) called Marble Hornets that includes the Slender Man mythos. (Be sure to set aside time before you venture down that rabbit hole, though.) The popularity of Slender Man gave way to kids even dressing up as him for Halloween, taking pictures of themselves in shadows looking like him, and generally cosplaying as him and having fun.