Culture
The All-Time Scariest Rollercoasters In The World

215 votes
49 voters
1.4k views
12 items
List Rules Vote up the scariest rollercoasters.
Some people are perfectly content keeping their two feet planted firmly on the ground. Excitement for them might be taking in a ballgame or going hiking for a weekend. We're not talking about those kinds of people.
No, we're talking about people who seek out danger and excitement in the form of roller coasters that shoot them up in the air at record speeds, plummet them towards the ground at a rate that causes your stomach to drop, and turns them upside down and sideways until they don't know which end is up.
These are the scariest coasters in the world. Ride at your own risk.
Ladies and gentlemen, at an astounding 456 feet tall, Kingda Ka at Six Flags Great Adventure in New Jersey has the honor of being the tallest in the world. According to the park, "You'll leave the station going from 0 to 128 miles per hour in a jaw-dropping 3.5 seconds. It's 90° straight up. And once you get to the top you'll be plummeting right back down in a 270-degree spiral that is not recommended for wimps. There is very little that can prepare you for a drop of this intensity. You'll top it off with a 129-foot camel hump."
Who is ready to go?

Does this sound scary?
see more on Kingda Ka
Takabisha (Yamanashi, Japan)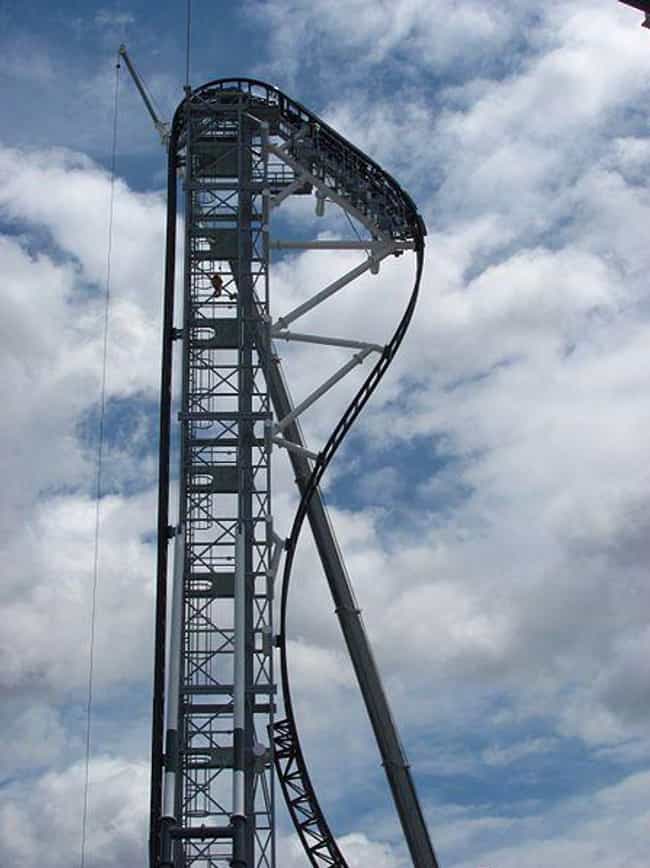 At Fuji-Q Highland Park in Japan, Takabisha features a 121 foot drop that's also the steepest in the world. The 3,30-foot ride begins with a sudden drop into pitch black darkness before entering a slow heartline roll. In just two seconds, the car is launched by linear motors down a 207-foot long tunnel to a speed of 62 mph. It then exits out of the station building and directly into a large inverted top hat, followed by a banana roll, corkscrew and then two airtime hills. And that's just the first half of the ride.

Does this sound scary?
The Gravity Max (Taichung, Taiwan)
The Gravity Max is terrifying to look at but it's even more terrifying when you hear what it does. Located at Lihpao Land Discovery World in Taiwan, The Gravity Max raises up 114 feet before the track "breaks," flipping the car down 90 degrees and dropping it 34 stories. It's the only roller coaster of its kind in the world.
Fury 325 (Charlotte, North Carolina)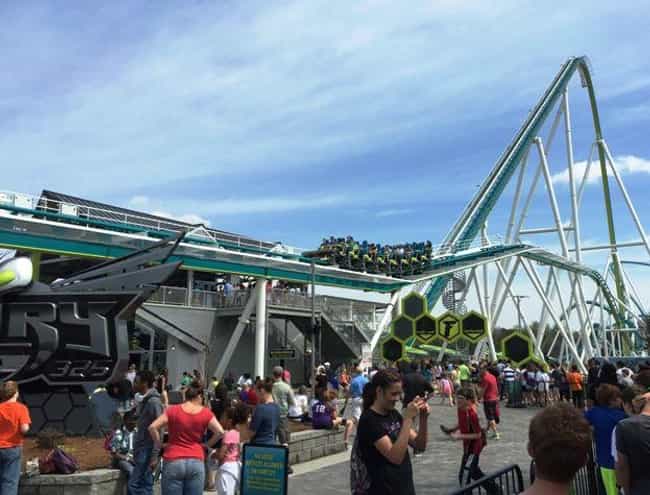 Fury 325 is a steel roller coaster at the Carowinds amusement park in Charlotte, North Carolina and Fort Mill, South Carolina. Yes, both states — it crosses lines. According to their site, "riders begin their adventure on one of three 32-passenger, open-air trains to the peak height of 325 feet - following a dramatic 81-degree drop. Then, like an angry hornet chasing its target, riders race into a massive 190-foot tall barrel turn and a high-speed S-curve reaching speeds of up to 95 mph."
It's North America's longest steel coaster at over 1.25 miles long and crosses both North and South Carolina state lines.

Does this sound scary?