Culture
The World's Scariest Observation Decks and Viewing Platforms

277 votes
70 voters
8.5k views
14 items
List Rules Vote up the observation decks that give you vertigo just thinking about them.
When it comes to traveling, beauty often comes with a price. This is particularly true when you take a look at these scary observation decks, offering stunning views in exchange for your apparent safety. Once you get over the anxiety, you might actually be able to enjoy the panoramic views from these scary viewing platforms.
From tall mountains to deep canyons, towering cliffs to cavernous abysses, some of the best attractions demand more than just your passport and a plane ticket. Hold your breath and hold on to your seat as you look at this list of the world's craziest observation platforms. Sure, you might be safe at your desk right now, but just thinking about some of these viewing decks might send you over the edge. So vote up the most precarious observation decks and leave us a comment if you've been to one of these death-defying attractions.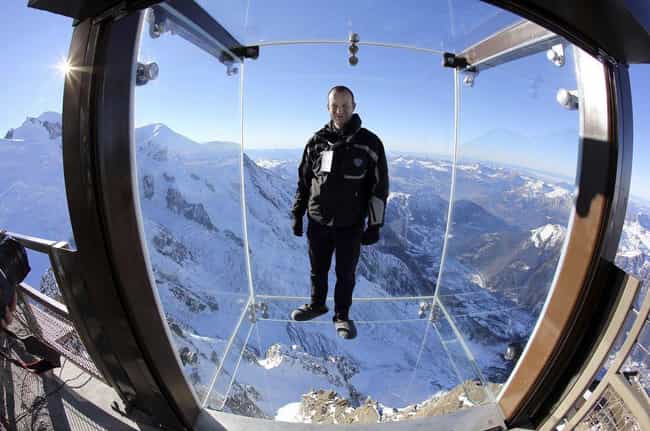 Where is it?
Chamomix, France.
What's so scary about it?
Somehow, its terrifying name is not the most intimidating part of this all-glass structure. This see-through box is attached to the side of a mountain in the French Alps,
3,300 feet in the air
.

Agree or disagree?
Tianmen Mountain Glass Sky Walk
Where is it?




Inside the Tianmen Mountain National Park, Zhangjiajie, China.





What's so scary about it?


Every step on this 196-foot long glass skywalk is a daunting challenge. Attached to the side of a soaring cliff, this walkway extends 86 feet outwards and is more than 4,700 feet above the ground.
Agree or disagree?
Dachstein Stairway to Nothingness
Where is it?




At a resort in the Austrian Alps.





What's so scary about it?


The trip to this architectural marvel is the ultimate dare. First, you must cross the country's highest bridge that stretches above a 1,300-foot deep abyss, then walk down a cliff to a viewing platform with glass walls. Even after you make it there, the icy view will still give you chills.
Agree or disagree?
Where is it?
On the side of the US Bank Tower in Los Angeles, CA.
What's so scary about it?

For many, gliding down this transparent slide isn't fun so much as it is a challenge. Attached to the 70th floor of California's tallest skyscraper, the attraction propels you into a glass tube attached to the outside of the building and guides you safely to the 69th floor. For those who are brave enough to be looking around, the slide offers sweeping views of Los Angeles from almost 1,000 feet in the air.
Agree or disagree?