Entertainment

Movies Written By James Clavell

This is a list of films written by James Clavell, screenwriter. This list of movies written by James Clavell is alphabetical and can be sorted for other bits of information such as who directed the film and what genre it falls under. These James Clavell screenplays are not unfinished works; they have all been produced and released somewhere in the world. Any unreleased James Clavell films are not included on this list. James Clavell has written some very iconic movies over the years, so if you're trying to find popular James Clavell films that you haven't seen already then this list is the perfect guide for doing so.
List features movies like The Great Escape and To Sir, with Love.
You can use this list to answer the questions, "What movies did James Clavell write?" and "How many movies did James Clavell write?"
This list includes almost all of James Clavell's screenplay credits. You can click on the names of the movies James Clavell wrote in order to find out more about each individual James Clavell film. Trailers for each movie can also be seen if you click on the video previews for these James Clavell films. (8 items)
633 Squadron is a 1964 British film, which depicts the exploits of a fictional Second World War British fighter-bomber squadron and stars Cliff Robertson, George Chakiris and Maria Perschy. The plot was based on a novel of the same name by Frederick E. Smith, published in 1956, which itself drew on several real Royal Air Force operations. The film was directed by Walter Grauman and produced by Cecil F. Ford for the second film of Mirisch Productions UK subsidiary Mirisch Films for United Artists. 633 Squadron was the first aviation film to be shot in colour and Panavision widescreen. ...more on Wikipedia
Actors: Cliff Robertson, Harry Andrews, George Chakiris, Donald Houston, Michael Goodliffe, + more
Released: 1964
Directed by: Walter Grauman
see more on 633 Squadron
Shōgun is an American television miniseries based on the international bestselling 1975 novel of the same name by James Clavell, who also was the executive producer of the miniseries. It was first broadcast in the United States on NBC over five nights between September 15 and September 19, 1980. To date, it is the only USA TV show/miniseries to be filmed entirely on location in Japan; sound stage shooting was also done in Japan at Toho Company, Ltd., studios. The miniseries is loosely based on the adventures of English navigator William Adams, who journeyed to feudal Japan in 1600 and rose to high rank in the service of the Shōgun. The miniseries follows Englishman John Blackthorne's ...more on Wikipedia
Actors: Orson Welles, Richard Chamberlain, Toshiro Mifune, John Rhys-Davies, Alan Badel, + more
Released: 1980
Directed by: Jerry London
see more on Shōgun
The Fly is a 1958 American science fiction-horror film produced and directed by Kurt Neumann. The screenplay was written by James Clavell, from the short story of the same name by George Langelaan. It tells a story of a Scientist who switches his DNA with a fly while testing out his latest invention. It was followed by two sequels, Return of the Fly and Curse of the Fly. It was remade in 1986 as a film of the same name by director David Cronenberg. ...more on Wikipedia
Actors: Vincent Price, David Hedison, Herbert Marshall, Kathleen Freeman, Betty Lou Gerson, + more
Released: 1958
Directed by: Kurt Neumann
Also Ranked
#16 on The Greatest Classic Sci-Fi Movies
#4 on The Best Horror Movies About Killer Insects
see more on The Fly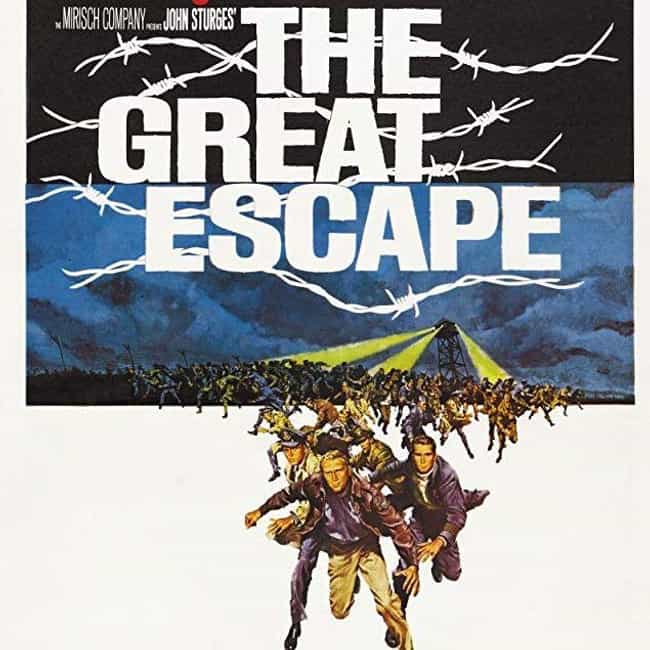 The Great Escape is a 1963 American WWII epic film based on an escape by British and Commonwealth POW from a German POW camp during WWII, starring Steve McQueen, James Garner, and Richard Attenborough. The film is based on Paul Brickhill's 1944 book of the same name, a non-fiction first-hand account of the mass escape from Stalag Luft III in Sagan, in the province of Lower Silesia, Nazi Germany. The characters are based on real men, and in some cases are composites of several men. The film was made by the Mirisch Company, released by United Artists, and produced and directed by John Sturges. ...more on Wikipedia
Actors: Steve McQueen, Richard Attenborough, James Garner, Charles Bronson, James Coburn, + more
Released: 1963
Directed by: John Sturges
Also Ranked
#16 on The Best War Movies Ever
#2 on The Greatest World War II Movies of All Time
#21 on The Best Movies Based on True Stories
#7 on The Best Movies of the '60s
see more on The Great Escape