Entertainment
Beloved All-Ages Movies That Are Super-Inappropriate

10k votes
2.3k voters
178.3k views
12 items
List Rules Vote up the movies you'll never watch the same way again.
It's easy to wax nostalgic about films from your childhood. You might remember them as funny and heart-warming, but if you take a chance to watch them as an adult, you are going to realize there are a lot of kids' movies that are surprisingly inappropriate. Filmmakers know parents often see films with their kids, so they add some adult content to make it entertaining for everyone.
The adult movie humor that went over your head in childhood may seem obvious now, but often the adult humor is a quick line that flies low under the radar. Some of these movies you never realized are inappropriate will have you thinking, "how was this given a PG-rating?" Well, all the dirty jokes you missed in childhood favorites are illuminated here.
The original Ghostbusters and its sequel, Ghostbusters II, may have been a little too grown-up for a PG rating. Ray Stantz (Dan Aykroyd) receives oral pleasure from a seductive and wispy ghost lady. How do you explain that one to the kids?
There is another joke in the film that simply shouldn't fly with any audience. Peter Venkman (Bill Murray) says he knocked out his date, the demonically-possessed Donna (Sigourney Weaver) with 300CCs of Thorazine; Thorazine was a popular method of date-raping in the '70s and '80s. Also, 300CCs is a dose large enough to kill six adults. Venkman did not know Donna was possessed at this time, so he didn't bring it on his date to sedate a demon.
Actors: Bill Murray, Sigourney Weaver, Dan Aykroyd, Bill Walton, Ron Jeremy, + more
Released: 1984
Directed by: Ivan Reitman
Is this more risqué than you remember?
see more on Ghostbusters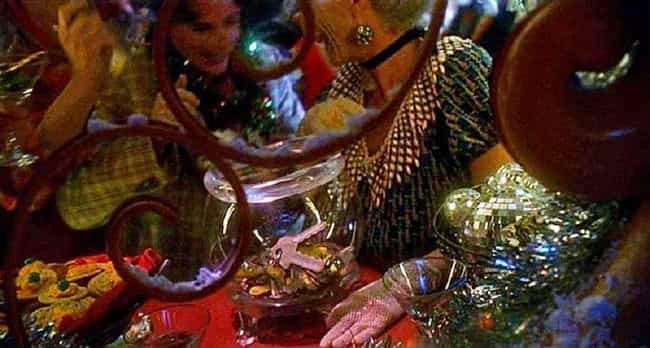 How The Grinch Stole Christmas is marketed towards kids, but some grown-up jokes make it totally fun to watch for adults as well. While the film is squeaky-clean for the most part, there is one joke that may have flown over some grown-ups' heads, too: a reference to swinging.
In the scene, a newly-flown-in baby Grinch finds himself outside the window of a Who annual holiday party. He looks disturbed as to what he sees inside: Whos putting their keys in a big bowl. Either the Whos were having a swingers' key party, or the host anticipated the Whos to get so wasted they weren't allowed to drive home. Either way, not the most kid-friendly.
Actors: Jim Carrey, Anthony Hopkins, Bryce Dallas Howard, Taylor Momsen, Ron Howard, + more
Released: 2000
Directed by: Ron Howard

Is this more risqué than you remember?
see more on Dr. Seuss' How the Grinch Stole Christmas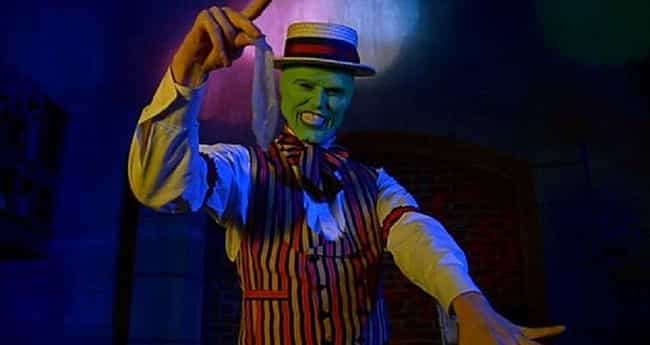 The Mask starring Jim Carry looks to be your typical whacky, kid-friendly movie. In fact, kids loved it so much the movie spawned an animated TV series from 1995-1997. The movie is tame for the most part, but there are some adult jokes millennial tots probably missed.
In the film, Mask makes a bunch of balloon animals for some criminals. As he's pulling deflated balloons from his pocket, he pulls out a condom and remarks, "Whoops, wrong pocket." The other questionable content is the physically abusive relationship between Tina Carlyle (Cameron Diaz) and her gangster boyfriend, Dorian Tyrell (Peter Greene).
Actors: Cameron Diaz, Jim Carrey, Ben Stein, Amy Yasbeck, Joely Fisher, + more
Released: 1994
Directed by: Chuck Russell
Is this more risqué than you remember?
see more on The Mask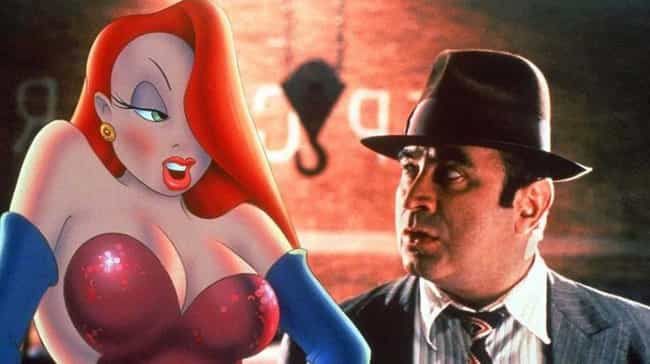 Just because a movie is animated and given a PG rating, it doesn't necessarily mean it's suitable for children. The PG-13 rating wasn't established until 1984, but Who Framed Roger Rabbit (1988) was still given a PG rating despite being loaded with adult content.
For one, there's the cigar smoking baby who says, "The problem is that I've got a 50-year-old lust and a 3-year-old dinky." There's also the extremely pneumatic Jessica Rabbit who is more sexualized than any femme fatale of noir films meant for adults. Oh, and Roger has a major drinking problem, and there's enough booze, violence and, ehmm … patty-cake to make a Scorsese film blush.
Actors: Kathleen Turner, Christopher Lloyd, Bob Hoskins, Mel Blanc, Frank Welker, + more
Released: 1988
Directed by: Robert Zemeckis

Is this more risqué than you remember?
see more on Who Framed Roger Rabbit