Interesting
37 Seriously Amazing Pieces of Shadow Art

Updated September 15, 2017
5.9k votes
666 voters
47.3k views
37 items
These seriously amazing works of shadow art use everyday objects to create some truly stunning abstract art masterpieces. Many of these art pieces are constructed from junk piles, twisted wire, or scraps of paper, with light manipulated at just the right angles to project a completely surprising shadow image against the wall. These cool shadows and museum pieces range from the humorous to the playful to pieces that are truly sophisticated fine art.

Who would have guessed you can recreate a gorgeous cityscape from piles of rubbish? Or even famous faces like Michael Jackson and George Washington? There's even intricate text in cursive and funky fonts spelling out creative messages from nothing more than metal and wire. And the shadow sculpture made from three people perfectly positioned to look like a woman holding a gorilla's tail? Seriously, how did they do that?!

These amazing works of shadow art are sure to get your creative juices flowing – or, at the very least, they're sure to make you do a double-take at the transformative potential of ordinary objects. While some are black and white sculptures made with simple light shining on objects, others more closely resemble full color paintings made with stained glass. Some of the notable artists with shadow artwork on this list include Kumi Yamashita, Tim Noble and Sue Webster, Shigeo Fukuda, and Larry Kagan. Check out the great shadow artwork below and upvote the most awesome shadows you see!
Shadow Michael Jackson Busts a Move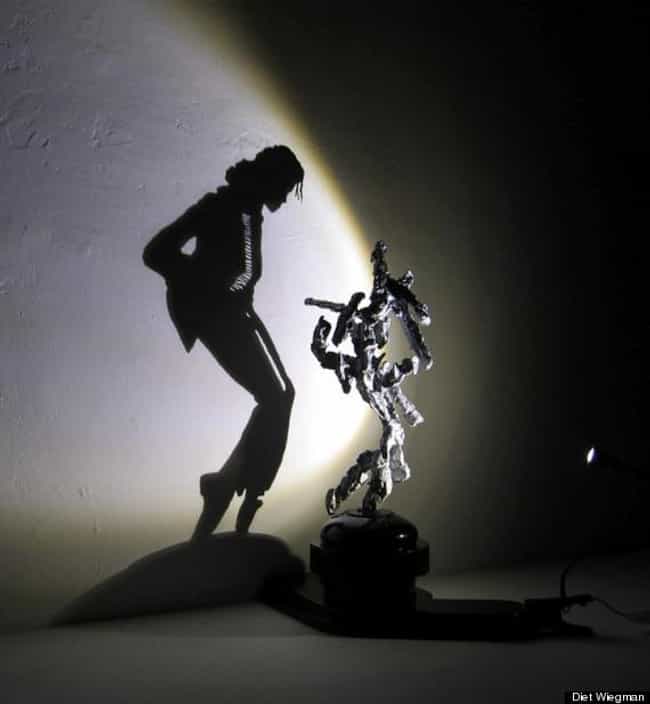 Glass Paper Airplanes Make the Coolest Shadows