Weird History
This Eerily Beautiful Underwater Chinese Town Was Discovered - And You Can Visit It

There is a vast history of international sunken cities. Even China has an Atlantis: a town called Shi Cheng that dates back to the year 621 CE, which experienced divers can visit. At Qiandao Lake of Zhejiang Province, you'll find this hidden gem covered by over 100 feet of water.
The Chinese government built the Xinanjiang Dam in 1959, which caused Shi Cheng, AKA Lion City, to flood, compelling thousands to leave their homes. The underwater town was nearly forgotten until 2001 when an expedition of Qiandao Lake revealed that multiple buildings and other structural objects remained intact.
Gates, carvings, and other remnants of Shi Cheng's heyday were persevered underwater, allowing explorers to visit and study the submerged Lion City.
The Town Is More Than 1,300 Years Old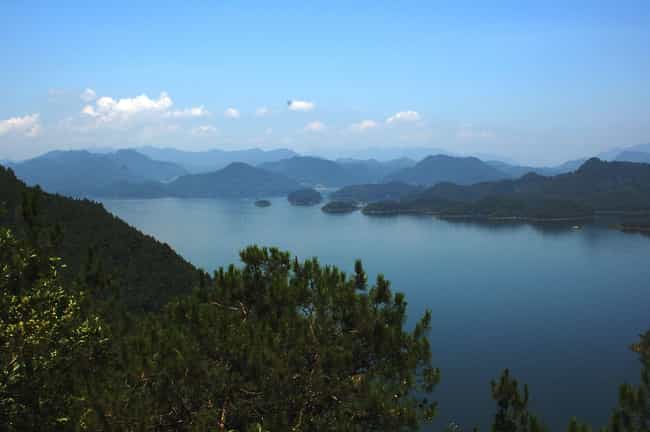 Built around 621 CE during the Tang Dynasty, the city of Shi Cheng is more than 1,300 years old. The water has preserved five city gates, eight towers, six roadways, and more than 260 carved arches. The stone roads connect the gates and different sections of the one-half-square-kilometer (approximately 0.3-mile) city.
The town reportedly served as a political and economic hub in Zhejiang. The Bejing Review describes Shi Cheng:
There was a Confucian temple, a school, six memorial arches, and an ancient cypress in the area. It once cultivated 84 successful candidates in the highest imperial examinations and 203 in the imperial examinations at the provincial level. It served as a symbol of the profound culture of the city.
A Hydroelectric Dam Flooded The Region In 1959
In 1957, China's government started to build a hydroelectric dam in northwestern Zhejiang. By 1959, the Xin'an River hydropower station flooded the valley. According to a Chinese travel guide, thousands of towns and villages were submerged, and nearly 300,000 people were forced to leave the region.
The resulting human-made body of water - called Qiandao Lake or Thousand Island Lake - left Shi Cheng submerged around 40 meters (131 feet) below its surface.
The Flood Preserved The Town's Structure 
Shi Cheng was built with wooden beams and stone. When the expedition in search of the sunken city began, many expected to find rotted wood and eroded stone streets, carved arches, and city walls. Instead, the water effectively sealed the entire city from the damaging effects of the sun, wind, rain, and other elements. Even the wooden beams were preserved.
The lake's movement is slow and gentle, with temperatures of around 10 to 20 degrees Celsius (50 to 68 degrees Fahrenheit) throughout the year.
Traditional Chinese Carvings Adorn The Towers And Buildings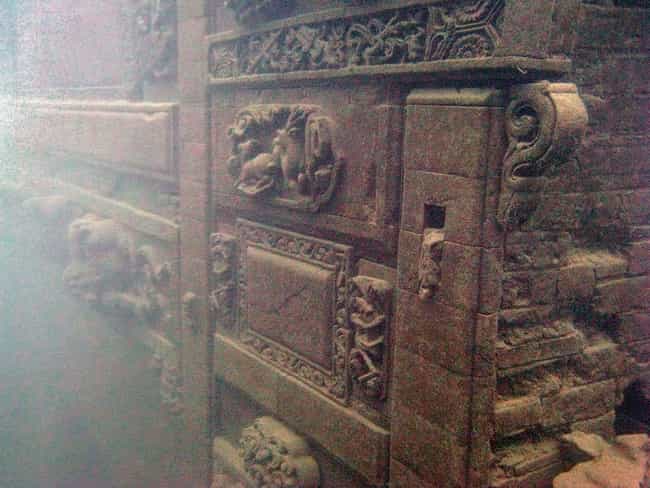 The traditional carvings within the city's architecture survived not only centuries on land, but also decades underwater. Grand aches, buildings, walls, and temples still boast ornate carvings of animals from traditional Chinese lore, including lions, phoenixes, and dragons.
In addition, there are preserved inscriptions from the 1700s, as documented by multiple diving expeditions.