Updated December 23, 2019
553 votes
396 voters
44.1k views
7 items
Shoney's recipes - the easy way to prepare the best dishes from the Shoney's. These are copycat recipes, not necessarily made the same way as they are prepared at Shoney's, but closely modeled on the flavors and textures of Shoney's popular food, so you can bring the exotic tastes of one of the top restaurant chains in America to your own table for a fraction of the cost.
In 1947, Shoney's began its existence as a drive-in diner in Charleston, West Virginia, became a Big Boy franchise in 1952, and quickly expanded to several locations by 1954 when a name the franchise contest rebranded the chain "Shoney's" after founder Alex "Shoney" Schoenbaum. At its peak Shoney's operated over 1,300 restaurants across the US and even spawned a motel chain in the
From Red Lobster Cheddar Bay Biscuits to Buffalo Wild Wings hot sauce, chain and franchise restaurants are popular destinations around the world. Eating out too frequently can be costly, not to mention that it's hard to control portion size, ingredients, or the style of cooking to suit your preferences.
Making Shoney's recipes on your own allows you to save money while enjoying your favorite menu items from the casual dining spot. This list collections the best copycat Shoney's recipes from around the Web.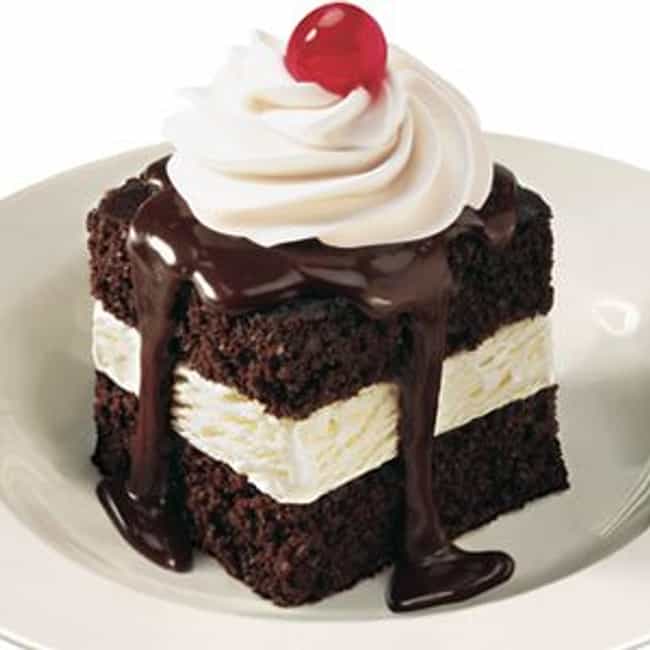 1 (18.25-oz.) pkg. devil's food cake mix
3 eggs
1 1/3 c. water
1/3 c. vegetable oil
1 half-gallon box vanilla ice cream (must be in a box)
1 (16 oz.) jar chocolate fudge sauce
1 can whipped cream
12 maraschino cherries
.
- Mix batter for the cake as instructed on the box; mix by combining cake mix, eggs, water and oil in a large mixing bowl.
- Place 4 cups of batter into a well-greased large baking pan; remaining batter can be made into cupcakes.
- Bake cake according to box directions; allow to cool completely.
- When cake has cooled, carefully remove from pan; place rightside up onto a sheet of waxed paper.
- Slice cake horizontally with a knife through the middle; carefully remove the top.
- Pick up waxed paper with cake bottom on it; place waxed paper back into the baking pan.
- Take ice cream from freezer; tear box open and slice.
- Make 6 3/4-inch slices; arrange slices on the cake bottom in the pan.
- Cover entire cake surface with ice cream slices; place the top half of the cake onto the ice cream layer.
- Cover baking pan with plastic wrap; place in freezer until serving.
- Heat up fudge sauce in microwave and pour over cake slices.
- Top slices with whipped cream and a cherry. Makes 12 servings.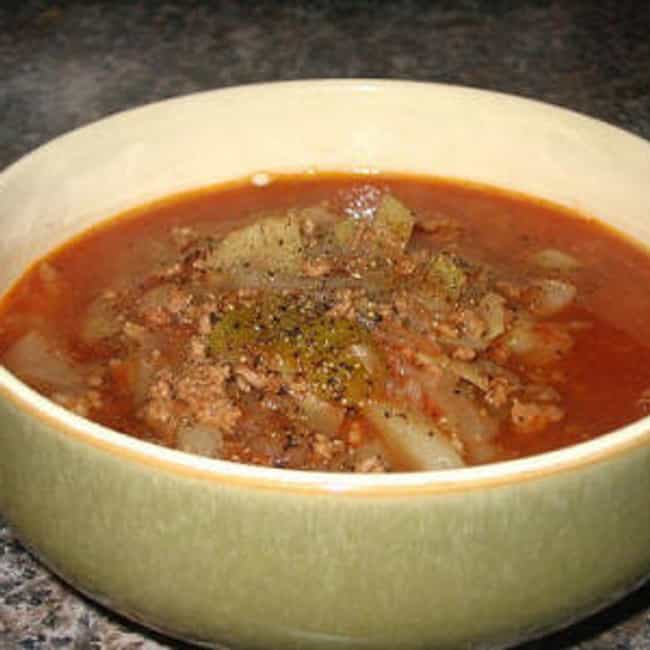 1 lb ground beef
1/2 head cabbage
2 celery ribs
1 bell pepper
1 onion
1 (16 ounce) can kidney beans
1 (28 ounce) can tomatoes
4 beef bouillon cubes
2 garlic cloves
2 teaspoons Worcestershire sauce
2 cups water
1 teaspoon pepper
- Dice the vegetables.
- Brown the ground beef; drain.
- Add onion, celery, bell pepper and garlic; cook until wilted.
- Add diced cabbage; add tomatoes juice and all.
- Add Worcestershire sauce; add pepper.
- Add 2 cups water and boullion cubes; add drained beans.
- Cook 30 minutes.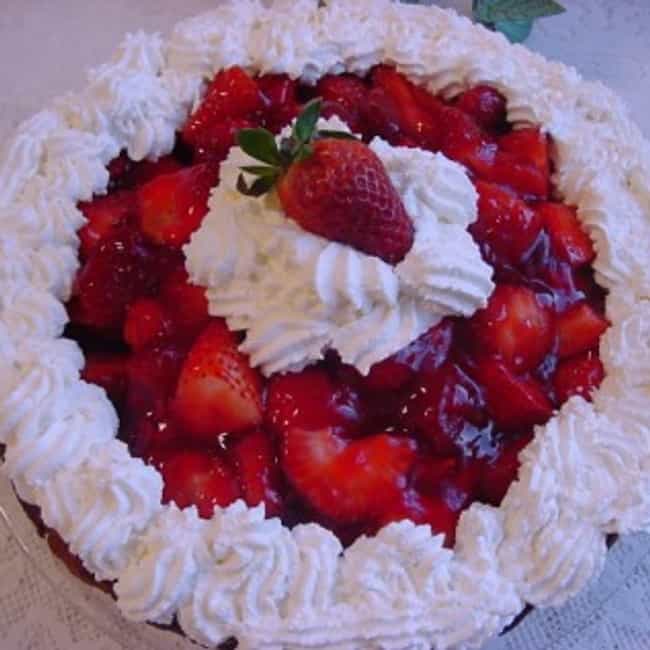 5 tbsp. corn starch
1 1/2 c. sugar
1 (10 oz.) bottle of 7-Up
1 tsp. red food coloring
Fresh strawberries (to fill pie shell)
1 baked (9 inch) pie shell
- Mix corn starch and sugar; add 7-Up and food coloring.
- Cook until thick; cool for 2 hours.
- Pour over fresh strawberries in the baked pie shell.
- Cool for 2 hours before serving.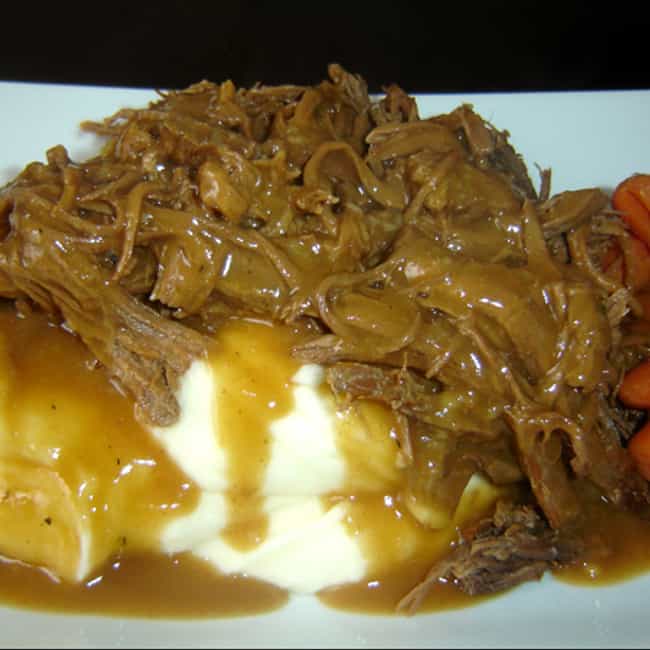 2 tablespoons butter or 2 tablespoons margarine
3 lbs rump roast , trimmed
2 celery ribs , chopped
1 large onion , chopped
3 garlic cloves , minced
1/2 teaspoon dried parsley
1/2 tablespoon dried thyme
2 cups beef broth
20 whole peppercorns
1 whole bay leaf
1/2 tablespoon salt
2 carrots , sliced
2 potatoes , peeled and cubed
1/2 teaspoon salt
1/3 cup flour
- Brown roast in butter in oven; remove meat from oven.
- Saute celery, onion, garlic, parsley and thyme in oven for 5 minutes; return meat to oven.
- Add beef broth, peppercorns, bay leaf, and salt to Dutch oven; bake in 325° oven, covered, for 4 hours, basting every 1/2 hour.
- Remove roast from Dutch oven; strain stock into bowl and discard vegetables.
- Using 2 forks, shred roast into bite-size pieces; pour reserved stock over beef in Dutch oven.
- Add carrots, potatoes, and salt to Dutch oven and bake in 325° oven for 45 minutes.
- Drain stock from Dutch oven and add enough beef broth to stock to make 3 cups; whisk stock and flour together in saucepan and simmer until thick.
- Pour gravy over meat and vegetables.