Music
An In-Depth Behind-The-Scenes Look At Sinead O'Connor's Controversial 'SNL' Appearance

It has been a wild and interesting life for Irish-born singer/songwriter Sinead O'Connor. Her breakout album The Lion and the Cobra put her in the spotlight, and her timeless 1990 cover of Prince's "Nothing Compares 2 U" generated a sudden, meteoric rise to fame. However, her most infamous performance took place a couple of years later in 1992 on Saturday Night Live, of all places. Her appearance that night changed the trajectory of O'Connor's career and her relationship with the wider public.
The past was cruel to O'Connor, the present more vindicating. Today, she is well known for her outspoken stances on women's liberation, organized religion, and child abuse. In her SNL showing, she checked every one of those boxes, slamming the Catholic Church on national television and desecrating a photograph of the Pope in front of a live studio audience. The act brought her instant infamy.
Though she found continued success in later years, the long-term effects of her controversial, career-defining moment on Saturday Night Live are still felt years later.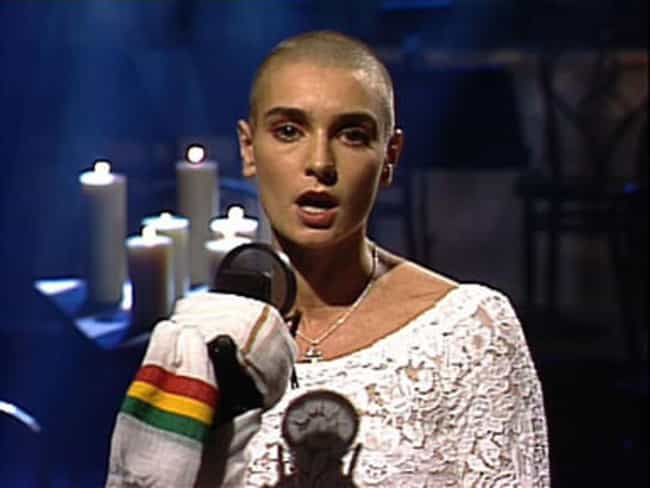 O'Connor Launched Into An A Capella Rendition Of Bob Marley's 'War' Instead Of Her Own Music
O'Connor's career-defining moment began when she took to the stage to perform an a capella rendition of Bob Marley's 1976 song "War." This was an unusual decision, as O'Connor had released a critically acclaimed album two years prior and was expected to promote her new record, Am I Not Your Girl?
The lyrics to Marley's original version were part of an ongoing conversation about apartheid, quoting a 1963 United Nations speech by Ethiopian Emperor Haile Selassie. O'Connor saw an opportunity to use Marley's lyrical framework to make her own political statement.
O'Connor Changed 'War' Lyrics With The Phrase 'Child Abuse, Yeah'
All was well for most of O'Connor's performance - until she changed the lyrics that originally spoke about "ignoble and unhappy regimes" in Angola, Mozambique, and South Africa to "child abuse." She repeated this refrain, for drama and emphasis.
The meaning of the following line, "[until]... sub-human bondage have been toppled, utterly destroyed, well everywhere is war," takes on an entirely different purpose that remains complementary to Marley's original intention.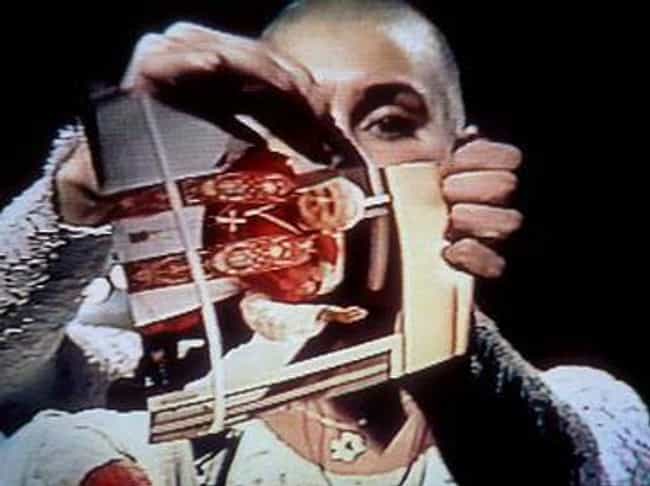 At The End Of The Song, O'Connor Silently Tore Up A Photo Of Pope John Paul II
As O'Connor closed the song with "We find it necessary, we know we will win. We have confidence in the victory of good over evil," she held up a photograph of Pope John Paul II, tearing it into shreds as she crooned through "evil." After looking into the camera and saying "Fight the real enemy," she threw the tattered remains on the ground and stared in silence.
The photograph had been taken from the bedroom wall of her abusive mother, another narrative element of O'Connor's decision. The photograph had been hanging since the Pope was enthroned in 1978.
Lorne Michaels Kept The 'Applause' Sign Off And Made Sure The Audience Didn't Clap
Saturday Night Live mastermind Lorne Michaels was utterly agog when O'Connor made her statement. The stunt was meant to be a surprise: in the dress rehearsal, she had held up a photograph of maltreated children.
Michaels said "the air went out the studio" as O'Connor stared intensely into the camera, the audience in stunned silence. By Michaels's request, the "Applause" sign was not used at the end of her performance. Her performance was allowed to air on the West Coast's delayed broadcast later that evening, but the dress rehearsal footage was used in syndication.